We are thrilled that another holiday season has started and that 2013 is coming to an amazing end. As our customers, we want to welcome you into our living room to sit down with us to have a warm hot chocolate with ginger cookies.
We want to make you feel that your membership with Cool Cat Casino is highly appreciated and regarded by us. This is another year that's ending and you have been our main focus of attention. We sincerely hope that you have a cool, safe and amazing holiday season with your loved ones. May 2013 bring lots of success, good health and great casino earnings!
As a gift from us to you, we asked some of our customer service representatives to share with us some of their favorite moments with our customers. The names have been altered to protect your privacy as well as our staff members. We hope you enjoy them as much as we do.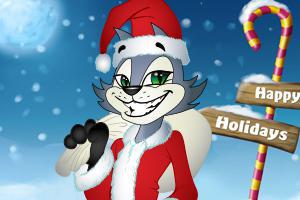 "George from Atlanta is my favorite client. I know I shouldn't say "favorite," but he just is. George is ninety-two years old and he learned how to use a computer two years ago. This means, that George calls around four times per day. He lives by himself and I really have to help him step by step every time he calls. However, every time he calls he does it with the greatest of humor, patience and disposition. He cracks the greatest jokes and may sometimes even flirt. George is one of those customers who makes my day shine and truly gives a positive vibe to my daily routine." – Mary
"My favorite part of my work is when the real gamers call and they start giving tips on what they are doing and how they are managing to win. It's so cool to hear experience in action while seeing the big numbers that these clients score with their games. As an amateur gambler, it just makes me feel hopeful." – James
"The coolest part of being a VIP Customer Service Representative? Well, basically that everything is allowed. What the clients asks from me, I basically do! And the fun part is that since I'm responsible for their accounts, I get to see the awesome moves and earnings that they make with the program. Respect!" – Aaron
"I am a student of gambling. It's the truth! That's why I love working in a casino. This is my school! My favorite then is to work with so many different clients and hear their stories of what they are going to play and how they're going to manage their bankrolls. It's always amazing to me how open clients are to sharing what they do with their game and how they do it. It's as if I'm going receiving academic lectures every day." – Christina
From everyone of us who work with you every at CoolCat Casino, have a wonderful Christmas and may your 2014 be filled with all kinds of winnings!