What's your fondest 4th of July memory? Mine happened about 10 years ago. It was a big neighborhood picnic that lasted the entire day with family and friends. We're talking a few hundred people, so it really was beyond anything I'd experienced before.
It took place in a few neighbor's backyards, which was accommodating due to the absence of any fence separating the property. There were bouncy castles for the kids, an old-school carousel that we rented, a few bands performing music, and loads and loads of food.
In years past, everyone just brought their own food, potluck style. But that year, we decided to have it professionally catered. To cover the cost, organizers asked everyone in attendance to purchase a raffle ticket for $10. There was an option to buy multiple tickets, too, which many people chose to do.
After all was said and done, the money generated from the raffle tickets went to pay for the food, with the remainder put up as the top cash prize. And that, my friends, is the reason why I remember this so vividly. You see, it turned out that I won the raffle, walking away from that 4th of July picnic with about $1,200.
Jealous? Don't be. You can win $1,000 this month through our weekly raffles, happening every Wednesday as part of our month-long Independence Day celebration.
Win a $1,000 Free Chip
We've got special monthly coupon codes, which we'll get to in a second. No matter which one you use, you'll earn more than what the bonus offers off the bat. By taking advantage of a coupon code, you'll be entered into a raffle for a $1,000 free chip. And we're drawing winners every Wednesday, so you've got four chances to win this July. If you do end up winning a $1,000 free chip, a member of our Customer Support team will get in touch with you by email or phone.
So how do you gain those raffle entries? Just take advantage of any of these bonuses and you'll automatically be entered into the weekly raffle.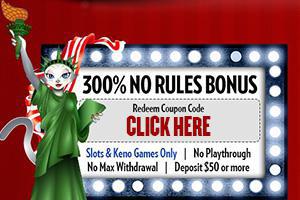 300% No Rules Bonus.
If you love slots and Keno games, you're going to love our big bonus that matches your deposit by 300%. That means if you deposit $100, you'll get $300 to play with. Deposit $300, get $900. And so on. The No Rules Bonus comes with no playthrough requirement and no max withdrawal limit is in place. It only takes a deposit of $50 or more to take advantage of this bonus and it's good all July long.
200% No Rules Bonus.
Prefer to go beyond just slots and keno? Check out our 200% No Rules Bonus. It's a bit smaller than that initial bonus we told you about, but this one works on all allowed games. The same playthrough requirements and max withdrawal limits are in place, meaning you don't have to worry about them at all.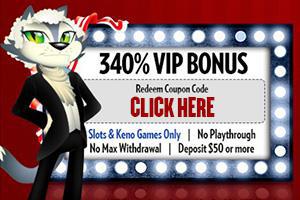 340% VIP Bonus.
If you're a VIP, you're going to love this. For our top players, we've got a 340% bonus that works just like our 300% bonus. The difference? You need to be a VIP to take advantage of it. If you're not a VIP, the bonus won't work, so we recommend joining our VIP program first.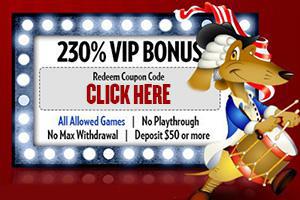 230% VIP Bonus.
Again, our VIPs are entitled to a little extra. That's where our extra big 230% bonus comes in. It's packaged the same way as our 200% bonus for regular players, but with a little extra.
Grab the Coupon Codes
If any of these bonuses excite you, don't forget to grab the coupon codes from our Monthly Promotion page. You'll need each coupon code for each bonus, plus using the coupon code is your ticket into our weekly raffles.
New to CoolCat Casino? Sign up for a free account now. It takes just a few minutes and as soon as you're set up, you can take advantage of any of these coupon codes. Remember, the coupon codes are good all month long, so if you've already got a loaded online casino account and you're not ready to deposit, no worries. Come back anytime in July and we'll take care of you with these bonuses. Remember, you've got until July 31st to take advantage, so don't miss out on the best Independence Day, all month long.