Fame in the House – Welcome to the Wild World of Celebrity Gambling
CoolCats are cool, famous cats are famous. $100,000 buy in? $1 million spending limit? Over $2 million lost in a single night? Welcome to the world of celebrity gambling, where all the above is normal and even expected. Below, we list seven celebrities and their big wins, even bigger losses, and just some of their bad, not so CoolCat behavior at the casino tables:
Charlie Sheen
Known for his previous part on Two and a Half Men, Sheen reportedly is almost obsessed with playing poker and placing bets on sports. Ex-wife Denise Richards claims that at one point, the actor was spending over $200,000 a week to satisfy his gambling fix, and that he even placed a sports bet over the phone while he rushed to the hospital for the birth of his daughter.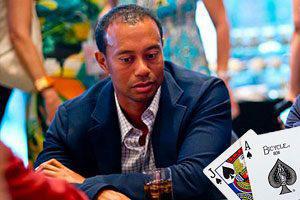 Tiger Woods
Known primarily for being one of the greatest golfers ever, Woods has had his share of scandalous behavior as well, including affairs and gambling. One of Woods's mistresses claimed that the golfer bets $25,000 per hand while playing blackjack. At the MGM Grand in Las Vegas, Woods has been given a $1 million spending limit, where he requests that his blackjack table be filled with beautiful women. He's known to be good friends with Michael Jordan and Charles Barkley, so his love of gambling isn't surprising.
Michael Jordan
The man who many believe to be the greatest basketball player of all time is rumored to have retired from basketball due to his gambling addiction. While he doesn't seem to spend much time in casinos, he once admitted that he lost $165,000 in Atlantic City, and he has a habit of gambling while he golfs with other celebrities like Tiger Woods. In one golf game, Jordan lost $1.25 million to a businessman from San Diego.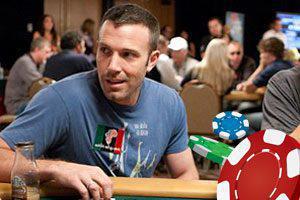 Ben Affleck
The Hollywood actor is known for getting more than a little tipsy and spending hours at the poker and blackjack tables, and at one point reportedly lost a single poker hand that was worth $400,000. Let's face it, Ben's a gambling man. In 2014 Ben even earned himself a lifetime ban from the Hard Rock Hotel & Casino in Las Vegas after getting nabbed counting cards at Blackjack. However, it hasn't been all bad – Affleck once bet $60,000 on a single blackjack hand and ended up winning $800,000. And to top off the night, he left a $150,000 tip for the casino employees. While Affleck checked himself into rehab for his gambling addiction in 2001, it seems that he still enjoys the games.
Tobey Maguire
The lovable and kind of goofy Spider Man has gotten into some trouble because of his gambling habits. The actor was reportedly sued for participating in an illegal underground poker ring with buddies like Ben Affleck, Matt Damon, and Leonardo DiCaprio. But that lawsuit didn't seem to keep this superhero away from the tables – Maguire is an active participant in the World Series of Poker, and has won a total of $10 million so far. Guess those "spidey senses" come in handy for both the crooks and the cards.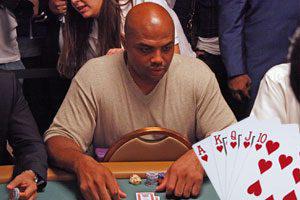 Charles Barkley
The former NBA player and current ESPN sports analyst has admitted to losing $10 million due to gambling, with $2.5 million reportedly being lost in a single night of blackjack. "I went to Vegas a bunch of times and won a million dollars. Probably 10 times. But I've also went to Vegas and lost a million probably three times as much," Barkley told reporters. The former athlete enjoys betting on sports also, and said that he lost $700,000 in one weekend from betting on the Super Bowl. However, Barkley claimed to stop gambling after a casino sued him, claiming that he owed them $400,000.
Allen Iverson
Considered by many to be one of the best NBA players ever, Iverson was at one point worth $200 million before he spent it all on gambling and alcohol. His addiction to gambling is so severe that he lost a lifetime sponsorship deal worth $50 million from Reebok, and has fallen into debt, which is said to be the reason why his wife left him. He is known for getting into trouble with casino employees, and reportedly has been caught urinating in front of a casino in a trashcan. His behavior has led numerous casinos in Atlantic City and Detroit to ban him.
Lessons learned? Keep it low key and keep it Cool. At CoolCat Casino even the greatest celebrities can keep a lid on things and their privacy. Enjoy all the same thrills and spills but from the comfort of your own home! Keep it classy and play CoolCat Casino today!