The chance to play games like Wheel of Fortune or Break the Bank without even needing to step foot outside the house is a slot machine player's ultimate fantasy. But what if you could live out the dream and bring the excitement and glamor of the casino floor to your home? 
Just like vintage pinball machines and jukeboxes, there's a big demand for used video poker and slot machines these days. Not only are they a nice-looking addition to any man cave or private games room, but they are also basically free to play and give you unlimited gaming time. Ever wanted to play slots naked? Now you can. Do you normally fear heading to the toilet in case someone steals your jackpot while you're gone? Not an issue now…
Having your very own slot machine in your own private space gives you freedom, fun, and the chance to advance your skills without relying on a real casino. Here's what you need to know about owning one and what you should consider before you buy!
Choosing Your Slot Machine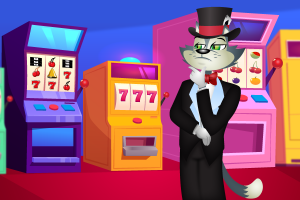 Slot machines come in various sizes and shapes, so space is one of the first things you'll want to factor into the buying process. You'll also need to decide if you want a refurbished slot that's closer to an antique or a modern working one with more features. 
There are some beautiful vintage coin slots on the market, but these will come with a heftier price tag compared to a refurbished 5-reel machine without the levers and pulleys. Older slots will not accept notes either. 
On the other hand, a video slot accepts both notes and coins and will likely be much easier to maintain and repair if it becomes faulty. These types of newer slots also come with interactive screens, some of which also feature exciting second-screen bonus events and more chances to hit a payout.
Where to Buy a Real Slot Machine
The best way to get your hands on a slot machine without robbing a casino joint is to look up slot machines for sale online. There are hundreds of reputable online retailers and distributors of casino and gaming equipment, which should be your go-to choice. You can also pick up second-hand models from ordinary online selling sites like Etsy, Craigslist, and even eBay, where slots are normally auctioned off. 
How easy it is to purchase a slot machine also depends on where you live. If you live near somewhere like Vegas or Atlantic City, you could probably swing by a few casinos and see if they have any they're looking to replace, or visit a pawn shop or two and see if they have any old school one-armed bandits for sale. 
If you've got the dough, another option is to directly pick up a slot fresh-off-the-conveyor from a slot provider. While these companies mainly deal with casino operators and distributors, some make slot machines, especially for home entertainment purposes. Don't be surprised if you end up paying $15,000 upwards, though.
Buying Online vs. Auctions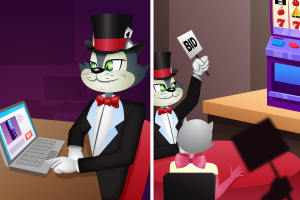 Going back to auctions — this is probably the most cost-effective way of purchasing a slot machine, but the older the machine, the more likely it is to need regular servicing. It all comes down to how much you're willing to spend at the end of the day. 
If you go through a company for the sale, you'll pay a fixed price with a warranty and payment confirmation. However, with auction sites, costs can easily fluctuate based on demand, and it may be some time before you come across one you actually like the look and sound of. 
When you make any large purchase online, don't forget to account for shipping and packaging costs. Make sure you only buy from trusted sellers and always check the machine's condition, photos, and the terms of any purchase agreement.
Last Things to Consider
We can't emphasize enough how you should check the dimensions of any slot machine you plan to buy to make sure you can properly accommodate it. Most land-based slots (including the vintage ones) take up at least 52 inches of space each on the casino floor, so you'll also need to make sure it can fit through your doorway and halls upon delivery or collection. 
The placement is also important if there are young adults or children in the house. The last thing you want is to wake up in the middle of the night to the sound of your 8-year-old smashing and prodding away at buttons, and potentially leaving you with a broken machine. 
Consider how much you're willing to spend on your machine as well. What's the most you're happy to part with? Shipping and delivery costs on top of any extra touch-ups you may need later down the line. Can you realistically afford to make repairs if it comes down to it? The chances are you'll opt for a second-hand slot over a newer one, so if you don't know how to fix the faults yourself, be sure to look up someone who can and have them on standby for any emergency repairs.
Where You Can Legally Buy and Own Slot Machines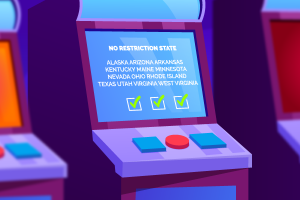 Nevada residents will have no trouble purchasing a slot machine, but in other parts of the U.S., it can be a bit more tricky due to state laws. Not all states share the same regulations for gambling, and owning slot machines (even privately) is not permitted in at least seven different states. 
If you live in any of the following, you'll be pleased to know there are no restrictions in place for owning and operating private slots: Alaska, Arizona, Arkansas, Kentucky, Maine, Minnesota, Nevada, Ohio, Rhode Island, Texas, Utah, Virginia, and West Virginia.
The following states are where private ownership of slot machines is prohibited entirely: Connecticut, Hawaii, Nebraska, South Carolina, and Tennessee. Both Washington and California allow ownership, but there are age restrictions. To be on the safe side, it's always best to check your own individual state's gambling laws.