From big money billionaires to super wealthy socialites, society's mega-rich rock bankrolls and lifestyles that few can dare to imagine. Who wouldn't like a taste of the high life? The flashy cars, lavish homes, and expensive nights out – jet setting and trend setting, it's nice to live a life of luxury. However, there are those individuals that not only have staggering personal fortunes, but who are willing to take even bigger risks to increase their beloved bucks; whether through investing in stocks, real estate deals or chancing their sums on volatile cryptocurrencies. Yet one of the most popular ways that the mega-millionaires and hedge fund babies love to gamble their money is at the casino.
The posh individuals who have the coin to spare are the high rollers – players that pack a significant punch when it comes to upping the ante at a blackjack table or high stakes craps game in a casino. As far as these bigtime moneymakers are concerned, mere mortals are simply not worthy. However, of all the world casinos' swanked out superstars, one stands out above the rest, Australia's wealthiest man, mega-billionaire and media tycoon. CoolCat Online Casino is taking you on a journey of high stakes gambling, ups and downs, and Australia's most famous gambler, Kerry Packer.
High rollers and whales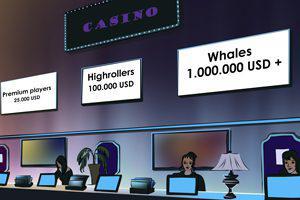 It is no secret that Las Vegas is the Mecca of gambling, a casino game paradise. There are few places worldwide that attract the type of clientele seen at Glitter Gulch. The casino card games and slots machines that light that venue floors see more than 40 million visitors each year. Half are your regular, run-of-the-mill thrill seekers; groups looking to have a fun weekend celebrating, friends and families. The others are the serious gamblers. Individuals looking to win big money playing their favorite casino table games. However, if you were to ask a casino manager, what customers they favor, it is the high rollers. In Vegas, high rollers are referred to as "premium players", and casinos will go to serious lengths to keep these select individuals coming back to play at their venues. Premium players can expect comped rooms, free meals, show tickets, and much more. It all depends on how much money they are willing to gamble on the casino floors.



The average premium player is someone that generally gambles around $25,000 per visit, this might seem like a large amount of money to be willing to lose, but for the average high roller, it is a risk worth taking. Yet, there are levels to gambling and premium players. Mid-level premium players are individuals that will spend as much as a whopping $100,000 to $500,000 per visit. Several thousand people throughout the world qualify at this level. This is the type of gambling individual that the world's best casinos actively look for and cherish. However, at the peak of the premium player pyramid are the whales; these are the elite high rollers of the world willing to gamble in the range of $1-$5 million each visit. These visitors comprise less 5% of all visitors that frequent the world's premiere casinos, but their spending accounts for roughly 40% of total casino revenue annually (!). Whales receive special permission to wager $50,000-$200,000 each hand on their favorite gambling games, and are so rare that an estimated 250-300 exist in the entire world.

When it comes to whales, one individual stood out as the Moby Dick of the gambling world. The biggest whale to swim international casino waters, from Vegas to Macau. That man was Kerry Packer. Packer held a net worth of nearly $6.5 billion, and an appetite for gambling that no one could match. His big money bets, casino floor binges, and betting feats are stuff of casino legend. The ambitious and publicity-shy billionaire would risk staggering amounts just to come out on top, cementing his status as a legend. How did Mr. Packer amass such a fortune?
Modest origins
The origins of Kerry Packer's family fortunes are without a doubt interesting. It started with his grandfather, Robert Clyde Packer who, on a fateful day watching horse races, witnessed someone drop ten shillings on the ground. Robert, or "RC" as he was known, used the money to bet on a horse that had 12 to 1 odds to win. Miraculously, his bet won and the winnings paid for a boat ride to mainland Australia. RC used the money to start his career in the newspaper industry, and eventually his own publishing company. This would go on to become Publishing and Broadcasting Limited (PBL), an Australian media dynasty. RC's son, Frank Packer, would turn his father's stroke of luck into solid fortune, further expanding the newspaper giant into a magazine and television empire. Young Kerry, Frank's son, would go on to be a top sportsman at his school playing football, rugby and cricket in Victoria, Australia, and eventually inherited the family business from his father. He would take the family fortunes and further expand the Australian multi-media monopoly. It's fitting that a ten "bob" found on a racecourse would eventually lead to an impressionable Kerry Packer inheriting half of his father's massive $100 million fortune; instilling in him a love for sports, money and all things gambling. The rest is history.
Life of a high roller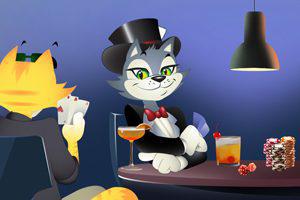 Packer was ever the confident salesperson and entrepreneur his father and grandfather were. During the 1970s and 80s, he would continue to expand the family fortunes in television and magazines in Australia. Owning stations in Sydney and Melbourne, and the widely popular Nine-television network, Packer brought popular daytime television to the masses. He reveled in his unpredictability and complexity, which not only made him a master negotiator and businessperson, but also an excellent gambler. There was no risk that he was not willing take, and his drive to win was never more evident than on the casino floor.
In fact, no player – nor gambler of any kind – can match the staggering wins and losses that Packer racked up during his lifetime. His winning streaks on the casino floors occurred frequently and often made headlines. Willingness to take such risks was simply a part of his persona. Those closest to him felt he had the need to push it a step further than the rest. From horse racing to golf, dice rolls and cricket there was no bet that Packer was not willing to take. He would bet bigger than sultans, oil tycoons, the most daring whales and even arms dealers. Although he was not the first to bet such high stakes on gambling games, Packer stood out due to his longevity, gambling consistently until his death in 2005. One such anecdote tells of a wealthy Texan who once boasted to Packer of a personal fortune of $100 million; to this Kerry glibly replied, "Toss you for it". Although the story might seem like a tall tale, those who knew Packer best claim that the gambling incident in all likelihood is plausible.
Big time gambling
The life of a whale comes with some mind-blowing perks: 5-star dining, the choicest meals, fine wines, rose pedal massages, magnums of champagne, caviar carts, personal butlers and catered couriers, private bungalows, poolside cabanas, luxury jets and round the clock pampering. It is a life of excess, privacy and exclusivity, all designed by the casinos to keep whales happy and returning to the floors to play. However, with big rewards come big risks that do not always pay off. Packer, known for his huge wins was equally famous for his crushing losses.
In 1987, Packer managed to negotiate the sale of his two prized television stations to investor Alan Bond for a sum of $1.05 billion. It was a gamble that paid off and Packer was able to turn his gambling exploits into stuff of gambling lore. In one night at the exclusive Ritz Club in London in 1987, Packer lost some $19 million playing blackjack in a private room on the casino's ground floor. Eyewitnesses claimed that he played two tables at a time, moving from one to the other to place his whopping bets; playing all seven hands for both tables. He wagered an average $25,000 per hand, but Lady Luck was not on his side that night. The billionaire was as much a figure on the gambling scene in Vegas as he was in London. When he won, he tipped the croupiers impressively (a practice forbidden in England or Australia.) When he lost the casinos cleaned up.
Back in the fall of 1991, Packer visited the Las Vegas Hilton, which took a hammering when he won nearly $7 million in a matter of days playing blackjack at a private table. This came just days before his polo team went on a trip to Argentina for sports betting. The following year, however, the Hilton won it all back, managing to reel in some $10 million from the billionaire after setting up a special room for him over the course of a fateful weekend and rounds of outrageous losses.
High stakes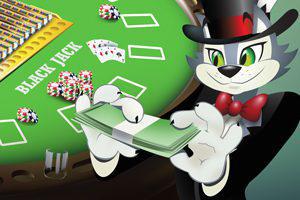 For the rambunctious billionaire no gamble was too big. His wins were as well-known as his losses. In London, only 3-4 casinos had the collateral to match Packer's outrageous gambling binges. Casino employees from dealers to management knew that the experience could be either terrifying or thrilling. When Packer was in town there was never a dull moment. A bad night at the tables for Packer, could transform a slow year at a casino into a brilliant one, in a single night. However, on a good night he could potentially break the bank and hijack a casino's entire monthly profits. It's hard to fathom such limits, but to Packer it was standard practice. One of Packer's favorite casino games was blackjack, and despite the fact that Packer played so high, he wasn't always winning. This is why many casinos allowed him to bet whatever amount he desired. They were looking to get large amounts of money from him. Top casinos catered to his every whim, as they knew that he was the type of gambler who would chase his losses and hate to give in.

In the early 1990s, London's Aspinalls Club, ran out of money simply because of Packer's overwhelming wins. Having won over $700,000 in a single night in blackjack, the casino was forced to close its doors because they ran out of money to cover the other players. Packer was barred from Crockfords in London for winning an estimated £10 million in a hot roulette session. The casino manager took him aside, offered him a dinner on the house, and then politely asked that he "gamble elsewhere." Sometimes arriving with a posse of seven or eight, Packer enjoyed a crowd, and thrived on attention. However, his biggest nights were spent gambling alone. Arriving mid-afternoon and staying well into the small hours of the night, Packer would only stop when he was ready, win or lose.
During a legendary run at the MGM Grand back in 1995, Packer won in excess of $25 million in one night playing $200,000 a round in blackjack. To show his gratitude, he paid off the mortgage of his dealer's home. The win amounts were so big that several top-level Grand employees received the boot for allowing the Aussie billionaire to bet such staggering sums. Professional gamblers would spend a lifetime trying to win such amounts, but for Packer it was just business as usual.
Another big gamble – World Series of Cricket
Unknowingly, one of Packer's biggest gambles came when he introduced his own professional cricket competition known as the World Series of Cricket. Held in Australia for 8-10 weeks during the summers of 1977-1979, Packer used WSOC as a platform for some of the world's best cricket talent to display their skills. Despite lasting only two seasons, Packer's WSOC would leave a lasting impact on the sport. Cricket players formerly earned low salaries in comparison top-level athletes in other professional sports, but with WSOC, Packer paid the athletes handsomely.
WSOC was popular and managed to draw in huge crowds. In addition, its popularity led to lasting uniform changes, differing game lengths and even certain regulation changes. The public's perception of cricket changed from a long and arduous endeavor to a more competitive and high intensity sport over a short amount of time. Packer's passion and intensity for cricket was something that he carried with him into various aspects of his impressive life; matched only by his energy at the casinos.

High stakes continue
Fast forward to the year 2000, Packer reportedly lost roughly $20 million during a three-day baccarat marathon in Sin City. At the time, the loss was estimated to be of the biggest ever in Las Vegas. What makes it even more remarkable was that it came not long after a three-week session of blackjack at the famed Crockford's casino in London just a few months prior, in which the Aussie billionaire lost nearly $18 million. This is considered one of the largest single losses in British gambling history. He also saw staggering losses betting on horseracing, craps and all things sports related. His favorite card game, blackjack, brought him to the Bellagio in Las Vegas three to four times in a three-month period, losing millions in the process. However, because of Packer's extraordinary personal wealth, the losses constituted a practically insignificant portion of his total net worth.
Win or lose, Packer was a generous gambler. Even when he lost, he would be remarkably free with his chips; paying dolled-up servers $50,000 to sit with him while gambling or tipping croupiers when he felt the need to. One incredible gambling story of Packer involves him buying a valet parker a brand new Mercedes-Benz on trip to Las Vegas, simply because he was feeling charitable. Those were the bad nights! When Packer was up, tips would flow handsomely on the casino floors during casino card games. Everyone felt the energy that surrounded him. His wins were electric, and his losses were devastating. Once asked by a friend about Sigmund Freud's quote on gambling, "the reason people love to gamble, is that they love to lose", Packer responded, "If you are a real gambler, the only thing that matters is that it has to hurt if you lose. And I have to lose a lot of [expletive] money before it hurts." We salute you Mr. Packer.
Think you've got what it takes to gamble big like Kerry Packer? While you might not have the millions to drop on a single session of blackjack or baccarat, you can still definitely feel like Packer when you win big only at CoolCat Online Casino. CoolCat Online Casino offers some of the most exciting online casino games available, and we'll guarantee that you'll find more than a few of your gambling favorites.
Enjoy the fast pace of real money slots or roulette in order to get your pulse up and potentially wing big, or try your hand at poker and blackjack to gradually start increasing that bankroll into the positive. Before you know it, you could be doubling up for a whopping payout or coolly collecting the pot on a big hand. There is no limit to the amount of fun that you can have playing at CoolCat Online Casino. Sign up for a free account today for your chance to earn real money or simply register to practice on our free instant play feature. After all, you might just want to hone your skills before you claim that ultimate prize. Join CoolCat Online Casino today, where all the cool cats go to play.

CoolCat Winners
Steve started playing Naughty or Nice at CoolCat at 8:24PM last Wednesday. He was coming off of a previous win, so he bet big from the get go.
Almost immediately, the big bets started paying off. Within the first minute of playing, he won $1,037.50.
Then, he got $812.50, $400, $1,450. All on single spins. A few minutes later, he hit his first Feature and won $1,800 on 12 Free Spins.
He soon triggered his second Feature. Again, 12 Free Games. But this time, he won $64,725.00 across the 12 Spins. Without betting a cent of his own money.
Steve played for some time longer, adding a few more wins before calling it a night. Not bad for a Wednesday night.