July 4th is Independence Day for the United States of America, a time when people drink copious amounts of beer and set off fireworks for hours on end, all in the name of freedom. If you're looking for Independence Day games to entertain yourself between beers and hot dogs, look no further – CoolCat Casino has the best July 4th games online. The best part is that you can access all these slots games from your tablet or your smartphone, so playing between games of backyard beer pong are more than doable.
Field of Green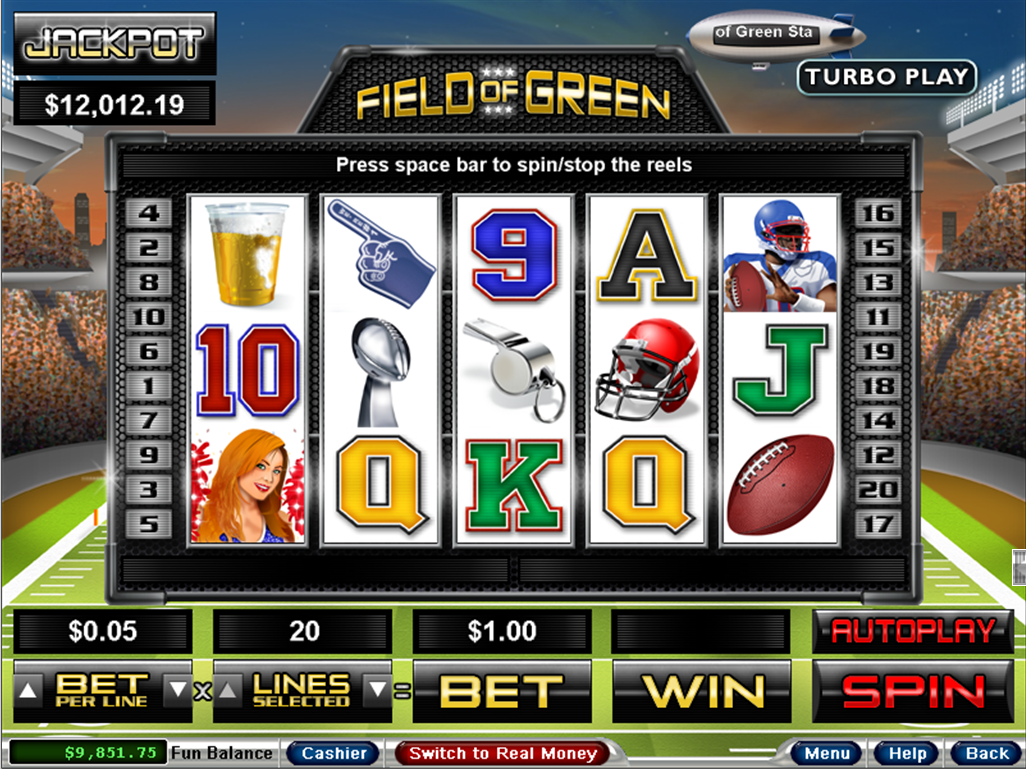 Who said slots games are only for women? CoolCat has more than a few July 4th slots that guys will love. Score a touchdown and hoist the trophy in Field of Green, the game inspired by America's favorite sport. This five-reel, 20-payline game features symbols like a golden trophy, a football (also known as a pig skin), football players, a helmet, and the classic ace, king, queen, jack, ten, and nine. If you can't be on the field playing, Field of Green is the best July 4th activity option for football lovers!
RealTime Gaming provides the full playing experience – this game is packed with the sights and sounds of the popular sport, and the stunning graphics bring players right into the stadium to the 50-yard line. Field of Green is guaranteed to be a fun Independence Day game in between downing the Budweisers and hot dogs. Just remember to stop playing long enough to watch the fireworks show!
The golden trophy is the wild symbol in this game, and it doubles all the game winnings. The scatter symbol is the football – if you catch three footballs anywhere on the reels, the bonus game is triggered! In the bonus game, players have three to five chances to kick a field goal. A bonus prize of 25 free games with a 3x multiplier can be revealed after every kick, and players can even win 100x their original bet or 125 free spins!
The Field of Green reels pay out left to right and right to left, and players can bet anything from 20 cents to $100 per spin. Go long and look out for the best part of Field of Green: the random jackpot! This jackpot is progressive, and can be triggered randomly at the end of any spin. Talk about a touchdown!
Play Now!
King of Swing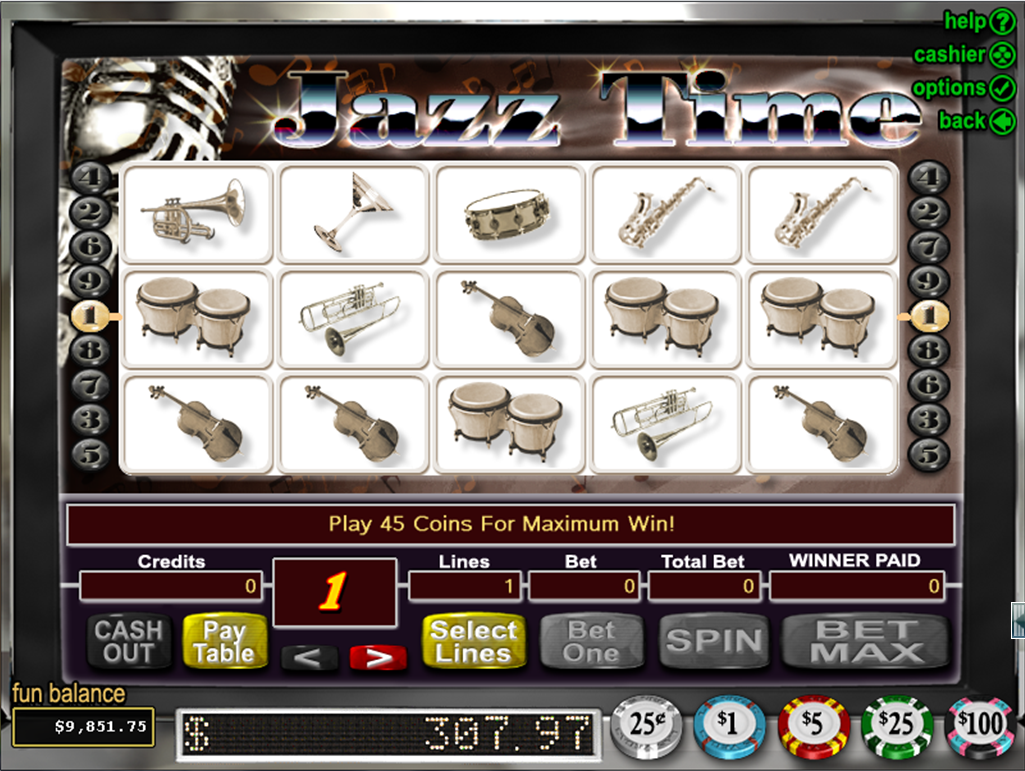 The pitcher steps up to the plate. He throws, the batter swings, he hits! It's going, going… gone! Knock one out of the park like Babe Ruth, Hank Aaron, and Willie Mays with King of Swing, the slots game that gives you the chance to play "America's favorite pastime" from anywhere you are. America has long had a love of baseball, so although real baseball probably isn't one of the games that should be added to casinos, stepping up to the plate at CoolCat is a perfect July 4th activity to celebrate the USA!
This slots game has five reels and 25 paylines, giving you more opportunities to get on base with sweet rewards. Players can bet from one cent to $5 per payline per spin, and use the autoplay option to automatically spin the reels.
In this game, the baseball is the scatter symbol and can appear anywhere on the five reels to complete a winning combination. The first wild symbol is the pitcher. He appears on reels one through four, and substitutes for all other symbols except the scatter and the second wild symbol. The second wild symbol the batter, who appears only on reel five and substitutes for every symbol except the baseball. He triples prizes when he shows up in a winning combination. Hey, batter, batter, hey!
When a pitcher appears anywhere on reel one and a batter appears anywhere on reel five simultaneously, the baseball bonus feature is triggered. In this bonus game, the pitcher pitches balls to the batter, who attempts to hit them. If the batter misses, a strike is registered and a free game rewarded. If the batter gets to first, second, or third base, then one, two, or three games are awarded respectively. And if the batter hits it out of the park with a home run, you get four free games and a multiplier!
In addition to this awesome free game feature, this July 4th game features a random progressive jackpot. The jackpot can be won at the end of any game, so keep your eye on the ball and you could hit it out of the stadium to collect the ultimate trophy!
Jazz Time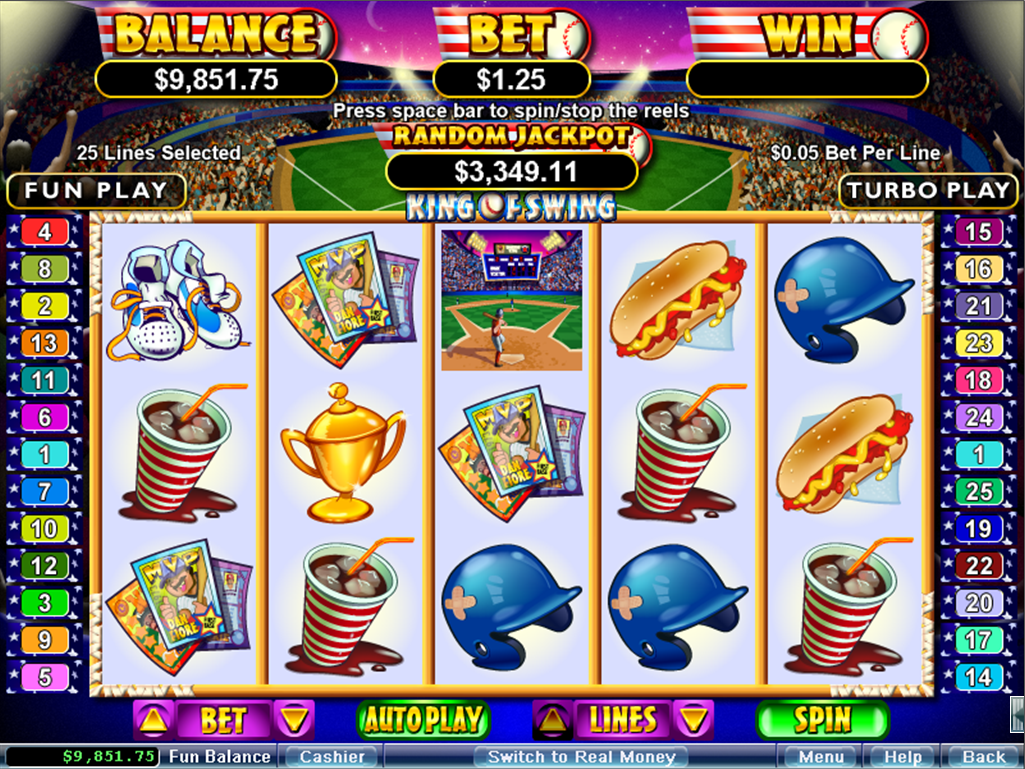 Why is Jazz Time video slot an Independence Day game, you ask? Because jazz is as American as apple pie, obviously! Considered "one of America's original art forms," jazz originated in the African American communities of New Orleans, Louisiana, USA. It was inspired by music traditions including blues, ragtime, and European military band music. And CoolCat is the place to get your fill of this swingin' music and big rewards with the Jazz Time slot game!
This game has five reels and nine paylines. The goal of Jazz Time is to line up matching symbols on each payline. When all three drum set symbols – the drumsticks, snare, and the hi-hat – line up on a payline, they combine to form a complete drum set and award a scatter bonus. When three grand pianos appear anywhere on the reels, they trigger the Jazz Time bonus round!
In the bonus round, you click on an instrument to play it. When the instrument plays a tune in harmony with the bass line rift, you win a multiple of your original bet. When the instrument plays out of tune, the bonus round ends. Play it up to win incredible prizes in this slot game!
Jazz Time also has a swingin' progressive jackpot that's triggered when you bet five credits on each of the nine paylines and five microphones appear on a single payline. Hit the jackpot and you'll need those microphones – we know you'll be singing your heart out to the rhythm of that American jazz band!
Play for Real Money!
Texan Tycoon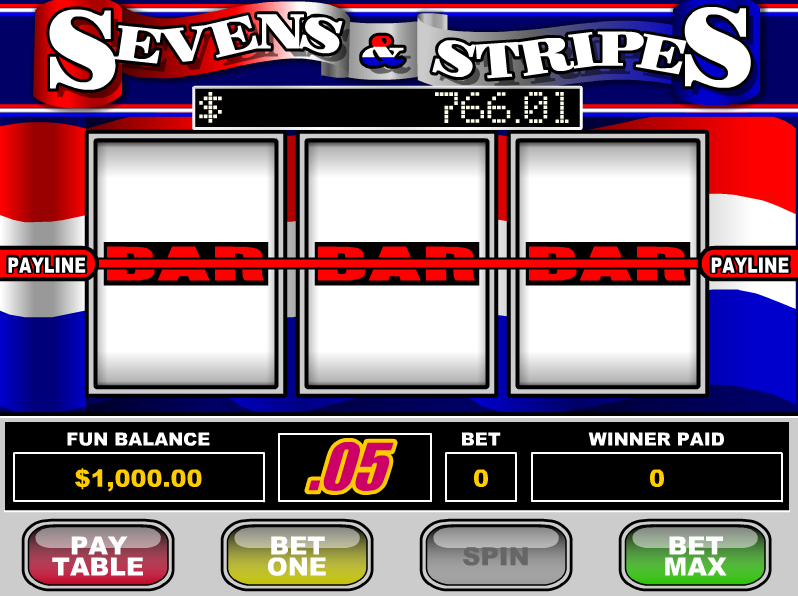 Head out to the oil fields on the Texas range to strike it big! If you're in search of July 4th activities that embody the American spirit, look no further than the Texas Tycoon slot game on CoolCat. This game gives players the chance to experience the economic bonanza that came with the first wave of oil exploration in the southern US and win fabulous prizes that would make the oil barons jealous.
This five-reel slot game has 25 paylines, giving ample opportunities for players to dig in and find rich rewards. Players can bet anywhere from $0.25 to $125 a spin, with a fantastic autoplay option which allows the reels to spin automatically. The oil field workers wish their drills were automatic, too!
The Texan Tycoon himself is the wild symbol, and he acts as a multiplier when featured in a winning combination. The oil well in this game is the scatter symbol, which can appear anywhere on the five reels to complete winning combinations. When three or more oil wells appear on the reels, the bonus free game feature is triggered. In the bonus game, players click on any of the triggering oil wells to be awarded up to 25 free games! Choose wisely and you could be collecting that black gold!
And the Texan Tycoon isn't done yet – this slot game also features a random progressive jackpot that can be triggered at any time. Start digging and spinning the reels and you could strike it rich in the American south with Texan Tycoon!
Sevens and Stripes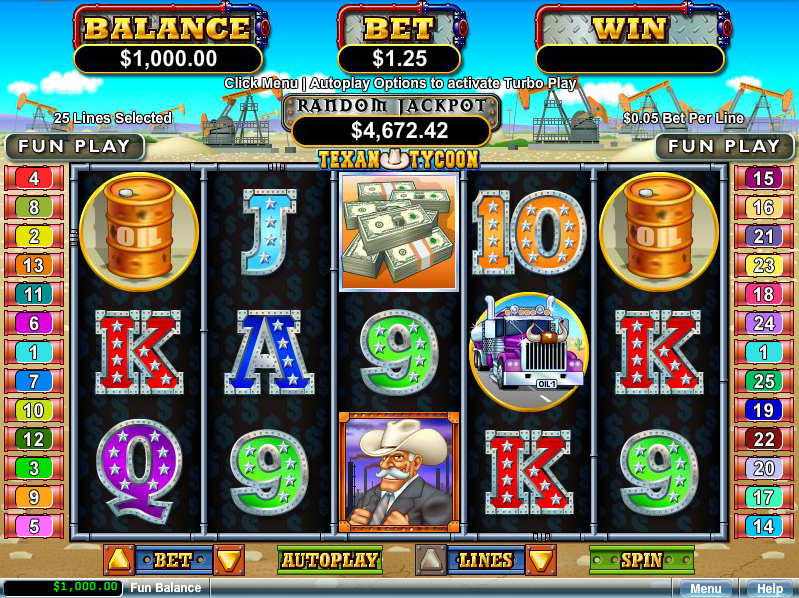 This is CoolCat's ultimate Independence Day game – Sevens and Stripes is inspired by the US of A and everything red, white, and blue. This classic slot game features three reels and a single payline, throwing it back to the old days when the slot machine and the USA were still young. What better way to celebrate the fourth of July than with a traditional slot game?
In this game, players can bet one to three coins and vary their value from $.05 to $5.00. If you're looking for bigger payouts – and honestly, who isn't? – the best strategy for 7s and Stripes is to bet the maximum number of coins. This way, you'll be guaranteed a bigger payout than you would if you bet smaller. Don't believe us? Check out the paytable available for viewing directly in the game, and you'll see what we mean!
This slot game captures the American idea that with hard work, dedication, and a little luck, you can make it big and experience rich rewards. The best aspect that demonstrates this is the progressive jackpot available to players. If you bet three coins and get a combination of a red seven, white seven, and blue seven in that order, the progressive jackpot is triggered and won! Let Lady Liberty and Lady Luck help you win serious prizes this Independence Day with the 7s and Stripes slot game!
There you have it – CoolCat's extensive selection of Independence Day games for you to enjoy this Fourth of July. So, crack open a beer, eat a hot dog and a slice of apple pie, and play at CoolCat Casino before you watch the fireworks show. Don't forget to check out the seven incredible slot machine tricks you won't believe work before you start playing – your bankroll will thank you later. Happy Independence Day!