Online casino games like slots have taken the gaming world by storm. There are several reasons for this and perhaps the single most important is that you can entertain yourself with online casino games right from your own home. 
Let us take a look at how the best USA online casino has an edge over offline competitors.
Advantages of Playing Online:
Bigger and Better Returns- Online casino games have much lower operating costs and therefore much higher payouts. They have a much higher rate of return compared with offline casinos partly due to the intense competition they encounter.
Bonuses and Promotional Offers– Since there is tough competition among online casinos, many of them offer huge bonuses and rewards to their loyal members, including generous welcome bonuses, no deposit bonuses, free spins, cashback, and more.
Comfort and Convenience- Online casino games save you from spending unnecessary time, effort, and money that you might otherwise spend on going to a land-based casino. You can play from anywhere, anytime as long as you have access to the internet.
Freeplay Mode-  One of the best things about playing at an online casino is that reputable websites will always allow players to try out their games entirely for free. You definitely don't get that special treatment at land-based casinos! Playing in Freeplay mode is a great way to learn the rules of a new game or variant, practice new strategies, and learn the dynamics of special bonus features — all with no risk to your bankroll!
Mobile Gaming- When playing at an online casino, you also have the unique option to play your favorite casino games right from your mobile device. Whether you are on your morning commute, waiting in line for coffee, or taking a break at work, you can win real money on slots, blackjack, poker, and more. 
Multiple Banking Methods- Legitimate online casinos like CoolCat provide members with multiple deposit and withdrawal methods, including credit/debit cards, bank transfers, Neteller, eWallet, and other cryptocurrencies.
Dos and Don'ts at Online Casino Games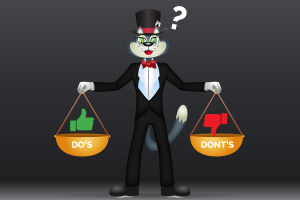 Online casino games involve a lot of money and it is natural for you to be a little skeptical about the credentials of some websites. There is no shortage of websites offering online casino games, and for that precise reason, finding a good website to play at can be very difficult. If you are a little careful and follow these dos and don'ts, you can steer clear of problematic and rogue casinos. 
Before you start playing online casino games, these guidelines will help you identify rogue online casinos which can host unfair and rigged games, con players out of their rightful winnings, and/or compromise the security of personal information.
Dos:
Always verify the validity of the casino. Real money online casinos should be properly licensed and regulated by the appropriate authority or be a member of the Interactive Gaming Council.

Read the full terms and conditions before wagering your money at an online casino. If you have even the slightest problem understanding a clause, call the helpline or and ask for clarification. 

Read online reviews before playing at any online casino. There are a lot of casino review sites, but it is important to make sure you are on a trustworthy and legitimate site before making your decision about which casino to play at. 

Play the games for free before playing in real-money mode. This can help you determine if the games run smoothly, offer high-definition graphics and sound effects, and have beneficial bonus features. 

If something sounds too good to be true, be wary. Desperate for business, operators might come with aggressive offers and huge bonuses but shy away at the time of cash-outs.

Read and understand the casino's payout policy before you start to play any games. And always read the terms and conditions and wagering/playthrough requirements of each bonus offer before redeeming. 

Set a limit. Analyze your bankroll and determine an amount that you can realistically afford to lose in one setting. Once this limit has been reached, stop. The key to an optimal online gaming experience is betting responsibly.
Don'ts:
Underage gambling is strictly prohibited, so refrain from it. Do not place bets on any websites offering online casino games if you are not 18 years of age. It is not recommended to even play the free version of games at real money casinos if you are a minor. 

If a customer service agent is rude to you, do not put up with it. Complain as soon as you can and if the company does not take action, post your experience at an online forum. It is unacceptable for a casino's customer support to be anything but responsive, friendly, and helpful.

There is something called a Redemption Flowback. If your game freezes while you are playing, do not panic. Your money will be credited back into the account. Just check with the 'live help' and learn the procedure.

Don't ever try to commit fraud. Online casinos have sophisticated software which can immediately pinpoint fraud. You will land yourself in big trouble!

Don't chase losses. Understand that with winning comes losing, and some days will be better than others. Don't cross your limit in hopes of gaining back your bankroll. Simply walk away from your PC, take a break, and try your luck another day.
CoolCat Casino Games to Get You Started
CoolCat Casino offers hundreds of games to choose from. You can find classic casino favorites and traditional slots, as well as modern poker variants, slots with every theme under the sun, and dynamite specialty games with unique bonus features. 
With so many games and multiple variants of each, it can feel overwhelming at first — especially for beginners. But don't worry; we've put together a shortlist of excellent casino games to get you started. Each game is available to play for free or in real-money mode.
Pharaoh's Gold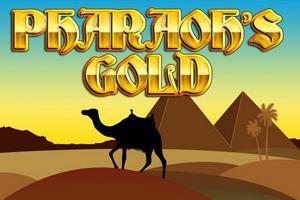 As one of our classic slot machines, Pharaoh's Gold comes with one of the best payouts on our list and is a long-time crowd-favorite.
This game is the one to grab, and just like any other slot game, the process is very simple. Match up the symbols on the pay line and cash in on the winnings. You certainly don't need to be a cryptologist to play this game. The best thing about this game is its progressive jackpot — a life-changing win could be just around the corner!
The Three Stooges
Remember this classic show? Remember how much it made you laugh? Well, now you can relive those great times by playing The Three Stooges slot game. It guarantees loads of fun and excitement with its captivating symbols that trigger heaps of rewards and bonus features.
The Three Stooges is a five-reel, 25 pay line slot game that is sure to make your head spin. If you manage to get Moe, Curly, or Larry three times anywhere on the reels, an astounding bonus feature is triggered. The bonus feature that is revealed takes you back to the yesteryears of this hit show through a video clip in sepia. After that, you can play the bonus round which awards free games (if you triggered the Moe Money or Curly Cash bonus feature, of course). The Larry Loot bonus feature carries prizes beyond belief! America's vaudeville act heroes Larry, Curly, and Moe are back to bring you cash. Nuk, nuk, nuk!
Craps
If you're looking for a game with a strong strategic element along with the luck factor, you should try out the game of Craps. Forget about waiting for Lady Luck to blow on your dice. This realistic game is the perfect way to pass the time.
This game might seem a little overwhelming to rookie players, but figuring out how to play crap online is actually quite easy. Once you have the hang of the game, it is no big deal. The dice are rolled and players are paid out depending on what they bet on.
The betting part is the confusing, part, right? Well, on the Craps page at the bottom there are some links to a site that can help you improve your Craps game. Come on and give it a whirl.
Pontoon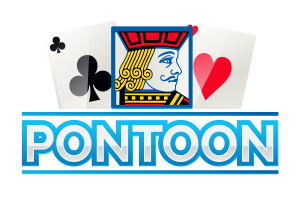 Are you a blackjack fan and want to try a different version? Come on and try Pontoon. This is the classic British version of Blackjack. If you are bored with the American version, then give Pontoon a shot! The goal is the same — beat the dealer's hand by coming as close to 21 as possible without going over.
There are a few differences in the rules, so make sure you brush upon them. The best part about playing Pontoon at CoolCat Casino is that it sports the Insurance feature. Pontoon Insurance will give you a chance to win if you believe that the dealer has a Blackjack. That is a real clincher.
Aces and Eights
This game is a real pick-me-up game. The fast-paced, action-packed game of Aces and Eights Video Poker will give you all the chills and thrills that many casino-goers are looking for.
Normal winning poker hands apply, but if you get four-of-a-kind Aces, 8s, or 7s, you get special prizes. You can make your prizes even bigger by playing the Double or Nothing round.
If you're ready for some real poker action, try out Aces and Eights for free or for real money today.
Banana Jones
Banana Jones is a specialty game like no other! It combines slot machine features with snakes-and-ladders type gameplay. Your mission is to guide your cute monkey friend, Banana Joe, across the board as he searches for the sacred Crystal Banana that is hidden somewhere in the ancient temple. 
Roll the dice and help the primate adventurer navigate through thick vines, venomous snakes, and various enemies. You'll be able to trigger bonus features and hit a top reward of 2,565x the initial bet. 
If you're looking for something a little more challenging and exciting than a traditional slot, but aren't too keen on strategy-heavy casino games, Banana Jones is perfect for you. Try it out for free and learn the dynamics of the game, then you can move on to the good stuff — playing and winning in real-money mode! Load up the dice and get to playing today!