Long before skateboarding dogs, Grumpy Cat, and fainting goat videos, there was "Dogs Playing Poker." This iconic 18-piece series features paintings of various dog breeds in human situations. Many of the paintings in this series feature dogs wearing hats, smoking cigars, drinking whiskey, and sitting around a card table playing poker.
The humorous, kitschy aspect of this series has given the artist claim to the title "grandfather of the modern meme."
While the artist's name is not as well known as Van Gogh, Picasso, and other esteemed artists of the twentieth century, his paintings are known throughout the world; there's hardly a pool hall in the United States without one of his pieces hanging on the wall.
So who is the playful mastermind behind these famous paintings?
Cassius Marcellus Coolidge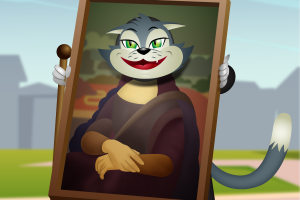 Born in 1844 in Antwerp, New York, Cassius Marcellus Coolidge had many different occupations. He founded a bank, owned a chemist store, and started a newspaper. His sometimes failing businesses never discouraged him from pursuing alternative business ventures; he even once wrote an opera and a few comedic plays.
Along the way throughout his various odd jobs and businesses, some things remained the same: his love of art and quirky sense of humor. Coolidge was an artistic child, and at only twenty years old he patented "comic foregrounds." These are the large boards you see at carnivals, theme parks, etc., depicting silly scenes in which the characters have a hole where the head should be. Kids and tourists put their heads in the holes, creating an optical illusion that looks like they are in the scene themselves.
Despite having no formal art education or training, he was naturally talented at illustration. His playful sense of humor enabled him to illustrate children's books, and eventually led him to create "Dogs Playing Poker."
Dogs Playing Poker Collection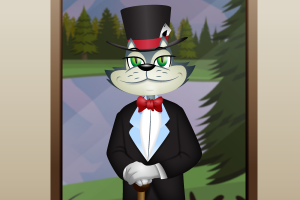 Coolidge knew what people wanted to see. In the 1900s, anthropomorphic animals sold; kitsch sold.
It is thought that he drew inspiration from Sir Edwin Landseer's painting, Laying Down the Law, which depicts "lawyer dogs" gathered around a table reviewing paperwork, though this piece was more serious than funny. Historians also believe that Coolidge was inspired by works of art that showed people playing card games from artists like Michelangelo Merisi da Caravaggio, Georges de La Tour, and Paul Cézanne.
Coolidge's first Dogs Playing Poker paintings can be dated back to the 1870s. His illustrations graced the front of cigar boxes in an effort to separate tobacco companies from their competitors.
In 1903, Coolidge signed a deal with the advertising agency, Brown & Bigelow. Soon, his dog paintings (sixteen in total) were used for calendars promoting cigars. These calendars were sold at an exceptionally high rate, making Coolidge's dogs famous throughout the United States.
When Kitsch Was King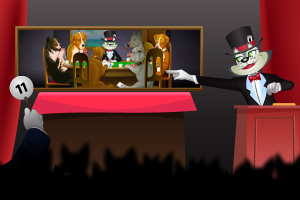 Coolidge has been described as "the most famous American artist you've never heard of." His paintings reached their publicity peak in the 1960s when "kitsch was king." People loved the playfulness of the dogs and the funny, human-like situations they were in.
The most popular piece in the collection is A Friend in Need, which shows two bulldogs seated beside each other at the table. One of the dogs is slipping an ace under the table to his friend with the card between his toes. Another painting shows a St. Bernard bluffing as the other dogs look at him skeptically, wondering if they should call his bluff. The next piece in the collection shows the St. Bernard with his paw on a large pile of chips indicating that he won the round with a pair of deuces.
So you know his paintings; you see them everywhere, but you don't know his name. Why?
Dogs Playing Poker was not as well-received by the art community as it was by the public. They were a staple in middle-class American homes, but art critics mocked the collection, saying his work was "low-brow," and a "parody of genuine art." Even Coolidge's wife and daughter were not too keen on the silly depictions, stating they preferred cats to dogs.
For reasons unknown, during his lifetime, Coolidge did not get the notoriety he deserved. However, in recent years, original paintings from the collection have been sold for up to $658,000, proving that there is value in comedic art.
So, the next time you are playing billiards or enjoying your time at a casino, look around for prints from this famous collection and take a second to appreciate one of the most underrated artists in history (Just don't take any poker tips from the bulldogs).