If you've been around for a few years, then you may have noticed just how much slots have changed in a short time. The history of slot machines involves a culture that, over time, also represents an evolution of popular trends and social movements in society.
Slot machines have changed over their course, due to advancements in technology and social change. They haven't actually been around that long – a little over a hundred years – but that time has been marked by the revolutionary movement in society. Another telling aspect of the evolution of the slot machine is that they were intended and marketed towards your average joe. Because they were invented and marketed for the average person, slot machines became popular very quickly and easily. Most casino table games were meant for people with class and money, but slots were made for your run of the mill gambling person, so they historically followed the widely available technology and law-abiding qualities of real-people, day-to-day society.
The first slot machine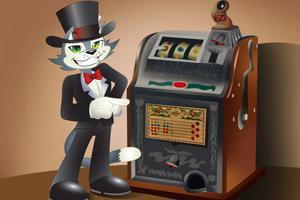 The history of slot machines begins with their invention. The race to produce the first commercial slot machine reached its height in the last decade of the nineteenth century. On opposite coasts of the United States, people were striving to make a handy and fun game that could be played in all sorts of venues, whether it was in a diner or a bar. The first real star to walk onstage with their slot machine invention was a company called Sittman & Pitt. They came bearing a poker slot game, with five rotating barrels that had playing cards painted onto them. The goal of this game was easy to grasp, because the paylines and winning combinations corresponded to hand rankings in poker. By removing certain card options from the barrels, Sittman & Pitt was able to create the house edge that has been spurning players ever since, making it harder for someone to get the winning hand, or a royal flush. The Sittman & Pitt slot machine was so primitive, though, that it didn't contain the mechanics to dispense money for a winning stroke. Instead, it would often be up to the establishment who owned the machine to provide a prize, such as a free drink or cigarettes.
Next down the line with early slot models comes the "Liberty Bell." Out on the west coast in the year 1899, Charles Fey created a machine that more closely resembles the slots we know and love today. He catered his machine towards the general public, using fewer reels and an illustrated payout table so that winning combinations would be easy to recognize, even for those who weren't bona fide poker champs. The "Liberty Bell" slot game gets its name from the winning combination, which is three cracked liberty bell symbols lined up on the payline. This was the first widely sold slot machine to dispense prizes for winning spins.
The last notable innovation in old-time slot machines was Mill's slot game, "Operator Bell." This machine took Fey's Liberty Bell game and changed it according to the social restrictions of the time. With anti-gambling laws passing through legislation, giving out cash prizes soon became illegal. So Mill's replaced the symbols with images of fruit, and whatever fruit symbol you got, you received a piece of gum with that flavor. The BAR symbol, which is still hugely popular in modern slots, comes from this particular machine. It resembles the Bell Fruit Gum Company's logo – the same gum dispensed to players of this slot.
Online Slots Guide

Everybody loves slots. What's not to love, right? Insert money, spin the reels and in the blink of an eye you could be rolling in millions! But there can be more to slots than meets the eye. Picking the best paying slot machine is an art in and of itself…

Read more

Slot Machine Tips

Most people believe that slots are just about luck and that there's no real strategy involved. Ironically, this couldn't be further from the truth. The fact is, players can get the edge in slots by taking heed of a few simple tips and tricks. Here's what the experts have to say…

Read more

Slots Bonuses and Free Spins

Who doesn't love free money? Get 50 free spins and a 330% match bonus on slots today at CoolCat Casino. Expand your bankroll, winning power and fun. Get infinitely more bang for your buck by using the bonus code COOLWELCOME and watch your winnings grow like wild!

Read more
Prohibition of slot machines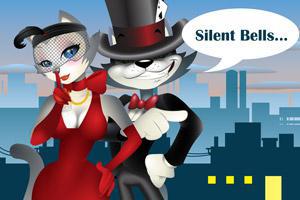 The slot machine industry was widely popular before prohibition set in, and people of the time just couldn't seem to let go of their beloved slot games. When bars and other alcohol-selling institutions were outlawed, slots had to evolve in order to survive. Take the Mill's Novelty Company's slot game, Operator Bell, for example. The popularity of this machine extended well into the prohibition era, so the machines were moved from legal bars to underground speakeasies. Instead of the ringing bell that had previously accompanied the game, they manufactured quiet and therefore undetectable machines, which gave them their newer name of "Silent Bells."
Around this time, a popular term was born into prohibition culture and the history of real money slot machines. "The one-armed bandit," an endearing nickname for slot machines that you may have heard of, actually comes from a specific reference to a type of slot that was widespread and well known with the same name. The one-armed part referred to the slot machine's lever, which you pulled to spin the reels. And the machine was known as a bandit because of its incredibly low payout rate. It often took the money and offered no winning combinations, leaving the player without a prize or their original bet. One-armed bandits stayed at peak production through the 1930s until after the end of prohibition.
Electromechanical technology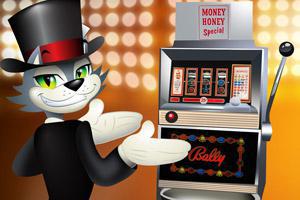 In the 60s, there was a leap of technological advancement in society. It helped create color television, massive computerized systems, and even helped put a man on the moon. Nothing was left untouched during this revolution, including the slots industry. In 1964, the history of slot machines once again experienced a revolution when Bally Technologies introduced a game changer that would affect the beloved slot machine forever. This slot resembled the ones people were playing before, except instead of pulleys and springs to get the reels rolling and fix the odds, this machine used electronic motors. Called "Money Honey", this game featured more reels, fun sound effects, and brighter symbols. With better technology came larger hoppers, allowing players to bet more and win bigger prizes. These are the precursors that most closely resemble the slot machines you may see lining the walls of Vegas casino floors.
A few short years later, Bally continued to pioneer the slot industry with the invention of random number generators and video machines. This use of video slots helped carve the path out for the future of online slot games – the ones you love so much today. Without Bally, we wouldn't have the hundreds of bonus and progressive slots that CoolCat and other online casinos offer players today.
Modern Slots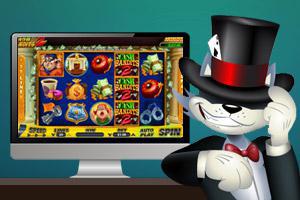 Since then, slot games have come a long way, both in live casinos and online gambling floors. Just like there are things to learn from playing slots at live casinos, real online casinos have a lot to offer players as well. Video slots no longer have the simple interface depicting the spinning reels like they used to. 3D slot games, for example, have extremely high quality, video game-like graphics, bonus features that take you to different screens, and interactive elements that keep you interested in the game and make you want to continue spinning. The variable music and bright images are attractive, and bonuses make spinning the reels just one more time with the hope of making that jackpot that much more rewarding and exciting. The popularity of online casinos is continually growing, and with more technological advancements, the evolution of slot machines will keep changing with the times.
CoolCat Winners
Just yesterday, Hannah saw the newest promotion on CoolCat Casino and decided to try her luck with the CoolCat exclusive bonus code, which awarded her 40 Free Spins on Cash Bandits 2.
She started spinning her $25 bets at 5:32 PM, but her first twenty spins only brought in $155.
But then.
She triggered the Feature and won an additional 80 Free Games. She won, $100, $100 and $150 on her first three spins. And that was only the beginning. She won a total of $12,260 in the Feature.