Typically at casinos, there are table games and there are slots. Table games tend to include anything involving felt, like blackjack, war, baccarat, Let'em Ride, Pontoon, Texas Hold'em Bonus Poker, Red Dog — anything involving a deck (or multiple decks) of cards. Slots, well, they're pretty much anything with reels and a Spin button. That's true both online and offline. While those games attract the majority of the attention, there are several games that don't fit into either category.
These are called specialty games, and CoolCat Casino has lots of them. In fact, you'll find a bunch of specialty games that you can't even find in the real world! These are the games that table games and slots champs flock to when they want to mix things up without having to give up serious odds to the house. Today, we're going to introduce you to the best specialty games, and tell you how to play them.
Multiplayer Roulette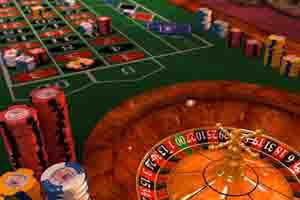 The thing about online casino games is that while big wins happen a lot, you only really know about it when it's you who is doing the winning. Think about it. In the live casino world, when you step onto the casino floor, the first thing you hear is the sound of people screaming with excitement when they've hit a big jackpot or having a lucky streak at the tables. 
That's especially true at the roulette tables. The style of the game makes it easy for people to celebrate big wins together. You're all crowded around the same table, reaching over one another to place your bets. You might even develop playing strategies along the way. When the croupier spins the wheel and releases the ball, there's mutual anticipation as you all wait to find out where the ball is going to land. When players win, there are high fives and screams of excitement — especially when you're a winner among them.
But online, that's all gone. At the roulette table, you're essentially on your own to celebrate your big win. And while it might happen a lot, if you hit a losing streak, you might assume that everyone is losing.
Multiplayer Roulette, however, offers you the best of both worlds. Like regular online roulette, you're free to play whenever you want from the comfort of your own home. But unlike the regular iGaming version in which you play solo, Multiplayer Roulette seats you at the same table as other roulette-hungry players.
You're all seated together. You all bet together. And you all celebrate your wins together. It's just like regular online roulette, except you don't have to sacrifice the social aspect that you get in a land-based casino.
You should note, however, that Multiplayer Roulette is a bit slower than the regular online version. That's because while in regular online roulette you're free to spin the wheel immediately after you've been paid out, Multiplayer Roulette is just like the live version — you must wait for other players to place their bets. So instead of you hitting the Spin button, there's an actual Croupier who takes care of it all for you.
Hot Dice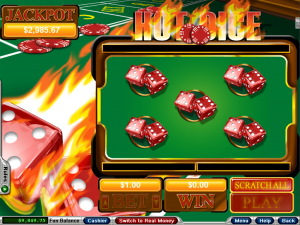 Craps is a great game, but for the newbie online casino player, it can be a little overwhelming. If you're craving a fun dice game without having to do too much thinking, give Hot Dice a try. It's a really fun specialty game available at CoolCat Casino. You can't really find this at live casinos — we stay on the cutting-edge of online casino technology!
The game is super simple to play. Just place your bet, click Play, and watch what happens. If you roll a 7 or an 11, you'll win. How much? Well, each rolled dice reveals a prize multiplier. So, if you bet $10 and you roll an 11 that reveals a 4x multiplier, you'll win $40.
Hot Dice is a quick game, and technically you don't even have to wait for the dice to roll. It's similar to a scratch-off game, much like the tickets you'd buy at your local convenience store — we'll talk more about this later.
Keno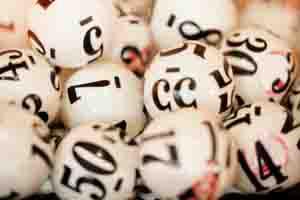 Speaking of lottery tickets, did you get in on the last massive one? Or are you in for the next one, which appears to be approaching $200 million? We've got our tickets, but the chances of actually winning are, unfortunately, pretty low.
If you want better odds at a lottery style game, try Keno — the third specialty game on our list. Just like a traditional lottery, you choose your numbers from an available set of numbers. And just like a lottery, numbers of drawn. If your numbers come up, you win.
But here's the best part. There are 80 numbers to choose from and you can choose up to 15 of them. You can also choose to play fewer numbers — it's entirely your call. After you pick your numbers and place your wager, the numbers are drawn.
Now, you don't have to hit all of your numbers. However, the more numbers you hit, the higher the payouts will be. For example, if you earn 1x your bet for hitting 6 out of 15 numbers, you might earn 4x for hitting 12 out of 15 (these payouts are only an estimation and not a reflection of actual payouts). 
It gets better. By choosing fewer numbers and catching more of them, you'll actually earn higher payouts. For example, hitting 6 out of 8 numbers gets you better payouts than hitting 7 of 15 numbers because you've hit a higher percentage of them.
Online Keno is pretty much identical to the Keno games you might have played at your favorite Las Vegas casino or at a Bingo hall. The difference is that you never have to wait for a Keno game to start. Usually, in the live version, Keno games run every 15 or 20 minutes. Online, it's completely up to you when you want to play.
Online Scratch Cards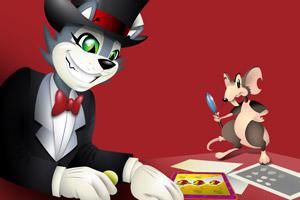 Seeing our favorite teams and icons on the field again would be wonderful, but Coronavirus restrictions pose a long and disappointing wait for sports fans, with most scheduled tournaments and games postponed until spring at the earliest. However, Esports has transformed into a billion-dollar market as a result of the pandemic, and it's a great alternative to sports betting that you can explore freely and conveniently. Most online sportsbooks let you create your own dream team with fantasy football, basketball, hockey, and a range of other top leagues that can result in real cash rewards if your team wins.
Scratch Card Games
CoolCat Casino offers five different scratch card games, each with its own look and feel. The best part is that they offer all of the anticipations of traditional scratch cards, but they provide players with special features that can only be made possible with online games: interactive elements, animated scratch symbols, and other awesome features. With traditional scratch cards, there are set prizes you uncover, but with online scratch cards, you can change it up with different themes, rules, and bet values. Continue reading to learn how to get started today!
How to Play Online Scratch Cards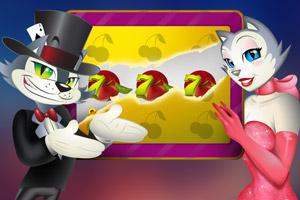 There is a lot more variation in the scratch card games you may find online, but playing them is easier than ever! With only a few simple rules to follow, you'll be on your way to winning in no time at all. The most important thing to know when learning how to play online scratch cards is that the game consists of covered symbols. Just like real-life scratch cards, the goal of the game is to uncover them and reveal what kind of prizes the game has in store for you. Often, games will have a "Reveal All" button which shows what lies behind all of the mystery symbols in one fell swoop. But consensus says that the most fun way to play is by uncovering each symbol individually. It keeps you clicking and maintains the anticipation that you love so much in the game.
Behind these mystery symbols lies a particular number or picture you're trying to get more of, but these games will often give out multipliers and free games as well. You can start to collect crazy earnings when your winnings are multiplied by up to 20 times! And a free game where you bet nothing and keep all your winnings never hurts either! If you're looking to really maximize your prizes, check what kind of promotions the casino has going on at the moment. Offers like deposit bonuses and free chips are rewarded to you for doing what you already love. And who wouldn't want to play with free money?
Online scratch cards are and always will be a game of complete luck. But there are still strategies you can use to make the most of the game. You are completely in control of the amount you choose to bet. All of the best online scratch cards give you the ability to adjust your bet, whether you want to bet a low $1 or a high $10. Strategically speaking, it only makes sense that if you put down more money with each bet, you could change the value of your earnings exponentially.
That being said, don't put down your entire bankroll on consecutive scratch card games. It's a game of chance, so if you find yourself boding particularly well, roll with it. If you find yourself on the wrong side of a flipped coin or losing more than you'd like, call it quits for the day. Grab a soda or take a nap and make sure you feel refreshed before giving it another go.
Best Online Scratch Cards at CoolCat Casino
CoolCat Casino has some of the finest online scratch cards. Offering five different games, you can pick a different theme for every day of the workweek — whether it's the mobile scratch cards that you play on your commute or your favorite desktop version. One of our most popular scratch card games is Hot Dice, which we discussed earlier. But take a look at the other four we have to offer. You might find your new favorite online casino game!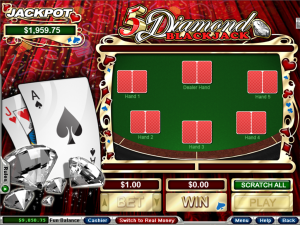 If you're a fan of blackjack but don't feel like putting in the mental effort to master your strategy, check out the online scratch card game, 5 Diamond Blackjack. With tons of prizes and the possibility of winning up to 4,000 times your bet, this game will make you feel like you can't lose! This scratch card is set up like your favorite game of blackjack, except you are dealt five different hands, meaning that you have five different chances to beat the dealer. If you beat the dealer, get 21, or get a diamond, you automatically start winning. For a fun new take on one of your favorite casino classics, check out 5 Diamond Blackjack – you'll be shouting 21 in no time!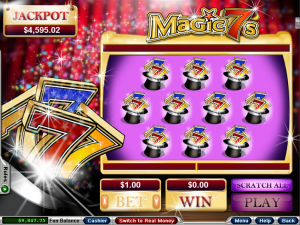 Speaking of the lucky number 7, if you're trying to make the most of a good luck symbol, check out CoolCat's online scratch card game, Magic 7's. This game is perfect for someone who wants a little spark of magic in their lives. With each scratch card, you are given 10 magician's hats bursting with magical 7's. You can either click on each one to uncover what lies below, or you can click the "scratch all" button to reveal them all at once! Look out for the number 7 or a magic hat, which can give you bonus rounds, a free game, or anywhere up to 3000 times your winnings! With a little swish and flick, there's no telling what kind of prizes you can pull out of your hat!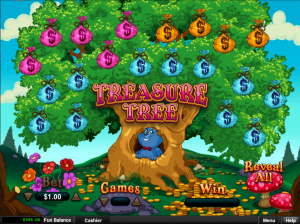 If 10 spaces aren't enough to fit your taste, then your best bet is to check out the online scratch card game, Treasure Tree. This game will keep you entertained for hours with its 20 mystery money bags hanging from the treasure tree. You can click the "reveal all" button to quickly uncover all of the symbols at once, but where's the fun in that? This match and win game is best enjoyed revealing each symbol one-by-one. The game itself is simple: there are three different colored sections, and your goal is to get two or more matching symbols in the same colored section. If you get two, you win the prize that is written on the moneybag symbol. If you get three of a kind, you can win 25 free games or up to 500 times your bet! Play Treasure Tree, because after all, the money fruit doesn't fall too far from the tree!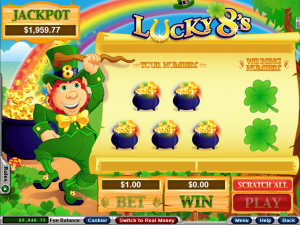 If the fortune in your life needs a little boost, then grab a Guinness and really harness the luck o' the Irish. The Lucky 8's online scratch card game is all about four-leafed clovers, rainbows, and pots of gold that could become yours. This game is a real nail biter, with five pots of gold symbols that cover your numbers, and two clovers that are hiding the game's winning numbers. The anticipation comes from not even knowing which numbers are going to win you a bucket of gold coins! With this online scratch card, you bet anywhere from $1 to $5, meaning that you could potentially see the money rolling in with the possibility of winning up to 4000 times your bet!
Let the Games Begin!
Online scratch cards and our other specialty games are a great NEW way to have fun and win big. Head over to CoolCat Casino and start building your fortune.
With your CoolCat Casino account, you can access these specialty games all from the comfort of your own home. You can even play them for free if you would like to determine the dynamics and gameplay of each game before risking your bankroll. 
Just spend a few moments setting up your CoolCat Casino account and we'll take care of the rest.
Good luck!