Collecting casino chips is all about intentionally taking chips from casinos in order to commemorate your visit. That's how it all began, at least. However, with the rise of the internet, this simple hobby has grown into a much more lucrative endeavor. As evidence, all you'll need to do is take a look at the listings on online auction site eBay, which can regularly include more than 20,000 individual items for sale. While it's grown into a sort of swap meet for the best casino chips these days, the truth is that the history of casino chip collecting's popularity actually predates eBay.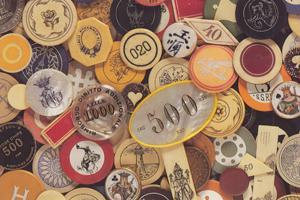 In fact, the popularity of casino chip collecting was jump started back in the 1980s, when regular publications, such as Worldwide Casino Exchange and Casino and Gaming Chips began to attract hundreds of subscribers. In addition to winning a host of awards for their high quality content, these magazines eventually inspired a massive following for chip collecting. In 1988, the Casino Chip & Gaming Tokens Collectors Club was formed, and, within two years, the first annual convention celebrating the hobby was held at the Aladdin Hotel and Casino in Las Vegas.
Since those days the club has made considerable progress in establishing grading systems and value sheets for casino chips. In 2003, members agreed upon a grading system that was to be adopted worldwide. This move was followed by the release of published price guides, including The Official U.S. Casino Chip Price Guide, which covers chips from casinos in Nevada, Atlantic City and a collection of Midwest States, and The Chip Rack, which attempts to include every chip issued within the state of Nevada.
A Grade for Every Chip
Much like coin collectors, casino chip collectors subscribe to a detailed grading system that can play a major part in the value of a piece. A grade of New (N) signifies that the chip was never used in games and demonstrates absolutely no wear. A grade of Poor (P), on the other hand, indicates that the chip is highly worn, with edges worn or missing and surface details barely visible. Other grades include Slightly Used (SU), Average (A), Well Used (WU), Cancelled or Modified (Can) (Mod) or Damaged (Dam).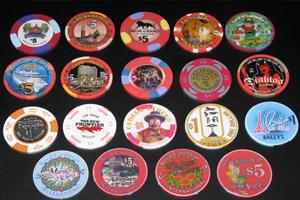 Identifying Traits
In addition to a system to grade condition, collectors have also created a system for identifying chips. Categories include issue, denomination, basic color, mold, inserts, inlay and rarity. Inlays are a particularly important to any chip, as they are often the first feature to go without proper care. If you've got a rare chip with a clean inlay, you could be on your way to a decent payday.
Recent Sales
Just in case you didn't think this casino chip collecting business could be a lucrative endeavor, it's time to consider a few recent sales. During the 2014 casino chip convention, a $5 chip from the Golden Goose casino sold for $75,000! Additionally, a $5 chip from the Lucky Casino sold for $52,500! Now that's what we call a return on investment.
If you've been considering trying your hand at casino chip collection, there's no time like the present. Get yourself a price guide and be on the lookout for good condition. You never know where the big money chips may be hiding.