It was supposed to be the jewel of Atlantic City, but now it turns out the diamond in the rough known as Revel Casino is worth nothing more than fool's gold.
Revel Casino, the tallest building in all of Atlantic City and the second tallest skyscraper in New Jersey has announced that it will close its doors by September 10th. The property, which stands at 57 impressive stories, is now bankrupt.
With the closing comes a loss of thousands of jobs. Revel wasn't just a casino. It was an enormous hotel complex with tons of dining, shops, gaming and convention space, not to mention 1,399 hotel rooms.
This is pretty devastating news and it hits harder than watching an old casino close its doors. I've seen that happen in Las Vegas a lot. A casino hotel complex shuts its doors and gets torn down. People long for a piece of history and remember the good times they had at the property, but there's an understanding that something new will be erected in its place.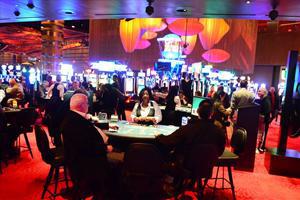 That's not the case with Revel. While Las Vegas casinos that shut their doors are usually decades old and in need of a major renovation, the Revel is probably the nicest casino in Atlantic City. And it's mega-modern, having only opened its doors in April 2012.
Revel was perhaps doomed from its beginning. Early on in the Revel Casino construction process, six executives will killed when their charter plane crashed on the way to Minnesota. Other serious injuries include the collapse of a tower crane that injured one person on the ground, a rooftop fire, and a lightning storm that struck three concrete workers, killing of them.
The bad luck continued once the casino opened its doors. On September 10, 2012, a customer fell off the escalator to the floor 40 feet below.
So is this the end of the gigantic Revel Casino property? Maybe not. After the property closes, it's still possible that a buyer will emerge. No one is stepping up to the plate right now because if a purchase happens before the closing date, they would need to take over any contractual liabilities. After the property closes, any purchaser wouldn't need to assume those liabilities.
Would anyone want Revel though? Perhaps. The casino count has dropped from 12 properties to 8, so with the right management and a new approach, a new Revel could succeed in a very changed gambling landscape. And who knows? Now that there are rumors of PokerStars returning to the US market, perhaps they'll buy the property and turn it into their first land-based venture.
Whatever happens, we'll keep you updated, so stay locked to CoolCat Casino news and never miss out on what the deal is.