There's a famous sign when you enter downtown Reno that reads, "The Biggest Little City In The World". But at the rate Reno, Nevada is going, they might soon need to change that to "A Pretty Big City And Not Little At All". And, surprisingly, the rise of the small casino town has nothing to do with gambling.
Reno has always been Sin City's sketcher, less impressive distant cousin. A 6-hour's drive from Las Vegas, Reno is widely known as a less attractive, smaller version of Vegas. But aside from the fact that both cities have casinos, they couldn't be more different.
Las Vegas has become synonymous with glitz and glamour. Reno, on the other hand, is known for low-stakes casinos, strip clubs, and the opportunity to initiate a fast divorce.
Reno tends to attract gamblers from Northern California, like folks in San Francisco and the general area, while Las Vegas tends to get their weekend traffic from Los Angeles and the rest of SoCal. But much like Atlantic City is seeing its revenue fall due to competition from casinos in neighboring states, Reno is struggling with the same issue thanks to Native American casino gambling in California, not to mention the prevalence of online gambling in the state.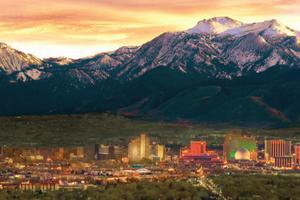 But unlike Atlantic City, Reno isn't resting on its laurels. The city is turning to the tech sector to revitalize its industry and become a hugely attractive launching pad and mother ship for tech companies.
As I mentioned like 30 seconds ago, Reno is fairly close to Silicon Valley. And now, they're taking their game west and upping the ante to poach talent and create a thriving industry right at home.
With no corporate or inventory taxes in the state, Reno has fast become quite attractive for app makers, computer programming companies, cloud computing developers, and other tech companies.
And there's a lot of talent not just 4 hours west in California, but right at home in Reno. The University of Nevada, Reno, has about 18,000 students. Most of them get their degrees and then get the heck out of dodge. But now the city is pushing to make it attractive for people to stay. "Dodge" is quickly becoming Utopia, or at least that's the end goal for a city that isn't interested in waiting for gambling to return.
Atlantic City seems hell-bent on revitalizing their town and making it attractive for gamblers. I think that with two casinos having closed their doors in a matter of months, the powers that be in New Jersey might want to rethink their strategy and take a cue from Reno. Otherwise, Atlantic City could fast become "The Biggest Poor City On The Eastern Seaboard".