If you play at CoolCat Casino or any other online gambling site, you know that it's a 24-hour operation. You know that whether it's 3 in the afternoon or 3 in the morning, you can walk up to any game you choose and play instantly, without having to wait for an open seat.
And if you play live at somewhere like Vegas where there are so many casinos to choose from, you probably won't have to wait too long to play the game you love, no matter what time of day it is. But most of us don't live in Vegas. For many, our local racino or resort casino is our go-to destination.
If you're all about playing at Foxwoods Resort Casino in Connecticut, you might want to pay attention to this. A memo released last Thursday indicates that the casino will close down slot machines and some table games in the Rainmaker Casino section from 4am on Mondays until 9am on Fridays.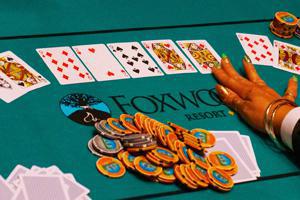 It looks like that section will be specifically designated for weekend play when the traffic is higher. While the company didn't say that there will be layoffs, it looks like staffing changes across every level of employment is on the table. If you play at Foxwoods, you've still got choice. The Rainmaker Casino area is actually just one of six gaming areas at Foxwoods, a massive casino complex with almost 6,000 employees.
But even if you don't play in that areas, and even though other areas remain open, the move will affect you. As many states erect new casinos to help pay for state programs, Foxwoods seems to be cutting back. That could dramatically affect the type of service you receive on the casino floor, in restaurants, and at the hotel. And if service levels decline, fewer people will head to Foxwoods. And if fewer people head to Foxwoods, even more cuts could come.
As an online casino site, we're hoping the best for Foxwoods. While many believe that online casinos compete with land-based casinos, the truth is that online casinos actually fuel the appetite for live play. Almost 35% of our players have never played in a land-based casino before creating an account at CoolCat Casino. For many, live play is too intimidating. But once they see how fun it is, they confidently make the switch to land-based casinos in Vegas and around the world.
Of course, we don't want our players to stray over to other online casinos after playing with us (that's why we offer the best promotions in the biz) but we actually love hearing stories about big wins and good times in Vegas.
Did an online casino fuel your appetite for live casino excitement? Drop us a line and let us know about it. We'd love to hear about it.