When Atlantic City promotes itself, it usually focuses on its casinos, (which are dwindling in numbers), nightlife (which is virtually nonexistent) and dining (which is actually pretty great, but that's a post for another day). But it often overlooks one of its prized natural wonders. I'm talking about the Atlantic Ocean.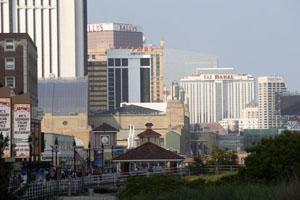 Step outside any of the boardwalk hotels and there it is: The Atlantic Ocean. But it's not celebrated the way other New Jersey towns celebrate it. The casinos happen to be on the boardwalk, which happens to be along the ocean. But there's still that separation between the properties and the ocean. And the properties still try to steal the ocean's spotlight with bright lights and promises of big wins.
But a new proposal could bring attention away from the casinos and put the spotlight back on the ocean. And the proposal in question happens to celebrate all things H2O.
According to an application submitted to the Casino Reinvestment Development Authority of new Jersey, Endeavour Property Group wants to build an entirely new resort complex. The project involves refurbishing the second floor of one of the shuttered casinos and adding an oceanfront restaurant and bar, a buffet restaurant and a family entertainment center measuring in upwards of 58,000 sq ft.
That's just the tip of the iceberg. Actually, make that a melted iceberg. As in a pool. The proposal, if it goes through, will see a 26,670 sq ft water park right on the boardwalk, plus an additional 81,454 sq ft waterpark. It's not clear where the second one will go, but it sounds like we could see an indoor & outdoor waterpark in Atlantic City.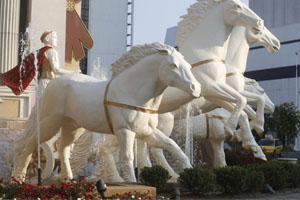 This is great news for Atlantic City and I'm excited to see the entire city think beyond the slots. In 2014, Atlantic City saw four of its boardwalk casinos close their doors. That led to thousands of job losses and economic hardship for the entire town.
With more and more players choosing to play online, Atlantic City is having trouble attracting new gamblers to the resort town. But it's not just online gambling that's competing for business. It's live gambling in neighboring states. There are many resort casinos in and around Atlantic City, all within a short hour's drive. In some cases, other casinos in other states are close to some New Jersey residents than Atlantic City is.
Atlantic City must do everything in its power to reinvent itself or risk closing more casinos. The new entertainment complex could not only help bring income to Atlantic City, but it could also reinvigorate the gambling town and turn it into a true family destination.
I was in Atlantic City on business as Revel Closed its doors and one thing that struck me about AC was how family unfriendly it really is. If you're hanging out with your kids, the only options are shopping and restaurants. On occasion, you'll find a family-friendly concert. This waterpark could be a game changer.