Whether you're a seasoned veteran at the poker poker tables of Las Vegas casinos or an online ace that strikes fear into the competition, poker is a great game for players looking to add a kick of skill to their gaming experience. For years, poker tables have been the prime destination for people looking for a social game that pits gamblers against one another in an epic challenge for supremacy.
For some players, however, the social gaming aspect isn't so desirable. In fact, there's a noteworthy portion of casino-goers that would rather enjoy a relaxing, solitary experience without all the community aspects of the poker room. Sure, the slot banks offer that sort of gaming test, but poker players often desire a game in which they have more control over the outcome. For those players, there are few games that are more desirable than video poker. If you take the time to find a good machine with great odds, video poker is one of the few games in the casino in which the house edge can be whittled down to nothing. On some machines, skilled players can even gain an outright advantage over the house.
These days, trips to the casino have been replaced by online gaming in many cases, which makes both poker and video poker more accessible than ever before. If you're trying to decide whether you'd prefer a few rounds of online poker against live competition or a more private game of Jacks or Better, you've come to the right place. Let's take a look at a few of the pros and cons of each of these popular game types.
Online Poker Pros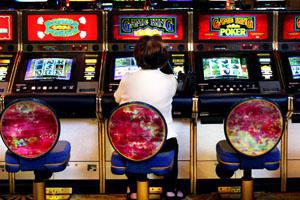 If you're still up in the air about taking your poker skills to the net, a quick look at some of the benefits of this gaming option may help you decide. A few benefits of online poker include:
Lower Rake
Brick and mortar casinos shuck out some serious dough to host poker games, so their rake, or cut of the action, can be substantial. Today, the standard casino poker room rake shakes out around 10 percent of the pot. Because online poker rooms have much smaller overhead, they are able to offer much lower rakes. Depending on the stakes of your chosen room, a rake of just five percent shouldn't be too hard to find.
Chance to 'Multi-Table'
Don't you hate how you need to wait for the other players before enjoying your chance to play in traditional casino settings? That's not a problem with online poker, as you'll be able to play more than one game at a time. For a skilled player, this feature can amount to a greatly increased hourly win rate.
Chance to Take Notes on Opponents
Whereas your opponents at live casinos likely come from far and wide and are unknown to you both before and after a poker session, the world of online poker introduces a chance to scout opponents like never before. As long as a player keeps the same screen name, you'll be able to actively keep notes on his or her style. That's good news for your strategy.
Hide your Tells
Do you have a tell that you just can't shake? Playing online is a great way to eliminate the negative effects. Since players in online poker tournaments can't see you during the game, you'll be free to let those subconscious giveaways fly without sacrificing your winnings.
Video Poker Pros
Just like traditional poker, online video poker offers some worthwhile benefits to consider. Some pros of online video poker include:
Ease of Play
One of the biggest advantages of playing video poker online is the convenience. Instead of driving to the nearest casino, you can login to your favorite online casino from the comfort of your home. You're always within a few clicks of your favorite games as an online player.
Game Selection
While brick and mortar casinos offer a healthy selection of video poker titles, finding the one with the best odds can be a real pain. Online casinos commonly offer a wider assortment of video poker titles, meaning that finding the perfect machine is much more likely.
Online Poker Cons

Online poker is great, but it isn't all sunshine and rainbows. Here are a few things that fall a bit short of the live poker experience:
Faster Losses
Dealing cards and taking bets take time. These delays are practically eliminated when playing online. As a result, when the cards go cold, you'll be losing a lot faster when playing online. On the flipside, you'll also be winning faster when the cards warm up. Whether it's an advantage or disadvantage, speed of play is something to consider.
Easy Distraction
In spite of the lively atmosphere of casinos, it's much easier to stay focused on poker games when at a physical table. When playing at home, the distractions of daily life are bound to come up from time to time. The result can be a less focused (and less successful) player.
Loss of Personal Interaction
It may sound old fashioned, but some players enjoy the games within the game when it comes to poker. The art of mind games and human interaction is largely an afterthought with online poker.
Video Poker Cons
Video poker has its own set of drawbacks, as well. A few things that may come up short for players who enjoy playing in a brick and mortar casino include:
Instant Gratification
One of the best things about playing live video poker is that when you win, you get your money right away. This isn't feasible for online video poker, so players are forced to wait a few days for a payout. This can dull the shine of a successful night at the video poker machines.
Loss of Atmosphere
There's just something about playing at a real casino that feels special. If the dinging bells, flashing lights and free drinks are some of your favorite things, online video poker may feel a bit subdued.
Whether you prefer poker or video poker, there are more options than ever before for getting your gaming fix. If you're looking for all of the advantages of either game but don't want to leave the house, online gaming is the perfect option. CoolCat Casino offers a wide variety of poker and video poker titles to get your experience off to an amazing start. Give it a try, and you might just love it!