Thinking of playing Baccarat for real money? Before you sit down, bring this checklist with you. It's what smart, winning Baccarat players do at the world's best Baccarat casinos, online and off.
Avoid the tie bet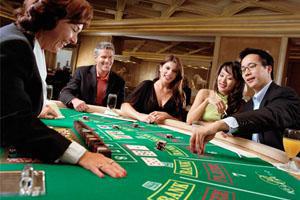 If you're like a lot of Baccarat players, the first thing you're enticed by the second you sit down to play Baccarat is the 8 to 1 or 9 to 1 payout offered by betting on a tie (it varies from casino to casino). This is especially true if you've ever played Casino War, where betting on a tie also yields great payouts. But just as Casino War tie bets aren't lucrative to the player in the long run, betting on a tie bet in Baccarat is the fastest way to lose your money. Of course, when a tie pans out, it pays off. But considering tie bets happen about 9% of the time, the odds are actually stacked against you. By betting on a tie, you're betting on a quick demise.
Choose the banker over the player
Baccarat is one of the most interesting table games, at least as far as betting options go. That's because you actually have two options right off the bat. You can bet on the banker to win or you can bet on the player to come out on top. The banker bet is structured so that any win you walk away with is taxed. No, not by the government. But rather by the house. Yup, the house actually takes a 5% commission. That's practically like doing business with a real estate agent, though you usually only buy one or two houses in your lifetime. Here, you're getting dinged on every win.
So is it worth it? You bet. While 5% is taken off the top, your odds of winning with a bet on the banker is actually higher. The banker's bet typically wins 50.68% of the time. The 5% is there to protect the casino's profit since the odds of winning are actually in your favor.
Negotiate your commission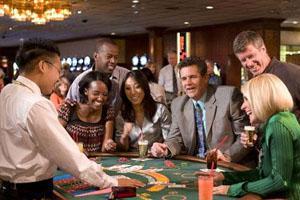 OK, so you can't do this online. The 5% commission is usually standard. But in the live casino world, you might be able to find Baccarat tables that take a smaller cut than the standard 5% on banker bets. Even a reduction of 1% that only takes the commission down to 4% will help you keep more money in your pocket.
To be clear, you can't exactly negotiate with the dealer. The commission is set in stone and dealers have no flexibility, unless their goal is to get fired. But if you're playing somewhere like Las Vegas or Atlantic City where the competition is a stone's throw away, you can do some scouting across multiple properties to see if one of them offers a reduced commission.
We've seen 4% Commission Baccarat at The D in Las Vegas. And some casinos, like The Venetian, even offer No-Commission Baccarat. If this seems to good to be true, that's because it is. While there's no commission, banker bet wins on 6 only pays 50%.
Check the odds before you sit down
So, you're used to that 5% commission. And pretty much every casino you've played at, offline and off, have charged that 5% commission. While that's the standard, you should never expect it. Always check the odds before you sit down to play. The last thing you want to do is be surprised by a 10% or even 25% commission. Or, if you're used to betting on a tie with 8 to 1 payouts (even though we told you not to…shame on you), make sure that the new casino you're playing at hasn't reduced that down to 6 to 1 or something far less lucrative.
Even if you never bet on a tie (good listening, by the way) it's actually a really good idea to check what the tie bet payout is before you sit down. If a casino has messed with those 8 to 1 payouts, chances are they've messed with other payouts across the board.
Keep your sessions short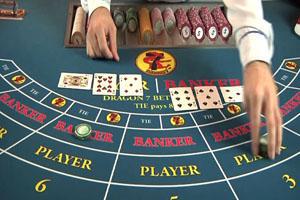 Baccarat is one of those games where players experience short swings of wins and losses. The trick to winning is to catch an upswing and walk away when things aren't going your way, early on in the game. Unlike Blackjack where a shoe just seems to pay off once you're on a roll, Baccarat tends to be a lot trickier, particularly if you're prone to mixing up your banker and player bets. Your best bet? Keep your sessions short. Instead of sitting down to play for an hour, play for 10 minutes and then walk away.
Look for fewer decks
This tip doesn't work in the online casino world, but in the live world, keep this one in mind. If you can find a Baccarat table with fewer than 8 decks (which is the standard), you're golden. It's not easy to search out, but if you discover one, sit down and stay there. In fact, if you do find one with 4 or 6 decks, ignore our "Keep your sessions short" tip.
Don't waste your time with patterns
Serious Baccarat scholars will tell you to keep track of patterns. Basically, this means tracking every card that hits the felt and the outcome of each hand. You can do this at many live casinos, though some will frown on seeing you bring a piece of paper and a pen to the tables. Tracking patterns is much easier to do at an online casino. That said, it's a complete waste of time. You'll pull your hair out trying to identify card drop patterns. And if you do see one, when you try to profit from it on your next betting session, chances are nothing will come of it.
Put our tips to the ultimate test
At CoolCat Casino, you'll find free Baccarat ready to play 24/7 on your PC, Mac, smartphone or tablet. When you're ready, it's easy to make the switch to real money play. One account is all it takes, so come join us and test the baccarat tips now:
Tip 1. Always avoid the tie bet
Tip 2. Choose the banker over the player
Tip 3. Negotiate your commission
Tip 4. Check the odds – before you sit down at the table
CoolCat Winners
Martin was on break from work at 4:10 PM last Wednesday, so he decided to play one of the newest games on CoolCat, Kung Fu Rooster.
He had some leftover balance from his previous games, so he started betting at $30 a spin. He wasn't winning anything for the first few spins, but less than two minutes after he began playing, he won $3,000 on a single spin and triggered the feature.
Then, on a single spin in the feature, he won $22,400. Without betting anything. His total for the feature: $24,400 in 10 free games.
His break was over four minutes later, but he went back to work knowing he won $29,537.50 on Kung Fu Rooster.