So you're going on a cruise?
If you've done anything more than a few minutes of surfing the web for opinions on the best cruise gambling options, you know that there's a lot of information out there. If you've done any detailed gambling-specific searches, popular searches like "cruise ship casinos rigged" abound. And it makes perfect sense that customers want to know – if you're dropping a few (or several) hundred bucks for a ticket; you want to know what you're getting into and whether it's the best deal or not.
How do I find a cruise ship that has a good casino?
First off – don't simply assume that all cruises have casinos. There has been a significant surge in the popularity of casinos on cruise ships, so most ships do have them. Still, there are exceptions. For example, some of the smaller cruise ships don't offer gambling opportunities, so look into the more established cruise lines.
Disney fans, take note: the one popular cruise line that deliberately leaves casinos out is the Disney Cruise Line, a subsidiary of The Walt Disney Company. It's a family-friendly cruise line, for obvious reasons – in fact, it's more expensive specifically because it doesn't have a casino.
There's some online discussion about why they don't include casinos on board and whether they should or not, but the general consensus is that Disney doesn't view casinos as a positive addition that would contribute to the kind of family-oriented, wholesome atmosphere they strive to cultivate. Plus, if they can generate just as much revenue without casinos while keeping their company image the same, it makes sense to continue doing so.
The one option they do offer is Bingo, which is a popular activity with a significant jackpot that can go up to $10,000, but if that's not enough excitement for you (and we don't blame you), look into the itineraries of different ships – for example, if you stop at Nassau in the Bahamas or Philipsburg, Saint Maarten, you can find casinos there.
If you're interested in having the casino accessible while you're cruising, read on for more details.
When will I be allowed to play at sea?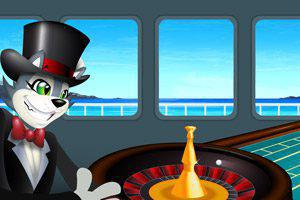 To answer this one, we have to go back in time a bit. American cruise ship casinos got their start in 1991 when the United States Flag Cruise Ship Competitiveness Act was passed. It amended the preexisting laws and allowed American ships to offer gambling games and devices in international waters. But what exactly does that mean?
Here are a few important definitions when it comes to maritime law (bear with us):
Baseline: the low-water line along the coast of the state.
Internal waters: everything landward of the baseline, such as rivers, canals, lakes, etc.
Territorial waters: everything up to 12 nautical miles from the baseline of a coastal state
International waters: also referred to as the high seas, are outside of any national jurisdiction.
Internal waters are treated just like normal land – subject to the same jurisdiction. Territorial seas are subject to the jurisdiction of that coastal state, much like internal waters. However, the difference is that other states have the right of innocent passage through territorial seas, which allows them to simply pass through.
Why the lesson on these boundaries? Because that's what determines when you can play. Gambling laws are tricky and vary from place to place. Essentially, for the most part, the casino onboard won't be allowed to open except during the period that you're sailing in international waters.
Another thing: cruise ship casinos don't have the same hours as regular casinos. If your main priority on a cruise is to take advantage of the casino on board, you'll need to choose carefully. It would be wise to research and pick a cruise that will be out at sea for extended periods. Why? Because even if the cruise ship is in port where gambling IS legal, the casino will be closed.
This rule is put in place to ensure that tourists venture out to experience the local entertainment options wherever they have just arrived. Look into the opening hours of the cruise ships you're interested in. Another variable to research is how far from the coast the ship needs to be in order to open.
For the younger players, another factor that determines if you can play or not is the minimum age. The minimum age is usually 18 but can be 21 in some cases – it depends on the cruise line and ship itinerary.
Not too psyched about the idea of having to wait for a chance to play? Whether you're at home or on a cruise, we're open 24/7, 365 days a year: just click here on any device to play.
Are cruise ship casinos fair?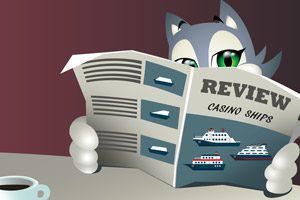 As you can probably already tell, keeping track of the boundaries and nuances can be very tricky, and that's the reason for all the uncertainty about how trustworthy cruise ship casinos are. If you're a regular casino goer, you know that your odds of winning vary game to game. You know there are some notoriously bad odds, and that knowledge may or may not influence what or how you choose to play. Either way, it's important to be aware that the gambling laws for land-based casinos, for the best and worst games, are strictly regulated; for cruise ship casinos, they are not.
Even if the odds at your average "normal" casino aren't great, you can trust them to be consistent, and if you know how to do your research, for example how to choose the best online slots to win big, you know what you're getting yourself into. Cruise ships, on the other hand, are in a completely different realm. Because they operate in international waters, they aren't bound by the same laws. The International Council of Cruise Lines is responsible for cruise ship casino laws, but there still isn't much transparency or effective regulation.
Blackjack and video poker are two good examples of games where choosing a solid pay table and playing with optimal strategy can really pay off. If you enjoy those games normally, you'll need to pay extra attention on the ship because the chances of finding optimal pay tables and rules are lower.
Another key difference is with slot machines, which are already known for having less than optimal payback percentages, and that's even with strict regulation at both land-based and online establishments. If you want to play slots on the cruise, just be aware of that going in.
So there you have it. If you saw the question posted about casino odds being better on the first day of the cruise and thought it was a little paranoid, now you know that there could actually be some truth to that idea, at least when it comes to how reliable the casino is.
Something that you definitely can trust, however, is that the 220+ games you can find on CoolCat Online Casino are all strictly regulated and guaranteed to be fair.
Which cruise lines have the best offers?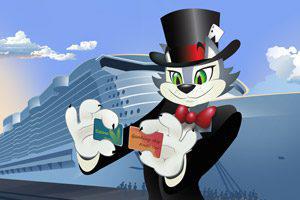 Good question. Like the great bonus and rewards programs you'll find every day here at CoolCat Casino, cruise ship casinos offer their own player benefits. Here are a notable few. While this list is far from comprehensive, it does offer up some of the best value you'll find when it comes to scratching your itch on the high seas and you left your mobile device or laptop behind so playing at CoolCat Casino isn't an option.
Carnival Cruise Line
As with most cruise lines, Carnival utilizes an onboard account system to make transactions straightforward and quick. The Sail & Sign card is like the Carnival's credit card, the balance of which can be paid in cash or by credit card, much like the Players Rewards Card accepted at CoolCat. When you use your card at the casino for the first time, you're automatically registered as a member of the Carnival Players Club. Beginners can take advantage of gaming lessons, and high rollers can look forward to the high betting limits. Details about comps and special promotional offers aren't readily available online but are determined based upon the frequency of cruising and your level of play.
Norwegian Cruise Line
Norwegian has recently updated their membership program, and rewards can now be combined with points earned with Oceania Cruises and Regent Seven Seas Cruises. Like the CoolCat VIP Program, the Casinos At Sea program offers a variety of benefits across five tiers distinguished by the number of points earned. These benefits range from complimentary drinks to waived service charges and even complimentary shore excursions.
Celebrity Cruises
The Blue Chip Club membership rewards are also structured in five tiers. This program is notably more upscale, with benefits that include spa packages, VIP tickets, elite Internet connection, and priority embarkation. When you're playing at CoolCat Online Casino, there's no need to worry about arriving ahead of everyone else – you don't need to compete to get the best spot. However, joining our VIP club does offer you special services. You'll receive customized promotional offerings based on your personal game preferences as well as welcome chips, higher table limits, and accelerated withdrawal rates, just to name a few.
Most recommended cruise ships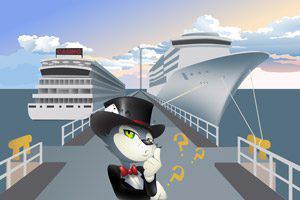 Escape Casino at Sea on Norwegian Cruise Line's Norwegian Escape
Norwegian calls this their "largest and most innovative casino to date" that "offers a wide range of thrilling casino games for every level of player." Their slot machines range from 1 cent to $100 and table games limits range from $5 to $5,000. Its most appealing feature for high rollers is the separate VIP room with a private high limit gaming area.
Empire Casino on Cunard Cruise Line's Queen Mary 2
This casino consists of 12 gaming tables and approximately 100 slot machines. Table games include roulette, blackjack, three card poker and Heads up Texas Hold'em. Most table games have a minimum between $3 and $25 with maximums varying between $100 and $500. The slot machines cover a variety of denominations from 5 cents to 5 dollars as well as penny machines and games such as reel slots, traditional video poker, and video slots.
Casino Royale on Royal Caribbean International's Oasis of the Seas and Allure of the Seas
These two cruise ships are nearly identical, and the Casino Royale is equally impressive on both ships. It covers an area of 18,000 square feet and offers slots, video poker, roulette, poker, craps, blackjack, and baccarat. The casino also hosts regularly scheduled poker, blackjack, and slots tournaments. Although some prefer the Allure of the Seas version, with almost 500 and 27 gaming tables, both are guaranteed to leave a lasting impression.
I've finally picked out a cruise ship. Now how do I make the most out of it?
After you've checked online cruise forums, conducted a Facebook survey, perused different cruise lines until you narrowed it down to a specific ship, you've finally booked the tickets. Congratulations! Now – how do you ensure that you have a great time?
After all the important stuff has been settled, you're probably still going to do some extra research. While it's good to have a plan, we recommend trying to balance your research. There are a lot of different opinions out there, from very angrily dissatisfied and from very loyal and pleased customers. Read forum posts, but also look for genuinely reputable articles that aim to inform rather than rant or promote one cruise line or another. Another smart thing to check for is the date something was posted on. If you notice that the comments or articles are from the year 2000, you can assume that they may no longer be reliable or accurate.
Our next recommendation is to get in contact with the cruise line directly with any specific questions. Call or email them to ask about information that might not be immediately available on the website. Many will have some form of a VIP club, rewards program, or player's card (much like the Players Rewards Card, a CoolCat Casino partner), and that information can be found on the cruise line websites much of the time. However, some recommend contacting them directly. If you're going with a big group that really intends to make use of the casino, the benefits can really pile up.
Don't be afraid to ask for perks
Also keep in mind that not all information is made readily available, so it never hurts to ask about special promotions, especially if you're a high roller. And don't forget to read the fine print! There are loyalty clubs with benefits that are connected with the cruise line in general, but if you're part of a casino-specific program, the perks won't carry over to another ship from the same cruise line. If you do join a club, great. Just don't let the pursuit of rewards drive how much you spend – you should be playing just for the pure fun of it.
Remember to keep your balance on the rolling seas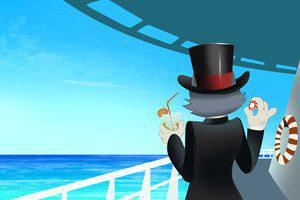 Which brings us to our next point. Fun: that's what this experience should be all about. People's definitions of fun can vary. If you're planning a trip with your friends or family without kids around, fun can often mean staying up late and partying, which means drinking. We recommend alternating nights to make life easier for you during the daytime – if you're already playing drinking games in the early afternoon, avoid going to the casino that same night – you'll wake up with a hangover and a significantly lighter wallet. If you're planning a big night "out" at the casino, don't spend the evening taking shots. Basically, just be a responsible adult, and you'll be fine.
Another key tip for maximizing your enjoyment: check your mentality. Do not go into this endeavor thinking it will cover the costs of your extravagant vacation. If you enter the casino every night feeling like a card-counting system-cheating hustler, it's not going to go well for you, especially with the unpredictable odds we mentioned earlier. If you are playing solely to win, you are almost guaranteed to be disappointed.
Treat your gambling funds as part of the trip's expenses, no different from food and drinks, fine dining, and shopping with no expectation of returns. Really – this should be pretty much the same mentality you have when managing your bankroll at any regular land-based or online casino like CoolCat – you should be playing with no more than you can stand to lose. Beware of the ATM! The cruise ship will be designed to make it easily accessible for your convenience (and for their own benefit).
CoolCat's always there
If you find yourself losing at the casino and realizing that the house advantage has you down, it's easy to retreat to your room for a little relief – play online at CoolCat for free to get back into the groove. Make sure you check out our updated bonuses. You can switch to real money whenever you feel like it, with the added advantage of knowing you can trust our odds.
How do I make sure I have a positive cruise ship gambling experience?
The most important factors to consider are:
1. Travel itinerary
2. Amount of time at sea
3. Casino hours in international waters
4. Reward programs
5. Your budget