Video games and slot machines may seem like unlikely companions, but the truth of the matter is that they go hand in hand. The industry as a whole is referred to as gaming, because casino games are just that – video games. There is so much investment being pumped into the online casino industry and so much money is at stake, that casinos want their clients to stay happy and keep those reels spinning. Online casinos try to stay at the forefront of technological advancement and often end up taking tentative innovations and apply them to gambling. By doing this, they effectively introduce and make cutting-edge technology available to the mainstream market. People often look to progress in slot technology in order to guess about the future of video games.
A brief history of slot machines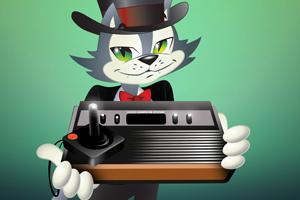 Video games have been a staple in our culture since the 1970s. If you recall the name "Atari", it was the first gaming system with changeable cartridges. This allowed players to invest in a single, high-tech console while still maintaining the ability to play different games with the simple switch of a small game pack. Since then, gaming evolution has been a whirlwind of shrinking technological housing, increasingly high-quality graphics, and an expanding subject matter to cater to the interests of any and all potential gamers – whether it's fighting in a war zone, racing carts on rainbow bridges, or raising little virtual puppies.
People can play games on vintage arcade platforms, on their multiple player console games, or walk around tapping the touch screens of their portable gaming devices and mobile phones. And since video games are so relevant among the larger portion of the population – from the youngest children to parents looking for a little competition – companies are willing to spend a lot of time and money to further develop the technology.
Slot games
Gambling legislation has come a long way since the heyday of underground betting, way back when in the history of gambling. Since each state is granted the authority to form their own gambling Slots have, understandably, been around for a much longer period of time than video games. The original models didn't require computer technology, instead relying on weights and levers. First appearing in the late 1800s, initial innovations in slot technology moved relatively slowly, introducing things like the addition of reels and the ability to administer payout prizes.
Once computer technology became widely available, slot games started evolving and becoming quite popular at a much more rapid rate, and people started to take the future of video games more seriously. With the advent of random number generators, game engineers could finally introduce slot machines into the world of video games. These slots, which don't actually have spinning reels, but rather a computer display that depicts the movement, were the first step that enabled casinos to bring their most popular games to the internet. Now, you can find your favorites at a number of online casinos, whether it's video slots or specialty games – if you want it, they've got it. CoolCat Casino is a fan favorite and has over 220 casino games you can play, one to fit any and every mood you might find yourself in.
Modern video slot technology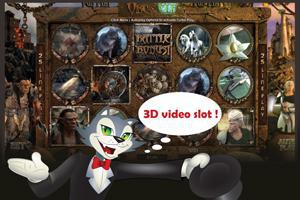 Because slot games are no longer restricted by the mechanics that previously applied to physical slot machines, engineers of these games can get extremely creative. Some of the more common "special features" you may find in any online slot are designed to immerse you in a video game-like experience. Some of the simpler features include moving symbols and animated paylines for certain combinations of symbols. If the game you choose to play has bonus features, then you're one step closer to a full-fledged video game. When certain special bonus features are activated, the game screen is taken over by an animated video and afterwards, you are often diverted to a secondary screen that offers a different bonus game or the original slot game but playing off of a certain number of free spins. Players should learn to maximize the long-term pay of slots games before they're tempted by the flashing lights and video effects. But, of course, technological advancement is moving so fast that there are even newer forms of video slots currently flooding the market.
A popular variation of online slot machines that harnesses the spirit of the future of video games is called a 3D video slot. No, you don't need two-toned, paper-framed glasses to play this game. 3D simply refers to the increased video game quality of this particular type of slot. It offers players things such as interactive elements, themes based on movies or graphic novels, and more complex special features that can be triggered. CoolCat Casino has one of the most popular 3D video slots on the market, called Orc vs. Elf. This game allows you to pick your avatar character, battle it out, and choose which path you want to take on your bonus-driven journey. It's up to you whether you want to cash in or raise the stakes – after a few raises there's no telling how big your fortune will get! If you've never played a 3D video slot before, head over to CoolCat Casino and try a taste of the future of video games!
Play Now!
Future of video games
Slot machine technology has come a long way in a few short years, but that doesn't mean progress is slowing down. On the contrary, people are already looking to the future in the hopes of catching a glimpse into the future of video games. Right now, in the world of video games, all eyes are trained on virtual reality, or VR. VR provides player with an immersion-based gaming experience. A VR helmet transports players to a whole new setting, with an LED screen display, sound-blocking headphones, and interactive controllers or sensors – when you move in the real world, your actions will reflect in the virtual world! The gambling industry is sticking its nose into the VR race right now, working to develop a virtual reality casino that any player can enter from the comfort of his or her own home. Until you have a virtual reality system set up in your house, though, realistic and interactive online slots are a great way to pass the time. After all, you're playing a video game and making money too!
There is only one aspect to technology that will always be certain, and that is the fact that what may feel mind-blowing and modern today will seem like a toy of the past tomorrow. The best thing to do in order to stay on top of the technology's trends and the future of video games is to log on and check out all of the new games and features that are available. CoolCat Casino has some of the most popular and advanced video slot games in the industry that both gals and guys will love. So, all that's left to do is to head to CoolCat Casino and start spinning!
Play for Real Money!
Why are the slot machine games so popular and why they will be in future as well?
Slot machines often get a bad rap – perhaps even more so than all of the other games out there that involve making bets of some kind. Of course, we all know that gambling is a hobby that can at times turn into a damaging habit. But for the most part, when you're smart and responsible about it, there's no better way to unwind than a session of slots. It's too bad that the advantages often go unmentioned, but in case you were wondering, CoolCat Casino's got you covered. Here's our list of all of the plus sides to playing online slots that you might or might not have thought of.
Simplicity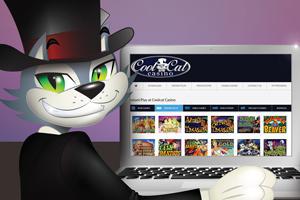 There's just something incredibly compelling about the speed and ease with which you can start playing slot machine games. The playing ground is completely equal; the learning curve is nearly nonexistent. As long as you have something to actually play on (and nowadays basically any kind of electronic device will work, i.e. your desktop, laptop, tablet or iOS, Android or Windows smart phone) as well as some money to play with, you're golden.
In fact, scratch that – you don't even necessarily need that money right away. Don't wait! Start off with the Free Play mode to practice with zero stakes. You can scratch that itch to play until you've saved up a respectable bankroll that will keep you playing. Don't forget to keep an eye out for online casino bonuses, like the ones we offer every day here at Cool Cat that will make your deposit worth every penny.
Stress relief
The slot machine section is the most popular main attraction at every land-based casino by a long shot. The colors and sound effects create a special kind of atmosphere, but that atmosphere is just as strong when you're on your laptop or phone playing online casino games. Playing online slots at a virtual casino gives you the same rush as playing at a physical one. Plus, sometimes you just don't want to be around other people. You need some time to yourself, time to just be yourself. You can wear your comfiest sweats. You can get up and grab a bag of chips or a cold drink anytime, without having to leave your seat and worrying that someone else will want to use the machine you're on, without trying to flag down a busy cocktail waitress with no success. Everything around you becomes irrelevant – you're free to let loose with no judgment – just you and your favorite slot machine game.
There are risks, of course, but just don't get carried away. Take extra care with your money. When you do, there's nothing else that's quite like the joy and victory of a winning streak at slots. There's a special brand of adrenaline that comes from it. Obviously, there's no physical threat when you're playing, but the risk factor, the chance of losing what you've bet, is enough to heighten your senses. The little ups and downs, wins and losses, become a cathartic experience. We would even venture the hypothesis that perhaps it's the randomness of the game that further adds to your enjoyment – slots aren't exactly know for requiring hard work, so it's a matter of having luck on your side when you do win big, and that's always a great feeling.
Convenience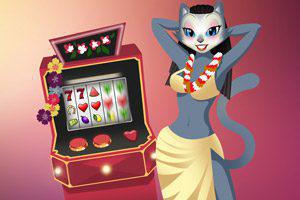 In this day and age, convenience is everything. Our lives just continue to grow busier and fuller, more hectic and chaotic, and things can get downright crazy sometimes! Sometimes it feels never-ending. Don't let yourself forget that your time and mental energy are valuable. You should get to spend them exactly how you want to – you deserve it. That means anytime, anyplace – when you're riding the bus to visit your family, cracking open a cold beer at home after a long day at work, taking a lunch break, whenever. No need to travel to another city or book expensive hotel rooms for that long-awaited, well-deserved breather. No spending extra time and money; no waiting.
It's just a few easy clicks and a handful of personal details (we're talking basic things like first and last name, username, etc.) before you have a free account. After that it's even quicker to start playing for free, and after a few solid practice rounds, it's even easier to up the ante with a deposit when you're good and ready for the excitement of winning real money. Simply head to the cashier page to select a payment method of your choice, and you're golden. Watch your account balance jump up instantly and get to winning real money.
Not only is your physical location made completely irrelevant, but you can also play on multiple platforms. It's not like you need to lug an actual gaming machine around with you when you want to play. And you definitely don't need some special gaming device just to visit an online casino. As long as you have an electronic device on hand – that means a desktop computer, laptop, tablet, or smartphone – you're good to go. The modern day online slot machine is the very definition of instant gratification.
Variety
At a brick and mortar casino establishment, the machines are lined up in neat, impressive rows. They flash and light up and pull in passersby with their animations and catchy jangles. But think about it: how many games are actually available to you exactly when you want them, right in that moment? Sure, there are slow hours when you can have a casino all to yourself, but that means your timing is restricted by how busy the casino is at certain times. And even if you live conveniently close to one, why be forced to deal with a limited selection when you do want to play? Any decent online casino typically offers hundreds of slot machine games to cater to all sorts of players, and that means you don't have to worry about the best games being hogged by other players or getting stressed because others are waiting to play on your machine.
Another thing: you can get all different kinds of games in the same place. With nothing more than a few quick taps of your index finger, you've navigated back to the page where you can scroll through all of the options available. You don't need to get out of your seat, shift your stuff around, or wander around in search of something interesting – you're already there. That's not just limited to slot machine games either. If you need a break, head over to the table games or video poker sections of the site for something new – after all, variety is the spice of life.
Technology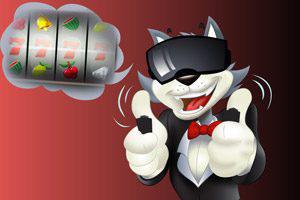 Like we said, no waiting! But if you've seen any of the latest games, you know that the wait would be well worth it. If you've played on any gaming machines from the first generation of slots, you know that they look and feel rustic in comparison. They probably bring on a wave of nostalgia in some of you most veteran players. All of those levers and wheels and mechanisms that made this game possible in the beginning have been entirely replaced by new developments in technology in recent years.
While the charm of older machines is undeniable, there are a great number of developments that have continually increased over time, allowing for creative and artistic boundaries to be pushed without end. For example: one feature that was made possible with video slots technology was the progressive jackpot. Progressive jackpots can be built up by players on one specific machine, but even more excitingly, they can be linked to multiple machines. Today, this is a common feature. It creates a network of connections with many players on different machines, all contributing to and competing for a rising jackpot that they all hope to hit.
On the artistic side for those who especially value slots for their aesthetic appeal, the most recent advancement is the new generation of video slots, most commonly referred to as 3D slots. A step up from traditional 3-reel and 5-reel slots, these offer a standard of graphics beyond any previous variations. You don't need a pair of flimsy movie glasses to appreciate these games. They come with irresistible characters and eye-popping animations when special features are triggered, making winning combos and extra free spins all the more thrilling for players of all backgrounds.
Randomness
A common criticism of slot machines is that they are based on chance. The house edge is not something that can be combated with skillful play, and that means it's hard to personally impact the outcomes. This does mean the odds are against the player, and that must always be taken into account. However, there's actually something to appreciate about this. Each outcome of every single spin on a specific game has the same exact chances of being a win. Doesn't matter who you are or when you play or for how long. In actuality, this randomness is fairness. As we mentioned before, that can be incredibly liberating as a slot machine player.  It's the kind of thing that takes the pressure off you entirely and allows you to act freely. When you do hit that big win, you get rewarded with feelings of gratitude and triumph that are hard to beat.
Bonuses
Whether you prefer frequenting casinos in person or online, you've probably learned by now that casinos treat their slots players particularly well. There are all kinds of rewards programs with exclusive offers.
While playing online might not earn you a free hotel room, online casinos more than make up for that with their match bonuses and special deals. What's more, these casinos are fully aware of the increasingly competitive market and strive in earnest to refresh their offers and earn their customers' loyalty. Make sure that you're regularly checking for the special offers available. If you haven't tried out our variety of games, create an account to play for free so you don't miss out – that way, the most up-to-date information about new promotions will be delivered straight to your inbox.