It's no secret that Las Vegas is a town rich with casino culture. Its long and lively history is comprised of legendary gambles, bigtime players, and astonishing events revolving involving the City of Vice. The scintillating bright lights, glitz and glamor of Glitter Gulch has always attracted casual gamblers and professional sharps, like moths to a flame. From high stakes to high rollers, heavy losses and gambling superstardom, individuals like Archie Karas, Ken Uston and Stu Ungar are just a few of the names that follow the words: gambling legend.
Vegas holds a mythical status as a haven for those who dare to tread the path of chance, patiently awaiting their dance with Lady Luck. The gambling halls of the city echo tales of smoky lounge acts, whales with vast fortunes, cool celebrities and flashy stage performers the likes of Frank Sinatra and Elvis Presley. The casinos' brilliantly colored lounges ring with the clinking of champagne glasses and raucous laughter. Gambling floors come to life with busy casino-goers looking to let loose among the beehive of activity along green felt tables. The sound of the stacking of casino chips plays as a symphony to the marathon gambling sessions that stretch into the wee hours of the night. Vegas truly is a player's paradise – the Mecca of Gambling.
Yet throughout its extraordinary history, there is one tale in Vegas lore that seems to stick out from the rest. The unusual story of a man, who threw caution to the wind, truly lived in the moment and risked it all. This is the true story of Sin City's most enigmatic player, the tale of the mysterious Suitcase Man, William Lee Bergstrom – the Phantom Gambler.
Early Years
Very little is known about William Lee Bergstrom's personal life. However, his mysterious origins can be traced with some research. Bergstrom was born in Austin, Texas in 1951. He had a brother named Alan, and sadly, their childhood growing up in a house of divorced parents was an unsettling one. The circumstances hit a young William hard, which led to a lifetime search of approval from an absent father. Upon graduating high school in 1969, William Bergstrom would go on to attend college at the University of Texas, eventually dropping out in 1974. After a string of odd jobs, he would ultimately settle on real estate and became a successful salesman. Despite his successes, and even having purchased properties of his own, deep down Bergstrom felt something was missing.



It wasn't until the late 1970s that Bergstrom heard of the Horseshoe Casino in Las Vegas, and his life would forever change. Benny Binion, a notorious man known for his exploits in organized crime, was co-owner of the Horseshoe. At the turn of the decade, he managed to create a buzz with a new kind of promotion. "The Sky's the Limit"-wager, was a bold strategy unheard of in Vegas, a scheme created by Binion. This offer promised that his casino would honor a wager of any size as long as it was a gambler's first. Once Bergstrom heard of this, he took it upon himself to see just how real the offer was. He placed a call to the Horseshoe, and asked to speak to Benny Binion. Bergstrom asked Binion if his casino would allow him to make a $1,000,000 bet. To his delight, Binion said yes. This would spark an obsession for Bergstrom, as he was the type of person who could not let such an offer pass, and by 1980 decided to head to Las Vegas to make a life-changing bet.
The first big gamble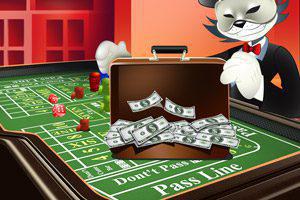 To this day, standard practice for casinos is to enforce maximum betting limits. However, at the time, the Horseshoe Casino was a rare exception. Thanks to Binion's proposal, Bergstrom decided to capitalize on chance, and on September 24, 1980, a quiet, solemn looking man, wearing a grey suit, thick-framed glasses, and sporting a crewcut walked into the Horseshoe with two plain suitcases. Bergstrom was unable to acquire the total $1,000,000 wager that he had promised, but instead had with him one suitcase with $777,000 in cash, and one that was empty. After having previously discussed with Binion if the house would still honor his bet, Binion reassured him that the casino would.
On that fateful day, and without exchanging his money for chips, Bergstrom walked directly to the craps table with his money. In one bold move, Bergstrom bet all of it on the "Don't Pass Line". The current shooter established a point of six and just two rolls later rolled a seven. Bergstrom won. Because he placed his bet anonymously, Binion decided to come down and congratulate the winner. Realizing it was Bergstrom, he helped him pack up his winnings, filling Bergstrom's empty suitcase with the casino's $777,000. The suited man said no more, picked up both full suitcases and casually walked out of the casino to his car. This would be the last that anyone would see of Bergstrom for years.

Craps Guide

There's nothing in the world like a lucky roll of the dice. Dating from ancient times, craps is a dice game that simply can't be beat in terms of fun, excitement, and thrills. With what seems like the whole world in your hands, a single roll of the dice can change your life forever.

Read more

Casino Craps Tips

Learning how to bet when playing craps is essential to your success. A game of chance, true, where lady luck reigns supreme, but craps is also a game of skill when it comes to knowing how to place your bet to push the odds in your favor.

Read more

Craps Bonuses

Want to know the best way to extend your lucky run at the craps table? Want to know how to extend your play time, multiply your bankroll and increase both your fun and chances of winning big? Check out the latest casino bonuses from CoolCat Casino!

Read more

Bergstrom was not one to live a life of luxury, and little is known of what he did during the next few years. Although he continued to maintain his real estate business, some claimed that he travelled the world. However, like with all serious gamblers, it would not be long until Bergstrom started to feel the overwhelming urge to make another big wager. After nearly three and a half years, he would return to Las Vegas.
No fear and the gambler streak
On March 24, 1984, in walked a familiar face to the Horseshoe Casino. Bergstrom was back to play another round of craps with another whopping wager. Like before, he knew that the casino would honor his bet, no matter how large, as long as it was his first. Coolly, Bergstrom placed $538,000 in cash on the "Don't Pass Line" as before, and managed to win again. He would go on to win an additional $117,000 on three separate craps bets. Satisfied with his performance, Bergstrom collected his winnings and calmly exited the casino.
There is little knowledge of where Bergstrom went after collecting yet another massive win. One source verifies that he took his mother to see a Willie Nelson in concert, but everything after this appears to remain a mystery. Disappearing like a ghost, "the Phantom Gambler" was gone. By now, Bergstrom's monikers were well known, the other being "the Suitcase Man" due his salesman-like appearance. People admired his ability to risk it all, and celebrated the fact that he came out on top. Despite all of this, Bergstrom would yet again return to Binion's. Sticking to his original promise, he wanted to make a $1 million bet. Something that had been eating at him from the beginning.

On November 16, 1984, Bergstrom strolled into the Horseshoe determined to take home one of the biggest wins in Las Vegas history. A crowd appeared, and casino security held back the eager onlookers as he approached the craps tables. With his trademark demeanor, Bergstrom placed a suitcase filled with $550,000 in cash, $140,000 in gold Krugerrands, and $310,000 in cashier's checks on the craps table. He had with him a second suitcase that was empty. Placing his money on the table, he made his million-dollar bet. Once again, risking everything on the "Don't Pass Line", his favorite bet. The shooter stepped up, and with onlookers holding their breath, rolled a seven with the come-out roll. Bergstrom lost everything and silently left the casino empty-handed. Despite the cheers for his efforts, he would not be seen there again.
The passing of a legend
Tragically, only a few months later, on February 4, 1985, Bergstrom was found dead in his hotel room at the Marina on the Vegas Strip. Police later confirmed that he had committed suicide by swallowing the contents of various unidentified capsules. A suicide note and will were left at the scene. In his note Bergstrom stated that he wanted to be remembered as "the Phantom gambler at the Horseshoe".
Remarkably, he was not broke at the time of his death, and actually had nearly $650,000 to his name. Those closest to him, believe that his suicide was not the result of his epic loss, but due to heartbreak from a recent break-up. Although his life sadly ended by his own hands at the young age of 33, Bergstrom's gambling feats made him famous even during his lifetime. His fearless nature and staggering bet sizes are something that amaze many to this day. His short stint as a high stakes gambler, is something that has been rarely duplicated. Despite modest beginnings, Bergstrom managed to amass an incredible fortune in a very short period.
Binion, who spoke with Bergstrom shortly before his death, learned that the money he accumulated for his first big bet in 1980 came from a bank loan that he had received after losing a small fortune in the silver and gold market. According to Binion, the loan for $777,000 was to buy more gold. However, instead of making the purchase, he bet it all on a single roll at the craps table. Winning miraculously. After paying back the bankers, Bergstrom pocketed the profit and traveled the world.
The legendary gambler
At the time, Bergstrom's first win was one of the biggest in Las Vegas history, totaling nearly two and a half million dollars in today's money. Statistically, the "Don't Pass Line"-wager is one of the best that any gambler can make at a casino. It pays even money, and has a low house edge of 1.4 %. Because no one had ever seen such a bet amount, this solidified Bergstrom's status as a legend. What makes Bergstrom's story so unique is that he was not a lifelong member of "club gambling elite". He didn't spend years making a name for himself on the casino floors. Instead, he worked a 9-5 job as a real estate agent, and the simple challenge set forth by Benny Binion helped make casino history.
To this day, "the Suitcase Man" and his legend is well known throughout Las Vegas and in gambling lore. Any mention of Bergstrom or the Horseshoe casino is sure to get a story or two going in gambling circles. Bergstrom's incredible story even influenced the popular television series "CSI". One episode focuses on a man who comes into a casino to make a $1,000,000 dollar bet on a single roll of dice. William Lee Bergstrom's name will always be linked to some of the most courageous gambles in history. Since his passing, there have been a number of awards and prizes established throughout Las Vegas in his name. Although no longer under the ownership of the Binion family, the Horseshoe Casino still honors Bergstrom's legacy to this day.
—
Although you might not be willing to risk the sums that Bergstrom did for that next big win playing casino games, you can always choose to start small or play for free here at CoolCat Casino. Our online gaming floor has a multitude of exciting casino games to keep your thrills up, and take home real money! CoolCat Casino offers one of the greatest online casino experiences around! Our trusted site has the latest exciting online casino games, which will help you on your way to the top. If craps isn't your game of choice, you can choose from our selection of over 200 casino games, like poker, blackjack or specialty games like roulette, Keno, baccarat and many more! Sign up with CoolCat Casino free, practice on our instant play feature or make a real money deposit to start winning big today!
CoolCat Winners
Steve started playing Naughty or Nice at CoolCat at 8:24PM last Wednesday. He was coming off of a previous win, so he bet big from the get go.
Almost immediately, the big bets started paying off. Within the first minute of playing, he won $1,037.50.
Then, he got $812.50, $400, $1,450. All on single spins. A few minutes later, he hit his first Feature and won $1,800 on 12 Free Spins.
He soon triggered his second Feature. Again, 12 Free Games. But this time, he won $64,725.00 across the 12 Spins. Without betting a cent of his own money.
Steve played for some time longer, adding a few more wins before calling it a night. Not bad for a Wednesday night.