Although Singapore's formal entry onto the gambling scene occurred just a few years ago, the country has a long and storied history of gambling that goes all the way back to colonial times. Gambling was originally legalized in 1923 by the British government, but increased levels of delinquency and gambling addiction across the island led to an official ban of gambling activities a few short years later. Following the ban, legal gambling was highly restricted and came in only two forms: lotteries and horse racing. Singapore's gambling industry remained in this state of minimalism for nearly a century before a push for increased tourism led to its resurrection.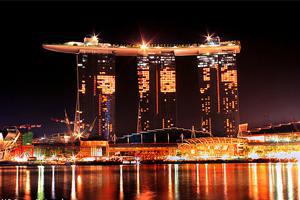 In 2005, gambling was reintroduced in Singapore as the country began developing projects designed to enhance the tourism and entertainment industries. Casinos in neighboring countries such as Malaysia and Cambodia were attracting tourists away from Singapore, costing the nation millions in annual revenue. On April 18, 2005, everything changed. The Singaporean government announced plans to build a revolutionary 'Integrated Resort' on Sentosa Island.
Three companies worked together to build the gambling and shopping complex in Singapore over the next five years, and Casino Resorts World Sentosa officially opened its doors in February 2010. This was just the beginning for Singapore's gambling resurgence, however, as Marina Bay Sands opened just two months later in April 2010. At the time of its grand opening, the building housing Casino Marina Bay Sands was hailed as the most expensive building on the planet.
To counter the problems of the past, the new Singaporean gambling industry was implemented with a few safeguards to protect the local population. First, there's the self-exclusion program, which is applicable at the player's request. When enrolled in this program, the player won't be allowed to play in any of Singapore's casinos for one year or more. There is also an exclusion program based on family request. Next, to protect the island's youth, the minimum gambling age in Singapore is 21. Finally, there's the entry fee. In an effort to keep people who can't afford to gamble out of the casinos, locals are required to pay a one-time or annual fee in order to use the casinos. This restriction doesn't apply to tourists.
Since 2010, Singapore's integrated resort concept has helped the country's rake in some serious revenue from tourists looking to test their luck. In 2013, Singapore's two casinos recorded $6 billion in revenue, coming in just $500 million behind Sin City in terms of total gaming revenues for the year. As an anti-corruption campaign continues to impact gambling in Macau, Singapore is expected to experience sustained growth in the years to come.
In recent years, other Asian nations have taken note of Singapore's success, and the casino market across the continent is set to get a lot more crowded in the near future. South Korea and Japan, in particular, are both vying for a piece of the casino pie, but industry analysts suggest that Singapore is in a strong position to continue its recent prosperity for the foreseeable future.