This is a very interesting subject that I will gladly talk about with you. For those of you who don't know what these cafes are all about: They are "regular" internet cafes that sell telephone cards and internet cards. However, purchasing these cards automatically enters clients into sweepstakes games in the computers of the establishment, which closely imitate games of casino slot machines. These cafes tend to be located inside or next to shopping malls and offer complementary drinks and snacks to its customers. In some cases, by just buying these cards, customers are given chances of for example, 100 chances per dollar spent in the cards.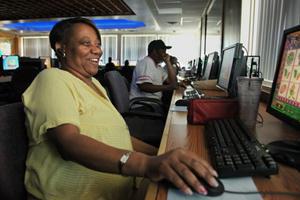 Internet gambling cafes have been opening all over the US. It's a reality that's starting to be a common business in different towns throughout the country. People are still wondering if these cafes are gambling or not and many authorities state that these cafes are playing with the technicalities around the gambling laws.
The owners of these cafes state that their games are promotional sweepstakes drawings like those offered by fast-food chains and other businesses. For example, the Monopoly game that McDonald's offers to its customers.
As stated in the Daily News, "the American Gaming Association's recent report indicates that promotional food and drink specials are commonly used to entice players to stay longer. Large profits and low capital investment requirements for owners of the Internet cafes have prompted aggressive litigation against government regulation attempts. The report states that nationwide profits for sweepstakes cafes are estimated to be about $10 billion.
These "gambling venues are free of the legal restraints that Americans have traditionally demanded for gambling businesses," the report states. Unlike casinos, the cafe owners and managers aren't required to pass criminal background checks, and the fairness and integrity of the games aren't checked. What's more, cafes don't have to pay gaming taxes, exclude underage gamblers or require problem gamblers to get help, as do legitimate casinos."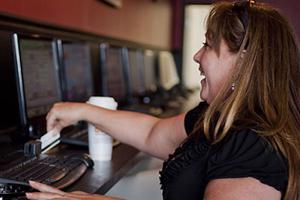 Gambling cafes around the USA have been banned by the authorities and cases pertaining to them have reached the Supreme Court of Alabama and North Carolina. In North Carolina, for example, these sweepstakes parlors claimed that the prohibition of and "entertainment display" violates the First Amendment rights; to which the Supreme Court responded with a rejection. This year, internet gambling cafes were banned in Florida, Ohio and a few Californian municipalities.
Keeping this last piece of information in mind, if you ask me, I definitely think that the future of these cafes is very gray and somber. At least for those open to the public. Whether or not gambling was taking place in these establishments, I think that these kinds of attempts to play gambling/chance games, is going to continue in the future. These gambling cafes may continue open but in an undercover manner. Nothing new there!
If you ask me, wouldn't it be better to just legalize gambling and have the government regulate and profit from these businesses that have always existed and will always exist? I'm not introducing a new concept to the table; I'm just stating the obvious. Don't you think?