Come one, come all. Fans of traditional arcade games and carnival classics are in for a truly innovative treat this December at CoolCat Casino. Instead of a simple list with ways to boost your bankroll, we're getting everyone into the holiday spirit with a chance to whack some of your favorite holiday characters right on the top of their smiling heads. Got a grudge with Santa over last year's gift? Now's the time to seek revenge with a quick bop to the dome. Mad because the snow is causing a traffic nightmare? Take it up with the resident snowman, and we're willing to boost your playing power as a reward.
CoolCat's Holiday Whac-A-Mole isn't just a chance to whack some of your favorite CoolCat characters, it's also an opportunity to earn a lucrative bonus on every dollar you deposit. Since every bonus in this promotion comes without wager requirements and cash-out limits and can be used on all slots, bingo and scratch card games, you'll be free to select your favorite Christmas slot to get in the spirit, or you can please your inner-Scrooge by going for something a little less seasonal. Whatever you choose, we're not here to judge. Try your hand at Whac-A-Mole, and enjoy the bonuses that are waiting on the other side!
A Smorgasbord of Tasty Offers
If you've always felt like activating bonus codes was just a little too simple, the December promotion is a great chance to give yourself a challenge. You're probably wondering what kind of deals could be headed your way. Well, that'll depend on your ability to smack those festive moles with your big holiday hammer. While revealing all of the potential offers would spoil the fun, we're willing to whet your appetite with a little preview. If Whac-A-Mole is a foreign idea to you, you may be able to land the generous 300 percent bonus offer. Just deposit $50 or more, and you'll be able to claim a boosted bankroll to play all of your favorite slots and keno games.
If, however, you were the type of kid that spent every waking opportunity honing your skills at the local arcade, you'll probably be able to do a whole lot better with this promotion. If you've got what it takes, a 360 percent bonus offer is just waiting to be claimed. Be warned; you'll need to crush a whole lot of holiday heroes before the timer ticks down to zero. Luckily, all of the Holiday Whac-A-Mole offers can be redeemed as many times as you like all month long. In other words, one expertly navigated round at the Whac-A-Mole table could be enough to supercharge your bankroll for the rest of the year!
These are just two of the offers currently available at CoolCat Casino. Don't settle for lesser promotions this December. Instead, turn to the online casino that's known throughout the industry to consistently offer some of the very best deals with each passing month.
Honing your Skills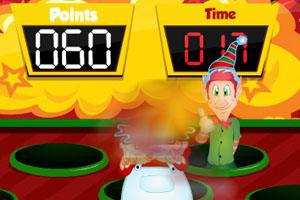 Having trouble breaking past the introductory offer? Consider us your Whac-A-Mole coaching staff. You'll need a few tips to get your over the hump to the best possible offer. First, aim with care. The mallet takes a while to swing, so make every swing count. Be sure that you're on target before clicking the mouse, and you'll have a good chance at improving your score. Next, don't get too greedy. You can't whack every character in this exciting game. If you try, you'll just end up missing some easy shots. Remain focused and dedicated on whacking as many as you can without trying to overdo it. With a steady pace, you'll quickly find yourself ranking among the experts. Finally, just have fun. CoolCat's Holiday Whac-A-Mole is an inventive and exciting way to boost your playing power, but there's no reason to stress over attaining a perfect score. Treat this bonus like a fun new game, and you'll be on your way to a better result in no time flat!
Choosing a Slot
Now that you've secured an amazing bonus, you may be wondering which game to play. The full list of online slots, keno and scratch card games is available, but we suggest trying something with a bit of holiday flair. If you're ready to get in the Christmas spirit, a game like Santastic is difficult to top. For something with a little more edge, check out The Naughty List or its sequel, The Nice List. If those games aren't your cup of eggnog, add a dash of excitement by loading up Rudolph's Revenge or Return of the Rudolph. You really can't go wrong no matter which game you choose. CoolCat offers some of the most exciting, lucrative slots you'll find anywhere.
Let Us Help
If you're having trouble with Holiday Whac-A-Mole, or if your promo code is giving you problems, you'll be happy to know that we're always standing by to help. Just head over to the 'Contact Us' page of this website to get in touch with a member of our industry-leading customer support team. Whether you prefer to chat over the phone, text over the web or send a few emails, CoolCat has you covered with a service team that's truly second-to-none.
The Christmas season is undoubtedly in full swing. Take this opportunity to smack Santa and a few reindeer on the head with an oversized mallet, and reap the rewards. Don't worry, the big guy wouldn't dare put you onto his naughty list this year! With a host of exciting games, the best promotions on the web and unparalleled customer support, it's no wonder that CoolCat has established a position atop the online casino industry. We're excited to give back to our loyal supporters with this exciting promotion. There's no better way to position yourself for a truly memorable New Year!