Many of us travel for the holidays to get away from the busy and hectic pace of the holidays. If you are on the go this holiday, you may want to check out some of the great destinations during your travels.
Atlantic City
Atlantic City, New Jersey isn't just for gambling, all month long in December, they have a wonderful light show in Historic Smithville. Over 100 Christmas trees and decorations all lit up for your gazing. It really is a spectacular display and is a must see if you're in the area.
Christmas in New York
This family friendly Xmas show in New York runs until New Years at the New York New York hotel and casino in Las Vegas. It showcases all your favorite holiday songs and is fun for the whole family.
Wynn Casino
The Wynn Casino in Las Vegas is one the best. For the holidays they have dressed up the resort and it's simply stunning. More than 5,000 hours of work have gone into bringing this winter wonderland to Las Vegas. There's even a replica gingerbread house of the Wynn casino and resort on display. And if you like flowers, there's more than 50,000 of them on display.
Mannheim Steamroller Christmas
All month at the Palazzo Theater in Vegas is the world renowned Mannheim Steamroller. This Grammy award winning band has been around for over 25 years and this show celebrates that fact. Listen to all your favorites as they pump out their hits all month long in Vegas.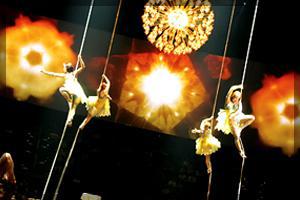 Cirque du Soleil
This magnificent show runs all the time, but if you're going to be in Vegas for the holidays, you may as well check it out. It's something everyone must see and will not disappoint. It's a super charged, fun filled family circus that tops "The Greatest Show on Earth".
All of these events are kid friendly and entertaining for adults as well. What better excuse could you give the wife to visit a casino?