What happens when a slot machine and a video poker machine fall in love and make a baby? You get European Slot Poker. And you need to get down to playing. The online game combines the randomness of slot machines with the hand ranking system of video poker to create one pretty fantastic hybrid game that you need to see to believe.
How to play European Slot Poker
The goal of the game is simple—to get the best 5-card hand using the cards you're dealt. Only you're not playing with ordinary cards. Not the type of cards you might be used to. In poker, you've got a 52-card deck to work with, featuring numbers and face cards, each one with four different suits.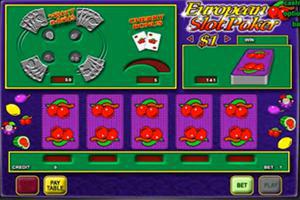 That's not the case in European Slot Poker. Instead, you've got a 141-card deck to work with featuring different symbols, like fruits, suits, and other symbols you might be used to seeing when playing traditional slot machines. There are no numbers though.
If you're thinking this game is just a slot machine where the reels happen to be disguised as cards, think again. There's a lot more video poker-esque features that make this game unique.
The big one? Well, the cards you're dealt aren't necessarily your final cards. Just like video poker, you've got the chance to swap up to all five cards for new ones. Your goal in the game is to make the board by ranking on the payout schedule.
Some hands pay out more than others. If you haven't yet made the board, you can swap some cards in an effort to put together a winning hand. Remember, you'll only get to swap your cards once, so make sure you consult the pay schedule to see if you have a decent enough hand to win some cash.
While it's a good call to swap cards if you've got a lot of cards that don't match, we recommend holding onto the Bar cards. With the chance to hit a $1,000 payday by hitting just three bars, it's your big chance to hit a big win that will make you feel like you've landed a Royal Flush.
If you want to try European Slot Poker, go ahead and download the CoolCat Casino software. Setting up an account takes just a few seconds and it's free to do so. You can also play all kinds of free slots and poker games for free, without risking a cent.