Online gaming is becoming more and more popular these days for casual and avid players alike. It's a booming industry and it doesn't look like the momentum will be stopping anytime soon. However, we all continue to ask the same the burning question: what are the best online games to play? If you're a fan of online casino gaming or are simply new to the action, CoolCat Casino has got you covered. From hot poker hands to the high thrills of the latest slot machines, the winners keep piling up, and at CoolCat Casino the excitement never stops.
Let's face it, with the wide selection of casino games available online it can often be difficult to know what game to choose. Need a little variety in your life? We've put together three of the best online games that you should definitely check out at CoolCat Casino! From a twist on a classic table game to our featured specialty game, and a video poker game must; we can't recommend these online casino games enough. We'll break down how to play them, why you should play, and even throw in helpful tips to get you earning big payouts in no time. Try these three following games at CoolCat Online Casino today!
Face Up 21 – blackjack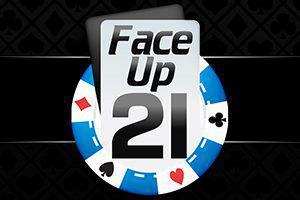 Fans of the classic blackjack will love Face Up 21. This popular online casino game is a variation of blackjack with one major feature: both you and the dealer are dealt two cards face up. This is a huge advantage to the player as they can base their strategy by knowing up front what the dealer has. Maximum bets at $250 per hand also increase the chances for huge wins on each turn!
How to play Face Up 21
Play starts with a choice of minimum bet or more. The point value for cards 2 to 10 are at their face value, whereas face cards (Jacks, Queens, and Kings) also share a value of 10. Aces count for 1 or 11, whichever makes a better hand. Once a bet is made two cards are dealt face up to both the player and the dealer.
A player can choose to hit, stand or double, and the decision informed based on the visible cards that the dealer has in front of the player. The closest hand to 21 points wins!
Rules
This version of blackjack is played with 8 standard 52-card decks that are shuffled before each new deal. Cards are dealt face up for both the player and the dealer. When the dealer and the player both have a blackjack, the player wins. On all other hands that tie however, there is no push and the dealer wins. The dealer must hit on soft 17, and if the dealer busts the player wins.
The dealer also has to stand on the first deal of a hard 17 or more, or a soft total of 18 or more, and the player wins if their hand is higher. However, if a players cards do not equal the dealer's, the player must continue to draw cards automatically until the dealer's hand is beaten or bust. E.g. say that the dealer has a point value of 20 on the first deal, the player must continue to play to beat this hand or loses (goes over 21).
Any matching pair can be split and players can choose to double on hard totals of 9, 10 or 11. If an ace is split or doubled only one additional card can be drawn from the deck.
So why play?
In Face Up 21, the player can see the dealer's cards. This gives them the opportunity to compare their hand with the dealer's before they decide to continue or stand. This sort of open strategy is more advantageous to the player compared to the 'hole card' system in American blackjack for instance (where the player can't see the dealer's second card).
In Face Up 21 the maximum bet is $250, with payout odds at 98.5%. Therefore, with the right strategy there's plenty of opportunity to win big on any given hand. Another great feature of this game is that VIP players can customize their betting limits, allowing for even bigger wins.
Although chance is a factor, it's not the only one. Players can utilize certain tools to better their card value against the dealer, which doesn't require difficult strategy. For instance, it is recommended that players split on a pair of eights and aces, never separate the pairs of 10's, J's, K's and Q's, and also hit on 12, 13, 14, 15 and 16 when the dealer has 10, J, K, Q or Ace.
Face Up 21 – useful information for blackjack players
Table Limits range from $5 to $250.
Players can choose to re-bet, allowing the same amount to be wagered from the previous round, this creates faster gameplay.
On a blackjack tie with the dealer the player wins!
Two cards totaling 9, 10 or 11 can be doubled for a chance to win an additional wager of a player's initial bet.
The dealer must stand on a hard total of 17 (17 without the presence of an Ace) or a soft total of 18 (18 with the Ace as one of the cards).
With the right strategy and comfort level of play, players soon realize that Face Up 21 is an outstanding version of blackjack that allows for hefty payouts.
Treasure Tree specialty game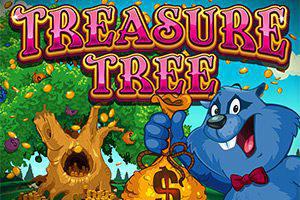 Money might not grow on trees in real life, but it does in the exciting specialty game Treasure Tree! This popular match and win game presents players with an exciting opportunity to up their bankrolls. All a player needs to do is place their bet and click on the money bags that appear for special prizes and free games. Matching three of a kind wins 25 free games or 500 times the bet amount in prizes. The free game feature also allows players to triple their winnings!
How to Play
All players need to do is click the money bags on the money tree for a chance to win. Players must match three similar prizes in the same colored area. Once a bet of $1, $2, $5 or maximum of $10 is made a player can click on the money bags individually or hit the "Reveal All" button for a chance to win up to 500 times their total bet or up to 25 free games.
Game Strategy
Treasure Tree is completely random, which means that after a long day all a player needs to do is relax and click on the money bags, without having to worry about a game complicated strategy.
So why play?
There's no online casino game as easy as Treasure Tree. All players need to do is click for chances to win big. The more a player bets, the more they win! Betting as much as their bankroll allows puts players in top position to win the game's excellent prizes of up to 25 free games or 500 times the initial bet, instantly. The jackpot is 2,000 times the initial bet! Need we say more?
Tips for Treasure Tree players
The Money Bags symbols are marked in three different color categories. Players can choose to click them one by one or select all to match prizes.
Three in the same colored area wins up to 500 times the initial bet or up to 25 free games!
Free Games allow for free play at no extra cost, and players can win tripled prizes with this feature.
The Treasure Tree jackpot is 2,000x the initial bet!
No need to wait around any longer. Play Treasure Tree for a chance to win…big.
Bonus Deuces Wild
Bonus Deuces Wild is an exciting table game that is the ultimate video poker experience. Twos are wild in this high energy poker game with chances for players to hit large cash payouts for winning hand combinations. You'll find out exactly what makes this popular online casino game worth playing. Find out how to play below!
How to play
Bonus Deuces Wild utilizes rules similar to classic poker. Five cards are drawn at random from a 52 card deck (that changes with each new deal), and players can choose which of the five cards dealt they will keep or discard. Once a selection is made new cards are dealt to make for a possible winning hand combination, which is then awarded according to the pay table.
Before a player can start, they must place a minimum bet by choosing 1-5 credits. Choosing "Bet Max" places a maximum of 5 credits automatically, and rewards the player with the highest payouts, including the jackpot. The game utilizes the number two card as a wild, and the bonus feature is "double or nothing", which allows the player to try to double their money should they accept by drawing a higher card then the dealer. The "double or nothing" bonus feature can be continued until the player loses or they decide to stop after a win.
Winning Hands
There are many winning hands in Bonus Deuces Wild Video Poker. See below for winning hand combinations ranked from highest to lowest.
Royal Flush (highest hand) – 10, Jack, Queen, Kind and Ace (of the same suit)
Four Deuces (with Ace) – Four twos and an Ace
Four Deuces – Four twos
Wild Royal – Royal Flush that uses a wild two card
Five Aces – Five Aces (with a wild two)
Five 3 to 5 – 5 of a kind of 3s, 4s, or 5s
Five 6 to K – 5 of a kind of 6s, 7s, 8s, 9s, 10s, Jacks, Queens or Kings
Straight Flush – Five cards of the same suit in sequence
Four of a Kind – Four cards of the same rank
Full House – Three of a kind, plus a pair
Flush – Five cards of the same suit (hearts, diamonds, clubs or spades)
Straight – Five cards in sequence
Three of a kind (lowest hand) – Three cards of the same rank
So why play?
Video poker is one of the best casino games out there with great odds of return. There is no fuss with having to play with other people either, so it's perfect whether you're on the casino floor, at home or on your mobile device.
One of the most exciting features of Bonus Deuces Wild is that players can choose to play a combination of 1, 3, 10, 52 and even 100 hands at once. This certainly isn't possible at a standard poker table, and definitely cranks up the speed of play. The rules don't change for the multi-hand feature. With more cards in play, the more winning hands a player can earn, with big bucks not far behind. And what's better than a poker game with a set of wild cards? This only further increases the chances for winning hands. They don't call it Bonus Deuces Wild for nothing!
The "double or nothing" bonus feature allows for a chance to win some whopping sums of money. Think hitting the jackpot is big? Why not double it! Even small wins can be doubled, and if a player is lucky and guesses right they can choose to keep doubling!
Game Strategy
All though cards are randomly selected with each deal, the best advice for players is to pay attention to the pay table. Since each hand pays out different amounts, it's important that players pay attention to the payout table listed on the game screen above their cards. This helps establish which winning combinations pay out more than others, and can help encourage a more reliable game strategy during wager and play.
Also, choosing to bet max credits maximizes the pay out potential on winning hands. Because twos are wilds, it's always best to hold them because wilds are a substitute for any card of any suit and can be the difference between winning and losing. Even replacing an entire hand can win when wilds are included on the next draw. Anything is possible in Bonus Deuces Wild.
Choosing to play multiple hands also increases a players odds of winning. Bigger is always better in video poker. Play big, bet big and win big.
Tips for Video Poker Players
Always choose max bets when playing, in order to maximize winnings and potentially hit that big jackpot
Be mindful of the payout tables in order to know which winning hand combinations to go for or which to avoid for a better strategy
Hold those wilds! Many video poker tables use wilds, and Bonus Deuces Wild is no exception; the number two is the wild card and can substitute any card of any suit to help with create a winning hand
Choose to double your money with the "double or nothing" bonus feature, you don't have to just double once, you can choose to keep going if you're feeling lucky after a win
Still haven't found what you're looking for? CoolCat Online Casino has plenty to offer with some of the best casino games available online. Have a look at our huge variety of spectacular slot machines or try our popular online casino table games. Once you're ready, you can choose to play for free or for money after you sign up. It's your chance to win!