So you've decided to head to the casino to test your luck and win it big. Casinos are a fantastic form of entertainment and offer chances to up that gambling ante and take it all home.
However, if you're a gambling newbie, casinos can be rather intimidating places; especially if you aren't sure of the best bets to make.
Not to worry, CoolCat Online casino has you covered, because we have put together a list of the top five bets any player can make in a casino. Our list looks at the house edge for each game, and focuses on the games that offer the best win percentage to the player over a long period, instead of wins that can occur during short gambling sessions.
This list is guaranteed to have you leaving the tables with a fatter bankroll, as long as you manage your money well. Our list will not include sports betting, where a good handicapper can gain substantial wins if they know what they are doing; as well as live poker, where skilled players can earn big pots with the right play strategy, accurately timed bets, and well-executed bluffs. These bets are intended for beginners, so without further ado, let's hit the casino floor!
Pai Gow Poker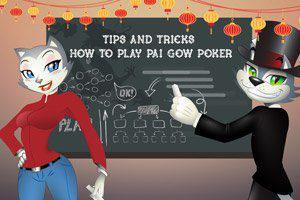 Pai Gow is a simple game to play for gambling beginners, and can be a lot of fun with little practice. Play-speed is relatively slow, allowing players to limit potentially big losses. The game features a 2.3% house edge, which makes it one of the better games to play in the casino. The goal of Pai Gow is for the player to make two poker hands – a five-card hand and a two-card hand. Only pairs and high cards count for a two-card hand. If the two poker hands beat the dealer's two poker hands, you win.
Casino gamblers play Pai Gow poker against the house much like in blackjack or baccarat instead of against other players like in standard poker. Beating the dealer wins you even money minus a 5% commission.
In the occurrence of a tie, known as a "copy", the dealer wins. If you win one hand and lose the other, it is a push and your bet is returned.
Pai Gow is one of the only live card games at the casino that utilizes a joker. The joker counts as an ace, and is used to complete a straight, flush or straight flush.
Baccarat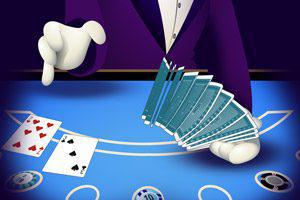 Baccarat is a fantastic game for new players because it requires no skill to play. In most modern versions of the game, the dealer makes all of the decisions and players only need guess which hand will win: the player or the banker.
In baccarat, aces are worth one point, face cards and tens are worth zero, and all other cards are worth their face value. The closest hand to nine without going over wins based on two cards for a hand.
Baccarat is a game with one of the lowest house edges in the casino, and we recommend that you bet on banker because its casino advantage is only 1.06%. Players must pay a 5% commission for any wins on the banker bet, but it is still an excellent bet to make.
You can win consistently by playing baccarat with the banker bet in land-based or online casinos, which is why this game is favored among high rollers.
In addition to the banker bet is the player bet; these have a low 1.24% house edge. Over time, both bets win evenly, meaning the game is essentially the equivalent of betting on a coin toss. However, you want to avoid the tie bet, because despite its enticingly high payout, it has a staggeringly low chance of winning at just 9.53%!
Video Poker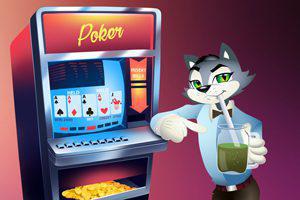 There is a lot of variability when it comes to video poker games, whether playing at your local brick and mortar venue or choosing video poker from the best online casino games, the thing that you need to pay attention to is the paytable and pay percentages for each game.
Since video poker online relies on random number generators (RTGs), players are more susceptible to the fluctuation of pay percentages playing on land-based video poker machines or on the high seas! For instance, Full-Pay Deuces Wild Video Poker, a popular game found at land-based casinos, has a 100.8% pay return to a player who uses expert strategy.
However, this takes study and practice, and the best way to accomplish wins are by utilizing free training software via a quick online search. On average, the house edge for the best video poker games will vary between 1-3%, but the best way to maximize your profits are to always bet max coins, and to watch out for the differences in payouts for full houses and flushes. You want to play on a machine that pays 9:1 and 6:1 respectively.
Do you want to play Video Poker? CoolCat Online Casino has a nice selection of Video Poker games that you can choose to play free using the Instant Play feature or for real money by signing up with a minimum deposit. There's no cooler way to play than at CoolCat Casino.
Craps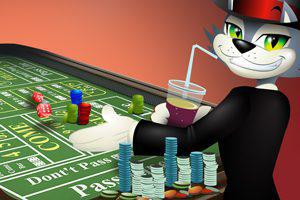 The craps table features some of the best bets in the casino. Craps is often a confusing game for new players, simply because of the variety of bets that you can make. All of the commotion at the table and jeers and cheers directed at the "shooter" can dissuade players from the game altogether. However, craps is deceptively simple, and the object of the game goes as follows:
Everyone at the craps table gets a turn to roll the dice or "shoot", but you don't have to roll if you don't want to. The dice are passed around the table clockwise, and if it is your turn to roll, you simply grab two dice and roll them to the opposite end of the table. This is your first roll of the dice, also known as the "come out" roll. If you roll a 7 or 11 this is called a "natural" and you win, and you roll again. If you roll a 2, 3 or 12, this is called "craps" and you lose, but you still get to roll again.
The only other possible numbers you can roll are 4, 5, 6, 8, 9, or 10. If one of those numbers shows up, this number becomes your point number, and the dealer marks it on the table. The object of the game is then to roll that number again before you roll a seven.
If seven shows up before your point number does, this is called "sevening out", you lose your bet, and the dice goes on to the next shooter. If your point number shows up before a seven does, you have made a "pass", win your bet and you get to roll again. Below we have listed the good bets to make in craps.
Pass Line
Placing a wager on the Pass Line means that you are betting the shooter will win or make a "pass". This wager pays even money (1:1), and is a great bet to make because it has a low 1.41% house edge.
Don't Pass Line
This bet is located adjacent to the Pass Line Bet. If you place a wager on the Don't Pass Line, it means that you are betting the shooter will lose. This wager also pays even money (1:1), and has a 1.36% house edge. In essence, the house edge is 1.41% for the Don't Pass Line Bet, because if the shooter rolls a 12 it is a "push".
"Free" Odds
This bet is one of the rare instances in a casino where the house has no advantage. Casinos will not promote it, but it is an attractive bet to make for players in the know.
You can make an odds bet only if you have already bet on the Pass Line. If you make your Pass Line bet and the shooter rolls a 4, 5, 6, 8, 9 or 10, you can place an additional wager on the felt behind your original Pass Line bet. The odds bet will pay out 2:1 if the point was 4 or 10, 3:2 if it was 5 or 9, and 6:5 for a 6 or an 8.
The house edge for single odds drops the house edge to 0.8%, double odds brings the house edge to 0.6%. In rare cases, there are casinos that will offer 100 times odds for a free odds bet on the Pass Line, and this will drop the house edge to an incredible two-hundredths of a percent!
Six/Eight
If you feel like Pass Line and Odds bets are simply not cutting it at the craps table, you should consider placing a wager on 6 or 8 located near the Pass/Don't Pass Line bets. You'll win if the number you selected is rolled before the shooter rolls seven but lose if it doesn't. The bet will remain in place until one of these numbers appears, even if it takes many rolls.
The six/eight bet pays out 7:6, and this bet should always be made in multiples of $6 to maximize its advantage. It has a low 1.52% house edge.
Blackjack – basic strategy/card counting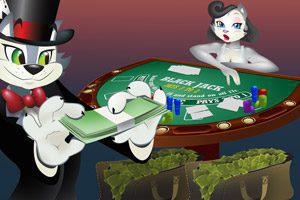 Blackjack is perhaps the perfect game to play in a casino, and for good reason. Unlike many casino games that largely depend on luck, such as slots, roulette, or baccarat, blackjack is a game that with proper strategy you can beat the house, just ask Ed Thorp.
For an average player the house edge in blackjack is 2-2.5%, making it relatively low to begin with. However, with the right strategy and as your skill as a player improves, the house edge will continue to decrease, down to less than 1% which beats the 1.41% house edge in a pass line bet in craps.
Using expert blackjack strategy will reduce the house advantage to down to a very low 0.14%, meaning that making the right decisions can result in some seriously big wins. The wrong decision or a poorly timed bet, on the other hand, cab bring the house edge back up to nearly 3%.
Our advice is to look only for blackjack games that offer 3:2 payout on "blackjack" instead of 6:5. You will also want to find a version of blackjack where the dealer must stand on "soft 17". This will ensure that you maximize your bankroll, and with appropriate strategy can bring you consistent wins.
However, if you're a card counter, it is possible to get an edge on the house, which makes it the only live game in the casino where this is possible. In card counting, you place your bets based on the proportion of low and high cards within the shoe. If there is a high concentration of low cards remaining in the deck, this favors the dealer. If the there is a high concentration of high cards remaining in the deck, you should start increasing your bets. Card counting requires a lot of practice, and a sizable bankroll, also casinos don't like, but if used effectively you can see some serious profits like a true high roller.
WARNING! You should avoid the insurance bet in blackjack. It has a massive 7.47% house edge for a standard eight-deck game, and occurs when the dealer shows an ace. It is a side bet that a player can make on the possibility that the dealer has blackjack but is arguably a terrible bet to make because in the long run you will lose money.
Conclusion
Now that you've got the skinny on the best bets to make in a casino, why not go for gold at CoolCat online casino! We offer a plethora of exciting online casino games, from slots to video poker, blackjack, baccarat, craps and many more. A bona fide gambler like yourself can end up winning for little risk and big rewards. Sign up with a free player account or minimum deposit to start winning big at CoolCat Online casino today!
CoolCat Winners
Matt couldn't sleep last Friday night, so he tried playing a few of his favorite slots at CoolCat Casino before he settled on one of our newest games, Kung Fu Rooster.
He was coming off a previous win, so he started betting at $60 a spin.
Less than a minute after he started playing, he triggered the Feature. He got 10 Free Games and won $1,225.
That was just the beginning. Back in the base game, he won $575, $550, $465 in a space of 20 Spins.
But it was the final Free Game Feature that really made Matt's night. He triggered 20 Free Games and won a total of $21,785. That's a good Friday night.