The history of casinos has taken some pretty wild twists and turns —  more like a rollercoaster than an industry! Ten years ago, if someone would have said "online roulette" you would have thought of a pixelated image — a top-down view of a roulette wheel, and possibly even a random number. Graphics were not as advanced, and adequate and exciting gameplay seemed equal as unrealistic. And playing on a mobile device? Forget about it! This concept was unfathomable!
Casinos quickly realized the technological potential took various advances to bring better graphics and greater gameplay options to their players. The ultimate goal was to bring the feeling of land-based casinos, with a live dealer and a live table, to the online players. 
Enter the last couple of year's development into the live casino online paradise. The question rousing everyone's suspicions is where exactly do we move on from here?
Social media is an option to explore, with casino apps coming through sites like Facebook, where you can play for credits. But still, this offers that same old gameplay. CoolCat Casino has worked long and hard to find exactly what could be the next step. What CoolCat has included among the long list of games they provide is a fine combination of social media and live roulette. Welcome to the world of multiplayer roulette.
Multiplayer Roulette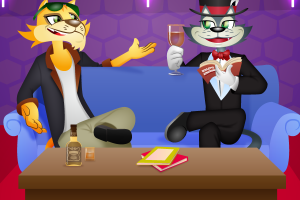 What is it, you ask? In a nutshell, it's European Roulette with the added bonus of being able to play and interact with players from all over the world. Customize yourself with images, learn strategies from others, and play on a real time table.
As those of you that play on a regular basis may know, there is something a little cold and clinical about playing single-player roulette on a computer. Yes, it is fun and can keep you occupied for a certain amount of time, but something is missing. The crowd. The rush of the spectators that you get in a real casino, the laughing and smiling faces of the winners. When you win, sharing that moment with real people is something that online casinos have not been able to replicate.
Multiplayer roulette enables you to experience this; you can chat with other players, real people, while you are playing the game that you love. Landed a big win? Tell people about it! Don't just gloat to yourself. Want to know what someone did to win? Ask them! Multiplayer roulette at CoolCat Casino allows you the same social thrills as playing in a brick-and-mortar casino.
If you are not so into the chatting, you still have the ability to see other people's plays, just like in a real casino. Maybe you'll see a technique you like and can replicate it on the next spin.
It's open, it's transparent, and the roulette community is loving it. From the professional players to the complete novices, CoolCat provides a fantastic introductory guide with great tips and pointers about how to play. What's best of all when you play multiplayer roulette, you can be at a table with experienced players, who might just have the answers you are looking for; all you have to do is click the chat icon.
This is a fantastic move in the world of gaming — an initiative and innovative product that players have been wishing for, for quite some time. If you are a new player or you are a pro, switch on your laptop or PC and share some of your tricks, tips, or strategies and enjoy the world of, what we're calling, social roulette.
How to Play Online Roulette
Once you've stepped into the world of online casinos and decided to play multiplayer roulette, it's important to learn the rules and gameplay of this classic casino favorite. We'll start with the basics. 
Fittingly, "roulette" means "a small wheel." On this wheel, there are black and red numbers from 0-36. There is a table that has the numbers on it, and a ball that is set in motion when you start playing. The numbers on the table are random. The objective of the game is to guess correctly on which number the ball is going to land.
Freeplay and Game Knowledge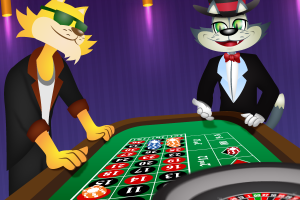 The golden online roulette tip is to know the game before you start playing; you can do so by choosing to play free roulette games first. Even if it takes a little time, first get accustomed to the odds associated with online roulette, so that you do not lose money unnecessarily. Always keep in mind that roulette is a game of chance and it is not possible for anyone to guarantee that the ball will land on a particular number. Each spin is unique and cannot be repeated. Even if the ball is landing on a particular number every time, the odds of it landing on that number in the next spin remains completely random.
Many people claim that they have a fixed strategy to win in online roulette. Online roulette is a game of chance and there can be no strategy that can tell you the winning number. When you play, try European roulette. This has a lower house edge than American roulette. The best bets on online roulette are the easy bets,  like betting it will land on a black or red number. You can win roughly half the times if you stick to these odds. In the process, you can win some big money if you follow this method.
Probability and Special Rules
Keep in mind that probability plays a major factor. When you are on a down-slide, go for chips of smaller denominations. Try to play online roulette on a site that offers the advantage of the "surrender rule." This will help you make the most of your bankroll. Also, look for tables that have the "en prison" rule; that way, on even money bets, the house edge is reduced by 50%. While playing roulette, try not to bet on single number bets or 0, 00, 1, 2, 3. These bets increase the house-edge and minimize your chances of winning.
Bankroll Management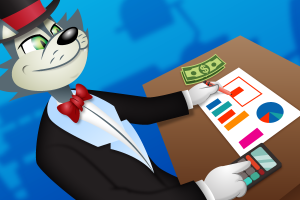 Managing your money and planning your bets in advance never does you wrong. You can save a lot of money and increase your winnings if you plan your budget. Get rid of the illusion that a great play will come and turn your losses into a great win. That spin might never come; what will come is a financial crisis that will be hard to manage. 
While playing online roulette, make sure you do not compromise on the fun quotient by worrying about losing. Keep to your budget, manage your winnings, and enjoy the best USA casino experience at the online roulette tables!