If you're already too familiar with poker, you might want to try something new and different, and that something different may be about Four Card Poker. This is currently the newest game trend that gamblers online are talking about. Let's discuss how this game is played as well as strategies that will make you a big time winner.
Four Card Poker is a game originated from the classic poker we all know how to play and it can be played in three different ways:
Player Vs. Dealer-Ante Wager
The objective of this game is to form four card combinations that are higher in value compared to what the dealer have and then make the Ante wager. Tying the cards that the dealer possesses will yield the same result. Once the deal of cards is made, the player can either forfeit the game or the wager or continue the game by adding money equal to the preliminary bet. Money can also be three times higher than the main pot.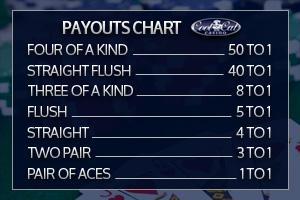 Player Vs. Paytable-Aces Up Wager
The player has an option to gamble on ACES Up game if he's aiming for additional win. Amount of winning is based on the four cards the player is holding. The victory will be given if four cards include two Aces or higher. Payouts will be given based on points (check the provided pay outs chart).
Note that the payout for the ACES UP will always be given regardless of the value of cards that the dealer has on hand.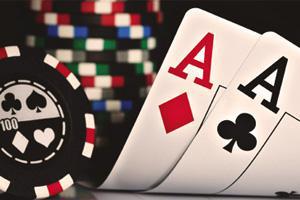 Playing Both-Aces Up and Ante Wagers
The player on this type of four card poker is betting for two tables. To win, he or she needs to beat the dealer's best cards of four (ANTE) or obtain two ACES or higher (ACES UP). Winning in both tables is not permitted. Let's say a player got the ANTE and the ACES UP, either of the two will be forfeited.
There are additional playing rules that players need to know. ANTE and ACES UP bets need to be on the table before the dealer can announce the "no more bets" spiel. If none of the players get the best pair of cards, the win will be given to the person who has the highest ranking cards. ACE is considered the highest ranking card, except for the 4-3-2 – A order.
Note that players are also not allowed to touch the cards of the others, except for the dealer and the players receiving the card. Wager should only be coming from the players on the table. Audience are not allowed to bet. All players shall remain on the table until the game is over.
Poker and playing cards is really entertaining. You need to make sure that you're not playing for the purpose of earning a living. Gambling is something that you can study. It's something that you can master, but can never be a stable source of income.