CoolCat Casino has a huge variety of games just for you – one for every mood you could possibly find yourself in. If you want to mix it up every now and then, try your hand at one of the many specialty games that CoolCat has to offer, ranging anywhere from keno to blackjack. But there are some specialty games that are relatively unknown, and you could be missing out if you don't check them out today! Online scratch cards have flown under the radar in the past, but they are starting to become all the rage. With games that are easy to play and even easier to win, these real-money, virtual scratch cards are the next big thing in the world of gaming.
Scratch card games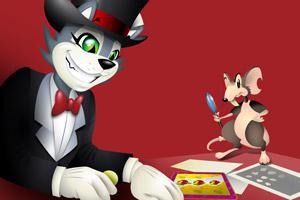 People love classic casino games, but after a while they can start to feel a little repetitive. Especially in the world of online gambling, there is only so much change a video slot can present to a player. After a certain number of spins, it may feel like you've seen all there is to see. Lately, there has been a noticeable movement from the more visible and numerous categories like slots to specialty games like scratch cards. There is a more personalized feel, and the different games are just that – different. No two different specialty games are similar, and scratch cards may be the most distinct of all.
CoolCat Casino offers five different scratch card games, each with its own look and feel. The best part is that they offer all of the anticipation of traditional scratch cards, but they provide the players with special features that can only be made possible with online games, such as interactive elements, animated scratch symbols and awesome features! With traditional scratch cards, there are set prizes you uncover, but with online scratch cards, you can change it up with different themes, rules, and bet values.
Play Now!
How to play scratch cards online
There is a lot more variation in the scratch card games you may find online, but playing them is easier than ever! With only a few simple rules to follow, you'll be on your way to winning in no time. The most important basic to know when learning how to play scratch cards online is that the game consists of covered symbols. Just like real life scratch cards, the goal of the game is to uncover them and reveal what kind of prizes the game has in store for you. Often, games will have a "Reveal All" button which shows what lies behind all of the mystery symbols in one fell swoop. But consensus says that the most fun way to play is by uncovering each symbol individually. It keeps you clicking and maintains the anticipation that you love so much in the game.
Behind these mystery symbols lies a particular number or picture you're trying to get more of, but these games will often give out multipliers and free games as well. You can start to collect crazy earnings at once when your winnings are multiplied by up to 20 times! And a free game – where you bet nothing and keep all your winnings – never hurts either. If you're looking to really maximize your prizes, check what kind of promotions the casino has going on at the moment. Offers like deposit bonuses and free chips are rewarded to you for doing what you already love. And after all, who wouldn't want to play with free money?
Online scratch cards are and always will be a game of complete luck. But there is still strategy you can use to make the most of the game. The factor you are most in control of when you play scratch cards online is the amount you choose to bet. All of the best online scratch cards give you the ability to adjust your bet, whether you want to bet a low $1 or a high $10. Strategically speaking, it only makes sense that if you put down more money with each bet, you could change the value of your earnings exponentially. That being said, don't put down your entire bankroll on consecutive scratch card games. It's a game of chance, so if you find yourself boding particularly well, roll with it. If you find yourself on the wrong side of a flipped coin or losing more than you'd like, call it quits for the day. Grab a soda or take a nap and make sure you feel refreshed before giving it another go.
CoolCat's best online scratch cards
CoolCat Casino has some of the finest online scratch cards. Offering five different games, you can pick a different theme for every day of the work week, whether it's the mobile scratch cards that you play on your commute or your favorite desktop version. Read about what you can play on CoolCat Casino below – you may just find your new favorite online casino game.
5 Diamond Blackjack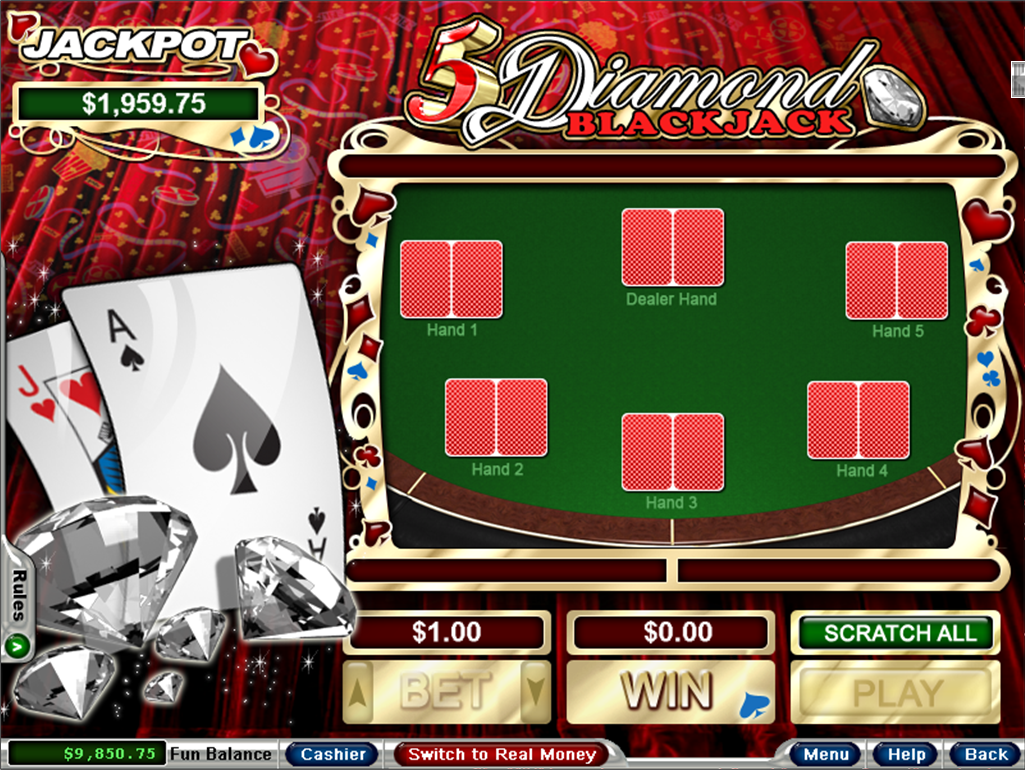 Are you a fan of blackjack but don't feel like putting in the mental effort to master your strategy? Check out the online scratch card game, 5 Diamond Blackjack. With tons of prizes and the possibility of winning up to 4,000 times your bet, this game will make you feel like you can't lose. This scratch card is set up like your favorite game of blackjack, except you are dealt five different hands, meaning that you have five different chances to beat the dealer. If you beat the dealer, get 21, or get a diamond you automatically start winning. For a fun new take on one of your favorite casino classics, check out 5 Diamond Blackjack – you'll be shouting 21 in no time!
Hot Dice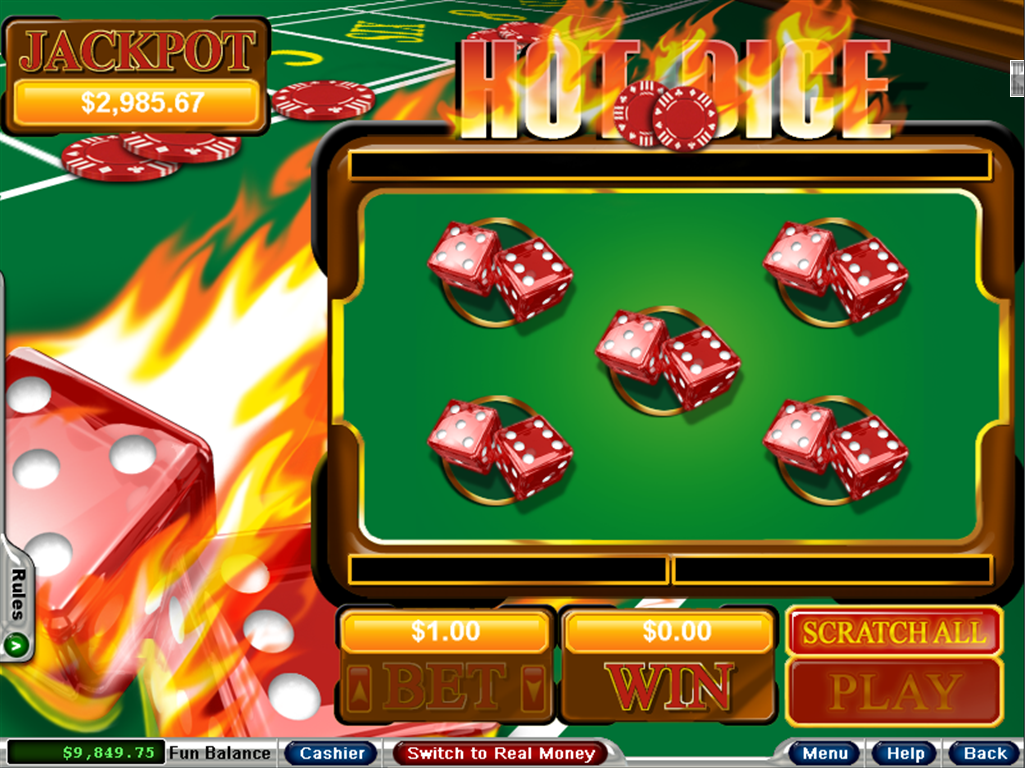 Watch out, those dice are on fire! With the scratch card game, Hot Dice, you'll never cool down from your hot streak. This easy-to-play, animated game is an absolute hoot. You choose how much you want to bet – anywhere between $1 and $10, and start to reveal your fortune. The goal of the game: uncover the values of the five pairs of dice. If a pair's total comes out to a lucky 7 or mysterious 11, you can win big! The game has multipliers too, so you can win up to 200 times more than your original earnings! It's a wonder you're not already on CoolCat, playing your hand at Hot Dice!
Magic 7's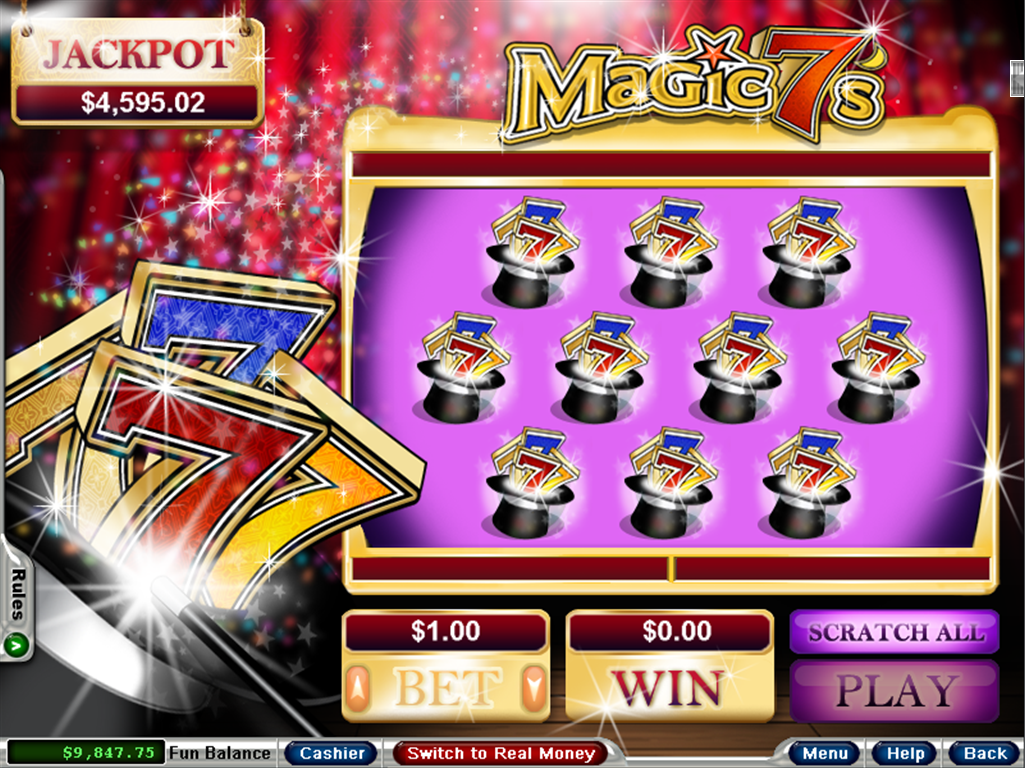 Speaking of the lucky number 7, if you're trying to make the most of a good luck symbol, check out CoolCat's online scratch card game, Magic 7's. This game is perfect for someone who wants a little spark of magic in their lives. With each scratch card, you are given 10 magician's hats bursting with magical 7s. You can either click on each one to uncover what lies below, or you can click the "scratch all" button to reveal them all at once! Look out for the number 7 or a magic hat, which can give you bonus rounds, a free game, or anywhere up to 3000 times your winnings! With a little swish and flick, there's no telling what kind of prizes you can pull out of your hat!
Treasure Tree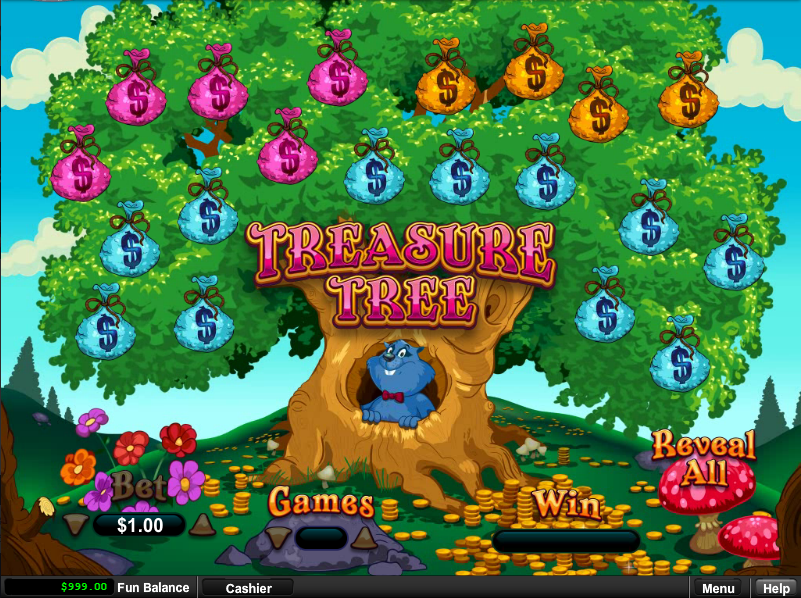 If 10 spaces aren't enough to fit your taste, then your best bet is to check out the online scratch card game, Treasure Tree. This game will keep you entertained for hours with its 20 mystery money bags hanging from the treasure tree. You can click the "reveal all" button to quickly uncover all of the symbols at once, but where's the fun in that? This match and win game is best enjoyed revealing each symbol one-by-one. The game itself is simple: there are three different colored sections, and your goal is to get two or more matching symbols in the same colored section. If you get two, you win the prize that is written on the moneybag symbol, if you get three of a kind you can win 25 free games or up to 500 times your bet! Play Treasure Tree, because after all, the money fruit doesn't fall too far from the tree!
Lucky 8's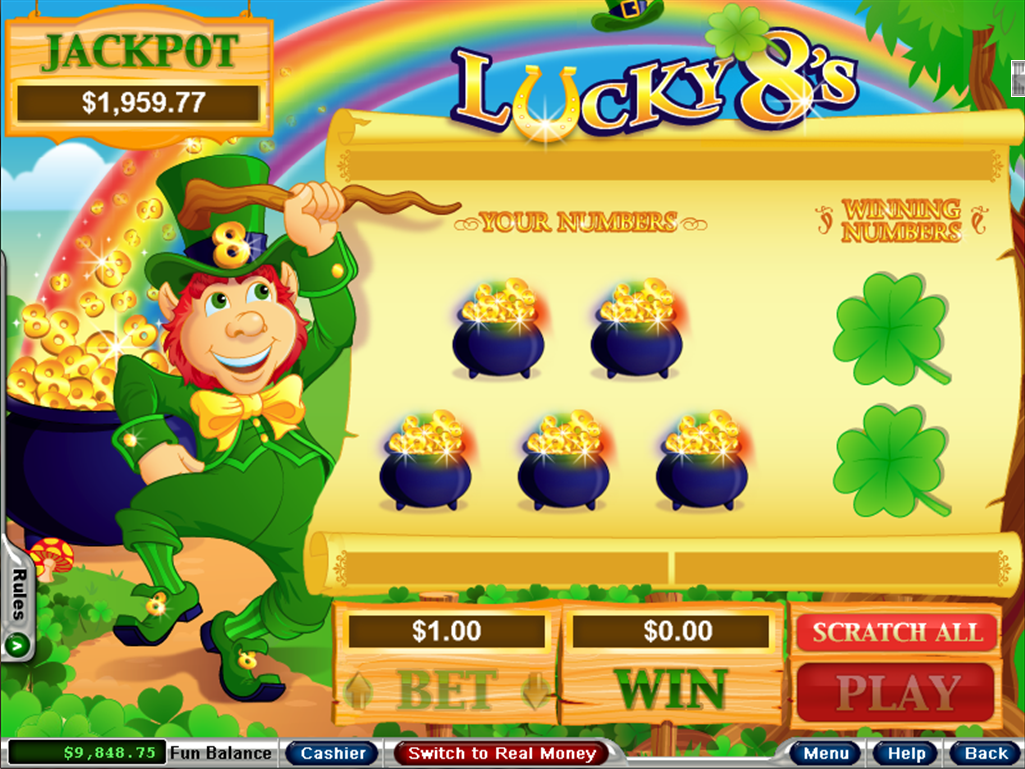 If the fortune in your life needs a little boost, then grab a Guinness and really harness the luck o' the Irish. The Lucky 8's online scratch card game is all about four-leafed clovers, rainbows, and pots o' gold that could become yours. This game is a real nail biter, with five pots of gold symbols that cover your numbers, and two clovers which are hiding the game's winning numbers. The anticipation comes from not even knowing which numbers are going to win you a bucket of gold coins! With this online scratch card, you bet anywhere from $1 to $5, meaning that you could potentially see the money rolling in with the possibility of winning up to 4000 times your bet!
Online scratch cards are a great way to play the game and win big with little to no effort! Who doesn't love a little easy scratch card fun? Find the perfect online scratch card game for you. Head over to CoolCat Casino and start building your fortune, one scratch at a time!