Many players that enjoy slots will find that they would really enjoy video poker. The biggest challenge to making the jump is the overall lack of understanding of the game. Poker can be an intimidating game to anyone who doesn't play it often, but video poker shouldn't cause the same type of angst. With payouts higher than most slot machines, video poker is an excellent alternative for anyone who likes a game with a little more strategy than just pushing a spin button. Before making the jump into video poker though, it is important to how to play.
Like most casino games, video poker is relatively simple. To start the hand, you are dealt five cards. Using touch screen technology, you will select which cards you would like to hold by tapping the specific card or cards on the screen. Once you have made your selections, you will then press the "draw" button get new cards for the ones that you decided not to keep. Once you get the new cards, you will attempt to make the best poker hand you can. Depending on the hand that you make, you will earn a specific payout.
Higher hands will generate higher payouts; with the royal flush paying off the most. The lowest hand that will provide a payoff is jacks or better. The ranking of the hands are as follows, from lowest to highest, jacks or better, two pair, straight, flush, full house, four of a kind, straight flush, and royal flush. The payouts are in direct correlation to the likelihood of achieving that specific hand. This should be kept in mind when you are deciding on your hold cards. Continually trying for the higher hands will end up in more losses over the long run.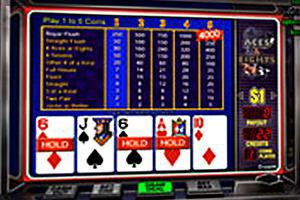 An appropriate strategy should be to grind it out with attempting to hit straights and flushes, and only view hitting the higher ranked hands as a random event. Keep in mind though, that you won't get rich playing these games. While there are jackpots available, the consistent money will be made by attempting to hit more of the lower ranked hands that payout less. That is why it is important to survey the video poker machines for payout structures that would favor straights and flushes with a slightly better payout for these types of hands.
Remember, the key to any gaming strategy is bankroll management. The purpose of these games should be enjoyment. Prolonging the enjoyment for hours through bankroll management is your goal. Grinding out wins on mid-range hands will generate profits and keep a steady inflow of cash. As always, chasing hands and jackpots will result in low win percentages and cause a quicker depletion of your bankroll. With video poker, you can influence this strategy better than you can with other games, like slot machines. You control what you go after, if not necessarily the cards you get.