As you enter the world of online casinos, learn the top 10 things every casino newbie should know, and get to know some of your fellow gambling cohorts, you are bound to come across a few aspiring professionals. Heck, maybe you've even had some dreams about hitting the casino games as a full time job. It seems attainable enough – it usually looks like it only takes a little affair with lady luck. And with perks like flexible hours and the ability to work from home in your favorite pajamas, being a professional online gambler definitely looks like a dream job. But there's a reason so few people who love gambling can sustain it as a livelihood – it takes hard work, mathematical finesse, and a heck of a lot of patience. So, before diving in headfirst, there are some things you should know before becoming a professional online gambler.
Online gambling for real money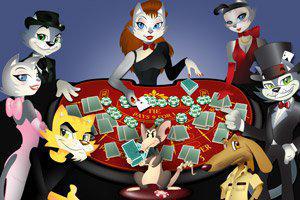 So, you've decided to stop sitting around looking up fun facts about gambling and are finally going to start gambling for real. The first thing to consider when embarking on your career as a professional online gambler is how your prospective money-making casino games are set up. We all know that the casino business model is based on making a profit off of you and your playing habits. This is most commonly expressed in the form of a house edge – a percentage of the likelihood of you losing your hard-earned money to the casino. If the house edge is too low, casinos will generally take a commission. So, for example, in the game of baccarat, a bet on the banker's hand is statistically most likely to win. To prevent every person from betting on and winning with the banker's hand and creating an inevitable nightmare for themselves, casinos take a commission, usually around 5%. This means that for any earnings you may make on this bet, they take out 5% of that money and keep it for themselves. For a $10 bet, this shouldn't be a huge source of dismay because you're only losing about 50 cents. But on the scale of a full time salary of say, $100,000, that amounts to $5,000! And 5,000 is only how much you lose in a hypothetical situation where you win 100% of the time – which we all know is unrealistic in the world of gambling.
So your first question should naturally be: if I want to become a professional online gambler, how can I guarantee that I will turn a profit in the long-run? Truth is, regardless of the game in question, professional gambling will always have the same driving principle: advantage play or advantage gambling. Advantage play is integral in the advantage player (AP) gaining the necessary edge. Even though this kind of gambling can help lower the house edge enough to tip the odds in your favor, it is still based on completely legal methods. You want everything you do to be clean and legal because you cannot joke around when it comes to your main – if not sole – source of income. No har-dee-hars here, buddy. Anything that could be remotely construed as illegal activity might result in the casino confiscating your winnings. If you make sure to conduct yourself in a legal manner, the worst a casino can realistically do is ask you not to return. To understand how this really works, play a round or two of online baccarat. In practice mode or using real money, you will see exactly how the odds play out over a long period of time!
Play for Real Money!
Blackjack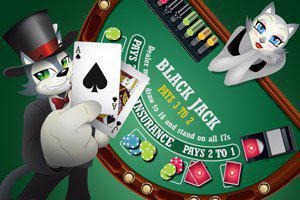 Perhaps the easiest game to apply advantage play to, blackjack tends to be a favorite among those starting the journey to becoming a professional online gambler. If you have ever watched the movie 21, the MIT blackjack team counted cards in order to ensure they would win every game they invested large amounts of money in. The method they used is called "card counting." Tracking the cards put down by the dealer and those still in the shoe allow you, as an AP, to minimize the risk of making losing bets. If you are caught by land-based casinos using advantage play, you may be asked to leave. So, keep a low profile and make sure to count discreetly. Another popular form of advantage play is shuffle tracking, where you keep track of a card or sequence of cards as they are being shuffled. Keep in mind, though, that this applies to land-based casinos with man-shuffled decks. Online casinos offer a much more difficult set up because you cannot visually gauge how many decks are in use and how they are being laid out – computer programs shuffle after each deal. But if you're willing to head over to a land-based casino, blackjack can make the perfect entry-level game. Save yourself some time though, and get in a few practice rounds before risking your money. Log on, play some online blackjack, and become a pro in no time!
Poker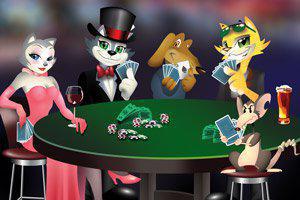 The science behind advantage play for poker isn't as black and white as blackjack. That being said, the game does have its advantages. Since poker is played against other players and not against the dealer, casinos often take a commission from the table as a "time charge." This means casinos have already received their profit before the game has started, so they tend to not care so much about the outcome. Aside from not getting asked to leave, a benefit that comes from competing against other players is that you can really make sure that you have a high edge based on your opponents' skill level. You should look for a poker table that is considered "soft", with easy opposition.
Advantage play for poker comes in reading your opponents – all of which probably fall in the top 5 types of gamblers. If you can tell whether they are bluffing or not, you may save your wallet a lot of heartache. Pay attention to how they react to certain cards, how much they bet, whether it's too low or too high to be a reasonably safe bet, and most obviously their facial expressions. If you've seen poker championships, you may have noticed that players tend to wear sunglasses and hats. Yes, it makes them look beyond cool, but it also serves the purpose of hiding their facial expressions so they won't give their opponents any indication concerning what kind of hand they're actually playing.
If you want to make a living from playing online poker, then you're going to need to up your game. Since online poker games are played behind screens, you don't have the benefit of reading your opponents' expressions. Without this, you are required to read their actions when deciding on your next move. Patterns will become your best friend, especially if your opponents are playing predictably. Pay attention to how large their bets are. Often in real life or online poker, a bet that is too big or too small is an indicator of your opponents trying to pull off a bluff. Also, keep track of how fast they place their bets. An extremely long hesitation time, for example, can indicate that the player is weighing their options, meaning they more likely than not don't possess a winning hand. But don't take my word for it. The best way to learn how to read your opponents is practice, practice, practice. So turn on your computer and play a few games of online poker – you may discover that you've finally found your calling!
Play Now!
Slot machines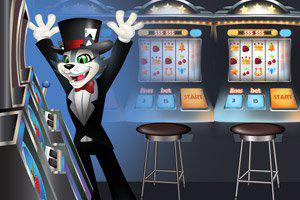 Slot machines are the big money makers for casinos, whether in real life or online. The payout percentage over a long time averages around 90-95%, meaning you lose on average about 5-10 cents per one-dollar bet. But there's still hope if you're dying for slots to be your saving grace at the casino. With no rhyme or reason to the outcome, slots are a good choice for those not looking to master any particular strategy or skill. So, if you're hoping to make your living on playing slots, look for a good progressive slot game. Progressive slot machines are often grouped in clusters, and every time money is deposited, the shared jackpot rises higher. This is the best kind of slots game to make a profit with, because once the jackpot prize becomes large enough, the house edge actually disappears, playing in your favor. This is due to the potential winnings from that jackpot outweighing the money you put down with each bet, meaning that in the long run you make a profit. The only downside with this kind of professional gambling is that you can't figure out what kind of edge you have. So, playing your hand at progressive slot machines leaves quite a lot up to chance. My advice to you is to do some research on online progressive slot machines and find a few that you like. Every professional online gambler knows that luck can strike at any moment, so choose a slot machine and start spinning!
Casino bonus whoring
This isn't for a particular game so much as an advantage method to apply to casinos as a whole. Online casinos will offer bonuses and promotions to pull you in and get you to sign up as well as continue to patron that particular casino. Casino whoring, despite the ugliness of the name, is simply looking around and taking advantage of the best bonuses you can find. Sometimes the offers are so good and often you will receive free plays and money in the process. Done correctly and with enough gusto, casino whoring can help you decrease your personal financial investments in the casino games and effectively eliminate the house edge on your favorite games. Then, repeating the whole process again and again means that you can turn a profit and even make enough money to sustain yourself.
Now that you know the basics of gambling professionally, you can try your own hand at advantage play. Your career as a professional online gambler can start right here, so what are you waiting for? Log in and check out the endless variety of games at CoolCat Casino and decide which game is calling your name. A jackpot may only be a click away!