The end of 2013 is here and we have made a list of great suggestions on what slot games to play while celebrating the end. As a rule, of course our list includes all of the games that have a holiday theme. I mean, who doesn't want to play games related to Christmas on the only month of the year that we actually celebrate it?
We hope that you enjoy our selection during the last days of this year.
Santastic
This is one of our newest games that brings out the holiday season spirit in anyone who plays it. Try it at least one last time before the year ends. You won't regret it!
Santa Strikes Back
In this game, Santa decided that it's time to reclaim his glory and give away great prizes for players everywhere. Santa Strikes Back is the ultimate destination for intense dynamic action and one of a kind bonuses and special rounds.
Rudolph's Revenge
Not everything is happy go lucky during Christmas time. In this slot, Rudolph is angry and wants to take revenge on Santa for being called a red-nosed reindeer. The red nosed reindeer is ready with a baseball bat and conspires to gift a bomb to Santa.
Return of Rudolph
Get ready for a creative slot where Rudolph is back and he's packing massive action, tons of great bonus rounds and huge cash prizes. He's angrier than ever and he's managed to kidnap Mrs. Clause, and the elves and he's hired a bunch of reindeer thugs to help him overthrow Santa's Toy Shop.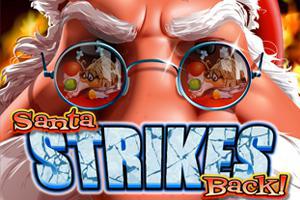 Polar Explorer
Anything related to winter and snow is valid during this time of the year. Enjoy this icy adventure in the comfort of your warm, holiday season decorated home.
CoolCat
Who could ever end the year without one last go at our own original game CoolCat? This is about how cool we are, and how cool we end 2013, people!
Regal Riches
Another one of our newest games that will entice you to end the year surrounded by royalty and wanting to fill your life with riches. Oh yes, your majesty!
Mister Money Slots
Another great slot machine to end the year. This one will get you into the craving for making money in the new year. What best way to start getting ready for a hard year's work than the images of the best things that money can buy?
Glitz and Glamour
This is the way to end the year, everyone! Make sure you play this game on the afternoon of new year's eve so that it gets you pumped up to go get ready for the big party at night!