During the month of love we are covering all of the bases to make sure that romance, fun and gambling are all over your lives. We're giving in into the Valentine's theme and making sure that we have fun with it.
Therefore, we decided to go on a search of the kinkiest and maybe even weirdest slot machines to lure your lover. We don't know if these games will conquer their heart or spark their passion, but believe me, if you find them, you will at least have a good laugh together. And remember, humour can lead to the best of romance.
Check them out!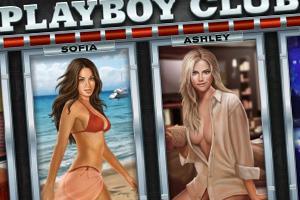 Playboy Slots
This game has yet to hit the online casino market, but it's out there. This slot was created by Microgaming and it is a Playboy-branded slot game that features voluptuous women in very little clothing, just one would expect a Playboy item to look like: classy and extra spicy.
Each character offers up generous cash prizes, as you may imagine. Each woman awards a unique bonus.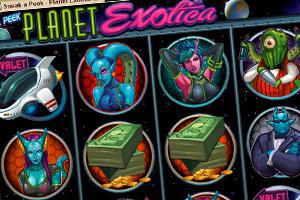 Planet Exotica
This is one of the weirdest slot machines I have ever heard of, since Planet Exotica takes place in an intergalactic strip club. The game's symbols feature some very attractive alien women and a number of club-related characters like bouncers. Lips, martinis, cash and space ships also line the reels.
The game's bonus feature is called Sneak-A-Peek, and the player must undress one of the alien women. She is presented on stage, fully-clothed with 15 tiles beneath her. Every tile contains an item of clothing and if three are selected in a row, then that piece of clothing is removed and the player receives a bonus cash prize.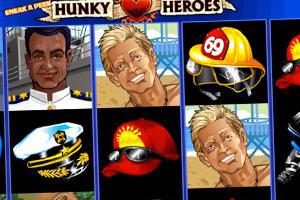 Hunky Heroes
Now a game for the ladies! Since a large portion of online slots players are female, it makes sense that casino operators would make a game to appeal to their tastes. Hunky Heroes is an online slots game that features several handsome men in adventurous jobs. Roger is a pilot, Wade is a Navy officer, Duncan is a police officer, Patrick is a fire fighter and Brad is a life guard. Each character has their own symbols, depicting their rugged faces and several other symbols depict items they would use for work, including Speedos and helmets. There is also a Sneak-A-Peek Bonus. It is a scratch card game, that allows players to remove items of clothing from the characters' bodies if they scratch off matching symbols.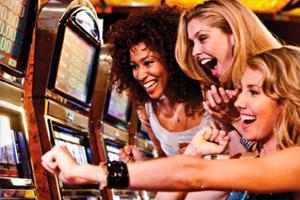 40 Shades of Santa
Get ready for this slot, since it pushes sexiness into a fine line between sexy and horrific. 40 Shades of Santa sexualizes Santa and it can be quite disturbing, since it's also based on a popular sexy book. The game is based on the provocative 50 Shades of Grey novel series, and features only red, white and black colours. The symbols include sexy lingerie, handcuffs and a pair of women's legs. The game is obviously a spoof of the series, but there is still something that is unsettling about the theme.