If you ever participated in athletic competitions as a high school or college student, then you're very likely to have some oh-so-fond memories of your coach's stern lectures and strict instructions. One important topic was probably your diet, particularly for the evening before a track meet (a healthy portion of pasta for dinner). Well, it's important to note that there's a strategy for getting prepared for just about anything even outside of sports. That goes for gambling: regardless of degrees of chance, talent, or skill – even in the most random of games, it's important to know how to decide when to continue, how much to bet, and at what point in your winning streak you should stop. There are all kinds of games that require different abilities and appeal to various aspects of our personalities, and the natural human response to a challenge is to rise up and meet it. We enjoy being pushed to improve, and we especially enjoy it when it pays off. Like track meets, when it comes to casino games, this can require different things. A small step like a change in your diet can have a significant impact on the outcomes when you play. Here are some recipes that will prepare you for success, whatever your game of choice happens to be.
Poker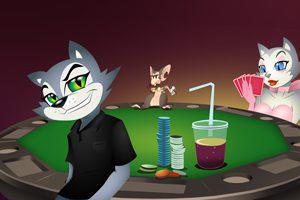 Game Type:
Table Game
Necessary Boost:
Energy
Magic Ingredient:
This recipe for perfect Poker smoothie will probably surprise you – the special ingredient? Black beans! Beans are a great source of protein, fiber, carbohydrates, iron, and other minerals. Their health benefits come from a few different components, including antioxidants and micronutrients. Incorporating more black beans into your diet can decrease your risk of inflammation, heart disease, weight gain, diabetes, and colon cancer. Most relevant to your penchant for poker? Energy. There are some casino games that require very little of players. They're carefree and relaxing, even sometimes soothingly mindless. But poker and its many variants are not among those games. Games and tournaments can be both invigorating and draining at the same time – the air is crackling with vitality, but there's a lot at stake. You're trying to get a good read on a roomful of strangers while maintaining your own composure, letting nothing show. The longer you play, the more it builds. To tackle a poker game head on, you're going to need a steady supply of fuel. As you probably know, carbohydrates are necessary for generating energy in the body. However, consuming simple carbohydrates can cause a "sugar high," often followed by a crash. Your energy level falls drastically, which then puts stress on your body. Beans contain starch, a type of complex carbohydrate that the body can break down for energy gradually, without causing those harmful spikes and dips in blood sugar levels. Another perk? Beans also enhance your stamina by increasing the oxygen-carrying capacity of your blood. If poker is your game of choice, check out the recipe below:
Black Bean Banana Bonanza: Ingredients and Directions
1 ½ cups unsweetened chocolate almond milk (or substitute)
½ cup black beans, cooked
1 banana, frozen and broken into chunks
1 Tsp. honey
1 Tsp. hemp seeds
2 tsp. cocoa powder
1 tsp. ground cinnamon
1 tsp. vanilla extract
½ cup baby spinach
¾ cup ice cubes, optional
1. Pour almond milk into blender.
2. Add black beans, banana, and honey. Blend on high for 20 seconds.
3. Add remaining ingredients and blend on high for 45 seconds or until smooth.
4. If necessary, add ice cubes and blend to achieve desired consistency.
5. Serve immediately.
Blackjack
Game Type:
Table Games
Necessary Boost:
Concentration and Focus
Magic Ingredient:
Next, let's take a look at the newest up-and-coming superfood: chocolate and how it can help you win in Blackjack. Did you hear that? Chocolate is good for you! Okay, now of course we need to slow down and take a look at the fine print, so here it is: cacao beans are the seeds from the Theobroma cacao tree. They are dried and processed to produce cocoa powder, which is then used to make chocolate. The first detail to note is that not all types of chocolate are created equal. You can't just wolf down handful after handful of M&Ms all day and feel good about it. Dark chocolate has a higher percentage of cocoa content than milk chocolate, and this is what studies are focused on. According to WebMD, researchers have discovered that "the antioxidant activity of dark chocolate and cocoa powder was equivalent to or higher than that found in some other so-called 'super fruit' powders or juices, including acai berry, blueberry, cranberry, and pomegranate." Flavonoid antioxidants may reduce risk of cardiovascular disease, high blood pressure, and health issues associated with type 2 diabetes. The main benefit as far as blackjack is concerned? Brain health. Consuming chocolate can increase blood flow to your brain, improve your memory, and even decrease your risk of dementia. In addition to the overabundance of antioxidants, cocoa powder also contains several natural stimulants, like caffeine, which are known to enhance focus and concentration – they even trigger endorphin production to improve mood. Plus, the benefits of this smoothie don't end with just the cocoa powder: there are more healthy ingredients like hemp milk and walnuts, which contain omega-3 fatty acids for improving memory and cognitive function as well as banana, another well-known brain food. When it comes to tracking card count and keeping up with the relentless pace of the game, this smoothie is sure to help.
Creamy Cocoa Concentration: Ingredients and Directions
1 ½ cups hemp milk (or substitute)
1 ½ cups walnuts, chopped
2 bananas, frozen
2 Medjool dates, pitted
2 Tsp. cocoa powder
1 Tsp. maple syrup
1 Tsp. coconut oil
½ cup ice cubes, optional
1. Place all ingredients into blender and blend on high until smooth.
2. If necessary, add more hemp milk or ice cubes and blend to achieve desired consistency (optional).
3. Serve immediately.
Craps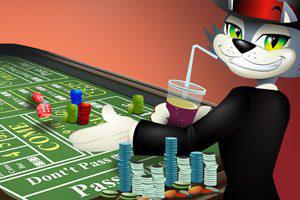 Game Type:
Table Game
Necessary Boost:
Mood and Confidence
Magic Ingredient:
Craps is essentially a game of luck. BUT, that doesn't mean you have to go into it blindly. Your success depends on your luck, but it also requires being able to play it smart – discerning when to hold back, when to be aggressive, and when to walk away. All of these decisions come down to how you're feeling. You know the convention wisdom: don't make decisions when you're angry, don't go grocery shopping when you're hungry, stuff like that. How we feel has an effect on how we behave and what the outcomes are. (This is especially true when it's a negative feeling.) You need to be cool, calm, and collected, and adjusting your diet by including just one ingredient can help. Dr. Drew Ramsey, a professor of psychiatry at Columbia University College of Physicians, is the author of Fifty Shades of Kale: 50 Fresh and Satisfying Recipes That Are Bound to Please and The Happiness Diet: A Nutritional Prescription for a Sharp Brain, Balanced Mood, and Lean, Energized Body. As you might guess from his book titles, he's an expert on the relationship between food and mood. He argues that kale can help you with just about everything. He claims, "The best multivitamin you can put into your diet is kale. Just one cup of kale provides you with your daily need of Vitamins C, A, and K. Plus you get things that supplements don't provide, like fiber and protein to keep you full and an array of phytonutrients, plant-based molecules that fight disease." The key for craps players? Kale also contains folates, which are natural mood-boosters. One thing that Ramsey consistently stresses is to get these nutrients in the form of real food as they are more effectively absorbed than when you take a supplement. Read on for one delicious way to add kale to your diet.
Krazy for Kale Smoothie: Ingredients and Directions
1 cup almond milk (or substitute)
2 cups kale, chopped
2 bananas, frozen
½ cup pistachios
1 tsp. vanilla extract
2 tsp. honey
1. Place kale and almond milk in blender and blend on low until mixed.
2. Add remaining ingredients and blend on high until smooth.
3. Serve immediately.
Slots Machine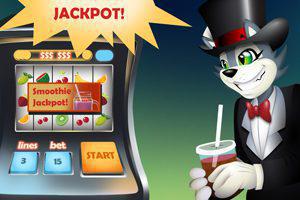 Game Type:
Electronic Game
Necessary Boost:
Eyesight
Magic Ingredient:
The benefit to electronic games like slots and video poker is that you get your own little space. Sure, it might get a little crowded, but your screen is your own. You don't have to interact with dealers or other players if you don't feel like it. You just choose a machine you like, take a seat, play a few rounds, and then try another one whenever you feel like it. It can be a soothing alternative that you take at your own pace. What do you need for a slot machine marathon? Something to support your eyes. That's one downside of electronic versus table games. It's easy to get completely absorbed when you're in the zone, but this can put a strain on your eyes. If the slot machine area is your favorite hangout space, then it's time to take a page from Popeye's book. Remember Popeye the Sailor and his love of spinach? It was the source of his superhuman strength. For you, this might be less of a priority (pressing buttons takes a lot less effort than defeating a muscular archrival who's after your girlfriend), but you can also reap the benefits of spinach. Good eye health starts with what you eat. Nutrients like omega-3 fatty acids, lutein, zinc, vitamin C, and vitamin E help prevent vision issues like macular degeneration and cataracts. Like many dark green, leafy vegetables, spinach is filled with vitamin C, as well as lutein and zeaxanthin. These antioxidants act as a screen to protect your eyes. They help you to detect contrast better, improving vision in both the short and long-term. This recipe also calls for avocado, which is also high in the same two antioxidants.
Mean Green Fighting Machine: Ingredients and Directions
1 banana, frozen and broken into chunks
1 cup baby spinach, chopped
½ ripe avocado, sliced and frozen
½ cup Greek yogurt (blueberry or flavor of your choice)
½ cup almond milk (or substitute)
2 tsp. honey
1 tsp. vanilla extract
2 ice cubes, optional
1. Place banana, spinach, and avocado in blender and blend on low for 10 seconds.
2. Add remaining ingredients. Blend on high speed until smooth. If necessary, add ice to achieve desired consistency.
3. Serve immediately.
Video Poker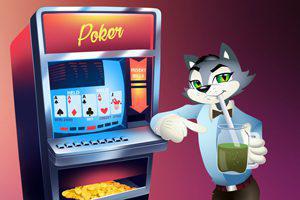 Game Type:
Electronic Game
Necessary Boost:
Recall
Magic Ingredient:
Video poker – what do you need for an optimal playing experience? Not much, it turns out. If you like video poker, you must appreciate the simplicity of the game. Like slots, your screen and stool are your own domain. It's straightforward to pick up, and while there are some similarities between video and regular poker, it's a very different structure. The key uniting factor is what determines the outcome of a round: a winning hand. Don't let yourself get slowed down with consulting a cheat sheet – you can learn to maintain your own rhythm without the awkward starts and stops of being unfamiliar with winning hands. Try this smoothie to improve your recall skills. Both avocados and blueberries are touted as foods that are good for your brain. Avocado contributes to healthy blood flow, which contributes to a healthier brain. Hypertension is a risk factor for worsening cognitive abilities and avocado lowers blood pressure, which also promotes brain health. One study shows that consuming one avocado daily improved the working memory and problem-solving skills in adults over the age of fifty. After six months, there was a 25% increase in lutein levels in their eyes and improved cognitive function. Lutein is a pigment commonly found in fruits and vegetables that may act as an anti-inflammatory agent and antioxidant. Researchers designed special tests to evaluate memory, processing speed, and attention levels. At the end of the study, they administered these tests and found significant progressive improvement in cognition skills. Like avocado, blueberries are packed with antioxidants that can protect neural tissue from oxidative stress, and studies have shown that blueberries significantly improved the learning capacity, memory, and motor skills of aging rats, making them mentally equivalent to younger rats.
Avo-Berry Bliss:
Ingredients and Directions
1 cup blueberries, frozen
1 cup strawberries, frozen
1 banana, frozen
1 ripe avocado, peeled and pitted
1 cup unsweetened almond milk (or substitute)
2 Medjool dates, pitted
2 tsp. honey
½ cup ice (optional)
1. Place all ingredients in blender and blend on low until roughly pureed.
2. Gradually increase speed to high until smooth. Add ice as needed to achieve desired consistency and sweeten to taste with honey.
3. Serve immediately.