Baccarat is one of the most entertaining and thrilling table games, both online and offline. We like to think of it as a hybrid of Blackjack and Casino War. It's not quite as mindless as War, but there's not as much thinking required as Blackjack.
Everybody wants to know the perfect strategies to beat the house at their favorite games. Each game is supposed to have a "skeleton key" strategy that will knock the pants off the house. Counting cards is claimed to be the key to playing Blackjack, and betting strategies are very popular in Roulette and Craps. When it comes to Baccarat, countless individuals claim to have figured out the riddle to playing baccarat. Some players win and some players lose; that is the nature of the game. The most important thing is that you have a relaxing and enjoyable time playing the game — while still playing smart, responsibly, and employing a strategy in hopes of success.
Bet the Banker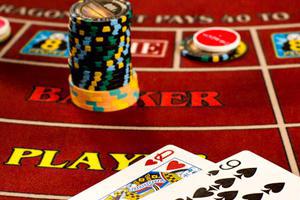 In fact, the only decision you'll need to make in baccarat is whether to play the Banker or the Player? Most people will tell you to bet the Banker — and for good reason.
Since there are only three possibilities when playing conventional baccarat, it isn't difficult to establish the best bet. The house upper hand on a banker bet is only 1.06%, and this comprises the 5% cut you pay on victorious bets. The house upper hand on the player is 1.24%, which is not quite as good, but it is still less than half the house upper hand in roulette. The advantage of the draw bet is 14.36%, which is definitely nowhere near as good. This all means that betting on the draw is not such a good idea compared to betting on the player or on the banker. If you have no instinct on what the following hand will be then the math recommends you ought to bet on the banker even though the difference between the player and the banker is not very significant.
Betting the Banker comes with slightly better odds. Why wouldn't you place a bet with less of a house edge? But there's one small caveat. The house takes a commission on each win of the Banker.
Still, that's no big deal because the fact that the odds of winning are better on the Banker means that you'll win more often, right? So, most Baccarat tips include telling you to always bet the Banker. While this is good advice, it should be tossed out the window if you're using a specific betting strategy.
Martingale System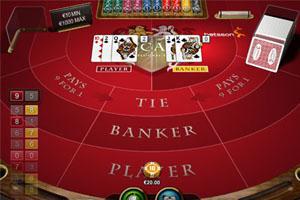 With the Martingale System, you'd double your baccarat bet after every loss until you hit a win. That works fine if you're betting the Player, but when you bet the Banker, your bankroll could end up all messed up and you won't win as much in the long run. Remember, the house takes a 5% commission on Banker wins.
Let's walk through it. Let's say you've got $400 to play with. You place a $10 bet. It loses. Here's what happens:
You bet $20. You lose that.

You bet $40. You lose that.

You bet $80. You lose that.
You've now blown through $150 of your $400 bankroll. You've got $250 left. But no worries. You're going to keep playing until you hit that win. So now you move on to your next bet:
Of the original $400 you sat down with, you're now in for $310. You've only got $90 left of your original $400 bankroll. Yikes.
But fortune comes your way. You win the next bet. Your payout on that final bet was $152 because the house took $8. So now you're sitting with $312, plus the $90 of your original $400 bankroll.
So, after all that, you're only up $2. Had you bet on the Player, you'd be up $10 and have more to work with. While $10 doesn't seem like a huge amount, it's 5x your win rate, and every bit counts!
Bankroll Management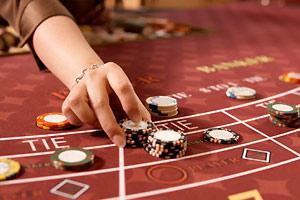 Effective money management is the best way to make sure you stay in the game longer. We all recognize that we ought to only gamble what we can manage to lose, but there are some methods to augment our odds of winning. 
Try setting a limit to the amount you expect to play with on any given sitting. For some it might be $200, for others, it might be $1,000. If you reach your threshold for one sitting, take a break and come back later after a rest; you never know, your luck might change for the better.
Instincts and Luck
Never take luck too lightly. True, the game is random and the math is the same every hand, but that does not mean that you can't have amazing winning streaks, series, and drifts. 
If you feel self-assured on any given day, go with your gut feelings! If you feel someone else is on a lucky streak that you want to take advantage of then go right ahead; there is nothing wrong with following their lead. One other nice thing about a lucky streak is that you are betting with winnings, and psychologically those winnings are still "the house's money," which is a great time to take advantage of a good run and press your bets.
So all in all, gut feelings and wise decisions are the best bets when searching for a good baccarat strategy.
Now that you have these tips and tricks in your pocket, enjoy an exciting and profitable baccarat session at CoolCat Casino. Good luck!