With the rising internet gambling popularity, no one can question the benefits of online casinos. There are many compelling reasons why CoolCat Casino has become one of the most valued, trusted, and exciting top options for all the virtual players out there. Our worldwide fame is firmly based in our ability to offer the best and widest selection of games, the friendliest of player interfaces, the most reliable monetary transaction policies, and the best promotions for all of our players, from newcomers to VIPs. With our instant play option, we even let our clients have free practice runs. Why? Because we think is important for our players to become familiar and comfortable with the rules of all our games before they play to win real money, which is essentially the basis of this post.
Winning easy cash is one of the big appeals of gambling and it makes you wonder about the difference in payouts that online casinos can offer in respect to the traditional live casino experience. Most people think that since CoolCat already offers perks like the comfort of playing at home and many games options that traditional casinos cannot offer, the odds that we offer have to be lower, I mean, is only fair right? Think again.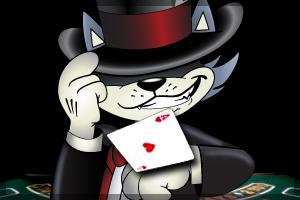 In fact, compared to the all the land based casinos in the 13 US states, our casino wins by a landslide when it comes to offering the best odds in slots and table payouts. Don't believe me? Let's get mathematical and crunch some numbers. According to a recent edition of Casino Journal, the highest payout for land based casinos occurs in Nevada.
The average payouts of the casinos in Nevada are a 94.65% for slots and an 84.81% for table games. If we go to Atlantic City, the average slot payout decreases to 91.63% and an 83.45% in table games. If we make an average of all the casinos in the 13 states, we end up with a 93.32% slot payout and an 81.71% for table games. Together they average a total payout of 88.82%. So, how does CoolCat casino stack up to these odds? Pretty darn good! At the casino, we offer a leading 93.32% slot payout average and a whopping 97.52% on table games, which makes our overall average a 97.40%, almost a 10% higher than the regular casinos.
Too good to be true? No way, I am just giving you the cold hard facts here! Couple that with our excellent withdrawal policy as well as fantastic costumer service and you will understand why CoolCat Casino is the top online casino in the United States! No reason to hesitate, if you are looking for great payouts and lively entertainment, download our software and be part of our great casino family!