Is there anything more synonymous with Sin City than waking up with an odd tattoo that you don't exactly remember having done? Everyone's Vegas vacation should involve the strange throbbing in your arm on a dazed and hungover morning-after that turns out to be a life-sized portrait of Elvis Presley rocking a beautiful golden halo. No? Well, in any case, the number of Vegas-themed tattoos churned out by the city's various ink masters each year is too big to count, and, among those, some true masterpieces have appeared on skin, as well as some truly regrettable choices. Let's take a closer look at a few of the worst Las Vegas tattoos to ever make their way onto the internet.
The Lucky Penny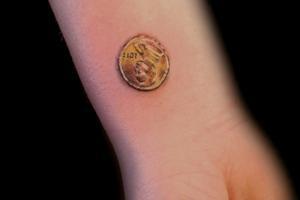 Everyone's heard the old expression about finding a penny on heads and enjoying phenomenal luck for the rest of the day, but few people have committed to the idea as apologetically as this lucky Las Vegas visitor. We're not quite sure if the balance of the resulting luck is transferred to the ambitious individual rocking the ink or the person that picks her up, but we're pretty sure somebody is reaping the benefits.
Brand Loyalty
If you've ever thought that your beer can's outfit would look amazing with your thighs, this commercialized creation is the perfect option for your next wild night in Vegas. We're guessing that this gentleman was unaware that branding himself with a more premium liquid label wouldn't have added any additional cost to the ink.
Elvis and the Gang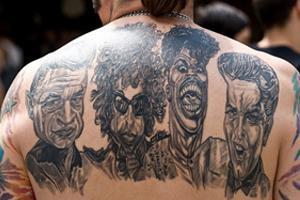 If you've ever been to a tourist trap, you're probably familiar with caricatures and their uncanny ability to amplify facial features. This guy was a really big fan of the sensationalized art style. This Mount Rushmore of pop culture features Elvis following a bite into a lemon, Prince just before he transformed into Wolverine, Bob Dylan doing his best Carrot Top impression and what we can only assume is Frank Sinatra wondering what happened to the Rat Pack.
The Gambling Galaxy
Do you love to gamble? Is outer space your favorite frontier? If so, this intergalactic gambling tattoo is the perfect way to combine your two hobbies into one interesting work of art. Why are two of the aces on fire? We're guessing that's what you call artistic interpretation. After all, four aces is most certainly one hot hand!
Call the Nurse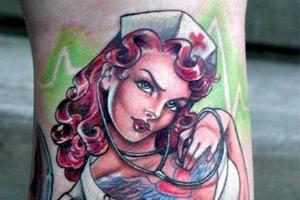 This little lady is just the girl to nurse you back to health following a rough night in Las Vegas. Sure, her high heels may dig into your leg from time-to-time, but you can bet that she'll never leave your side (not without some serious laser work, anyway).
That completes our list of the worst Vegas-inspired tattoos on the web. Now that we've got your attention, you're ready for your next wild and crazy night in the one and only Sin City. If you get lucky, you may wake up with a new tattoo that's worthy of a spot on this list. If you don't, there'll always be next time!