Planning a trip to Las Vegas? Think beyond all-you-can-eat buffets and run-of-the-mill steakhouses. Today, we're exploring the best restaurants for every budget and every taste. You might have to venture a bit off the strip to get what you want, but trust me, it'll be worth it.
Michael's Gourmet Room • Southpoint Casino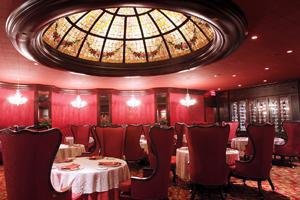 Most people who visit Las Vegas tend to think about staying on the main strip when it comes to eating somewhere great. Traditional thoughts are Bellagio or Caesars Palace or Wynne. Mandalay Bay, too. But rarely do people think about Southpoint Casino. If you want great food in a unique atmosphere, this is the place.
It's very old school. We're talking plush red booths and lots of dark wood. The servers are in tuxedos, so you're best to not wear a baseball hat and jeans if you want to be taken seriously. You'll find all kinds of gourmet fare here, but I highly recommend the French Onion Soup and the Australian lobster cocktail.
Cut • Palazzo/Venetian
My steakhouse of choice in Las Vegas used to be Smith & Wollensky. But after visiting Cut by Wolfgang Puck, I don't think I'll eat anywhere else. If you're celebrating a special occasion like a wedding or anniversary, Cut is a solid choice. The atmosphere is phenomenal and the service is outstanding. The steak, of course, was tender and incredible. Don't miss out.
Wicked Spoon • Cosmopolitan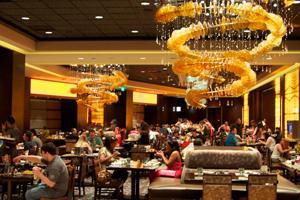 Up until just last year, my go-to buffet was Bellagio. But that all changed when I set foot inside Wicked Spoon at The Cosmopolitan. The food is phenomenal and on the night I went, the dessert station felt like being on the set of Charlie & The Chocolate Factory. Tons of chocolate, loads of colors, and an amazing selection of gelato. Things change up quite frequently, so you might not find exactly what I had, but you will find something to make Wicked Spoon your new favorite, guaranteed.
Le Thai • Downtown
Some of my favorite Thai restaurants are in New York and Toronto. After sampling various restaurants in those two cities, I've found it hard to find a Thai restaurant I like elsewhere. But I found it on a visit to Fremont Street. The food is reasonably priced and from what my one friend told me, the food you'll find here is pretty close to what you'd find in Thailand.
BLT Burger • Mirage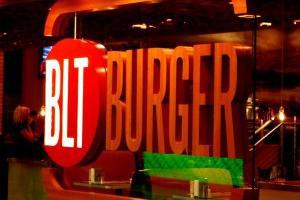 I'm a huge burger buff (yes, I know, I seem to like all kinds of foods). So on a recent trip to Vegas, I hit up BLT Burger. Now, I'll level with you. I usually head to In-&-Out Burger because we just don't have it on the east coast where I'm from. But this time, I was in the mood for a gourmet burger place. And BLT Burger definitely tops my list. I'm going to level with you. The people I was with had mixed reviews. Some walked away preferring McDonald's to BLT Burger. But I think I know why they didn't experience what I experienced. They opted for regular fries. I, however, chose the Buffalo fries, which are ridiculously out of this world. The flavors of these fries create a different taste sensation in your mouth. Coupled with the burger, bun and sauce, nothing beats it.
Have we made you hungry?
Hop online and play at CoolCat Casino. No, we don't have any restaurants. But who knows? Play your cards right and you could win enough money to take a weekend trip to Sin City and go on the ultimate food tour.