Mac Casino Games
You bought a Mac because you love to stay organized, keep things streamlined, and cut down excess at all costs. You don't want to clutter up your gorgeous desktop with another app that might mess up your aesthetic. Don't worry – we understand where you're coming from. It's why CoolCat Desktop Casino offers the same incredible selection of the best Mac casino games for your Mac directly from your internet browser. In other words, absolutely no download required.
Casino Games for Mac
Mac casino games players get to enjoy a wider selection of games directly in their web browser than PC players – more than 140 slots games are available for instant play on the Online CoolCat Casino, plus plenty of table, video poker, and specialty games. Your favorite games list is about to get much longer. Don't say we didn't warn you.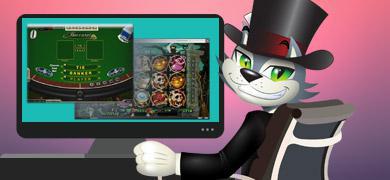 CoolCat Casino is easy to access from any web browser, with no need to download software that takes up valuable space on your computer. You get full access to the complete list of exciting casino games that CoolCat has to offer, direct from Safari, Google Chrome, Firefox, or even (GASP!) Internet Explorer, if you're actually still using it. The online casino offers excellent graphics and smooth gameplay provided by RealTime Gaming, plus access to 24/7 customer support direct from the site through the online chat, by calling our customer service number, or emailing the customer service staff.
Let's face it, the range and capabilities of Mac products have grown exponentially in recent years. Today, you can pull out your MacBook, iPhone or iPad and start playing immediately at CoolCat Casino. That's right, we've gone to great lengths to make sure all of our fantastic selection of online casino games are fully Mac optimized, meaning that you'll get the full, exclusive CoolCat Casino experience no matter what device you choose to use to play CoolCat Casino for mac.
The great thing about Mac devices has long been the company's focus on excellence when it comes to graphics and digital sound. Here at CoolCat Casino, we offer an amazing selection of ultra-modern casino games with fantastic graphics and sound, ideal for playing for free with no download on instant play or for real money. Offering unrivaled speed and a superb overall experience, all you need is a fast internet connection and your favorite Mac device to start playing CoolCat Casino games today.
Not only does your Mac device ensure safer internet browsing, with no worry of viruses or security breaches, Mac casino games are also ideal for taking full advantage of our free no download casino. Log in or create an account at CoolCat Casino today and start to play!
All you need to begin playing for real money is a CoolCat Casino account. To set one up, just visit the CoolCat site and click on the "Instant Play" tab. You can either play for free without an account, or you can choose "Sign Up" to begin the registration process. You'll enter your first and last names, your birthdate, your desired username and password, and your address information so CoolCat knows where to send your winnings. Then a simple click on "Register" will complete the process.
Ta-da! Less than two minutes and you're ready to start playing with your very own CoolCat Casino account. Pretty cool, right? In the unlikely event that you experience difficulties during this whole process, don't freak. Our customer service staff are trained to assist you with any and every concern and question you might have.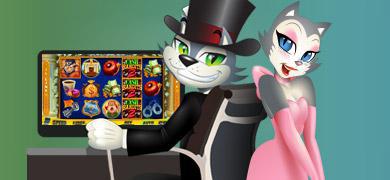 Macs are famous for their security – we want to keep it that way. CoolCat Casino know that your security is imperative, which is why we've implemented an advanced-level transaction security system and a strict code of ethics that we apply to all aspects of our operation. We guarantee that your information is completely secure no matter what. In addition, you can always continue and finish a game if you get disconnected with our advanced Disconnection Protection software.
So, maybe you're not a Mac guy. Maybe you love PCs. Or maybe you don't even own a computer. That's no problem – you have multiple options to choose from. You can download the online casino software on your PC, or play the mobile CoolCat Casino on your smartphone. No matter what, you're going to get the same exciting playing experience you love on the site. Guaranteed!
Mac casino FAQ
Will my Mac allow me to play real money casino games at CoolCat?
Absolutely. As mentioned above, all of our casino games here at CoolCat are fully Mac optimized, meaning you get the complete, immersive casino floor experience right on your desktop Mac, MacBook, iPhone or iPad instantly. All you need is an account and to make a deposit and you're ready to enjoy everything that CoolCat Casino has to offer.If you feel like practicing first, it's no problem, check out our free no download casino for mac and click instant play. In the blink of an eye you can choose from an incredible selection of all the latest casino games to play for free.
Can I play all the games on CoolCat Casino using my Mac?
Indeed you can. In fact, once you register with CoolCat Casino, you can play over 200 state-of-the-art casino games, including hundreds of different slots, table games like Blackjack, Baccarat, Pontoon, and Let 'Em Ride, specialty games such as craps and roulette and a wealth of different video poker games, anywhere you like, anytime, using your mobile Mac device.
Is it hard to make deposits on my Mac?
Not at all. In fact, it's super easy. No matter what type of Mac device you use, simply sign in, head to the cashier, choose your payment method, enter your payment details including the amount you want to deposit, your bonus code (if you don't have one yet, please have a look at what's on offer today here) and it's off to the races. All the thrills and excitement of the full casino floor is at your fingertips to play and win.
Is it safe to play online casino games on my Mac?
It most certainly is. That's one of the great things about Mac. Mac's heightened security protocols, combined with our exceptional security encryption, means that you can sit back, relax and have tons of fun playing all the online casino games at CoolCat on your Mac without ever needing to worry about your security and protection.
Can I redeem my CoolCat Casino bonus on my Mac?
Of course you can. It's as easy as heading to the cashier and entering your bonus code.
What are the advantages of playing CoolCat casino on my Mac?
Actually, there are a number of distinct advantages, including enhanced browser security if you want to play the free no download CoolCat Casino, excellent cutting-edge graphics and sound and above all mobility. Playing on your portable Mac device, such as your MacBook, iPad or iPhone gives you the freedom to enjoy a game of roulette or play the latest slots anywhere you like at anytime of day or night.