Gaming has come a long way since the inception of video arcades and game consoles. There is no question that the now multibillion-dollar gaming industry is more popular than ever. Online casino games are no exception, and eager players are always looking for the next exciting experience in online casino gaming. However, there are certain aspects of gaming that players overlook, and one famous example is game accessories. There are certain accessories that you should not be without when it comes to gaming or gambling online, and one of these is a quality gaming chair.
Let's face it, after your computer or mobile device, few tools are as essential as the right piece of furniture for your posterior. The last thing you want is an uncomfortable chair to take you out of the zone while you immerse yourself in a good video game or online casino favorite. With online casino gaming in full swing, it's critical for fellow gaming enthusiasts to find a gaming chair that best suits their needs. The last thing you want is a backache or a busted armrest while you are in the midst of a hot round of blackjack or cranking out big bet multipliers and free spins on your favorite casino slots game. Not sure where to look? You're in luck! CoolCat Online Casino has put together your essential list for the best gaming chairs that every gamer should be familiar with in order to enhance their game!
The giant bean bag chair
Let's kick off our list with a classic in comfort. The bean bag chair is a fun blob-like cushion stuffed with polystyrene beans that's great for people of all ages. First introduced in the late 60s by three Italian designers, the bean bag chair took the world by storm. Though it seemed dated for many years, their loveable retro style has come back in a big way. They come in all sizes from the single-person seaters to family size; and you can use them to read, spend a night in, at the office and of course to play games. Big Joe is a company that offers some big bags that are sure to keep your comfort levels way up as you play all of the most exciting online casino games. We recommend pairing one with online video poker.
The elite gaming chair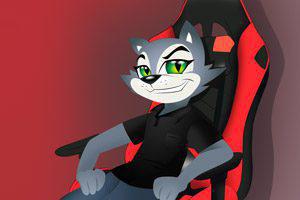 This gaming chair is for the avid player who wants to gamble for hours, not take breaks and is not afraid to spend some money to maximize their online casino gaming experience. Many online retailers offer incredible gaming chairs with sleek designs, a quick search will provide you with online retailers like Amazon or Secret Lab that offer all sorts of gaming chair varieties. The two most common types of gaming chair are standard rolling wheel chairs and rockers. We recommend you try a rocker with built in speakers to enhance your gameplay. You can sync your mobile device to play music through the chair's speakers via Bluetooth or to hear those slot reels spin! Head over to the slots games section to check out CoolCat Online casino's many exciting slot games.
The La-Z-Boy chair with built in cooler
For the dad gamer, you can't go wrong with this staple in lazy comfort. The "La-Z-Boy" is one of the world's most recognized reclining chair brands and a classic among sports enthusiasts and gamers alike. It will give you a whole lot of bang for your buck, and can even be equipped with compartments like built in coolers and speakers in the headrest. Are you looking for the perfect gift on father's day, or do you want the perfect addition for your man cave for those extended nights gambling on online blackjack? You can't go wrong with this gaming chair.
The beer chair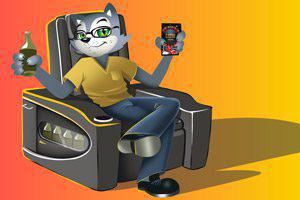 If you are handy around the woodshop, and are keen to start a new DIY woodwork project then we recommend you build a beer chair. One look at this chair will have you reaching for the tools to test those carpentry skills. A chair that delivers beer on command; what a concept! It's the perfect way to get you through those long rounds on table games. Gambling online for big jackpots can develop a big thirst, so you might as well quench it with the beer chair! If you don't feel confident building your own, we recommend you get in touch with someone who can for the right cost. However, we do need to point out that you need to provide your own beer.
The super deluxe Shiatsu massage chair
If swigging a cold beer during a hot hand isn't your thing, and you are into something more therapeutic, we recommend getting a massage chair. Who doesn't like a good massage? Better yet, who wouldn't like having one without having to leave the comfort of one's home! Well, there are massage chairs, deluxe massage chairs, and then super deluxe Shiatsu massage chairs. Shiatsu is a form of Japanese bodywork and massage based on ancient Chinese medicine and the concept of qi (or life force). Enhance your own life force, and improved blood flow to your brain with this awesome chair! This super comfortable leather massage chair fully reclines, comes with a zero gravity footrest, and of course offers all of the incredible benefits of a relaxing massage. It's guaranteed to keep your mind in balance and ready for that next big round of online casino table games. You should try baccarat; it comes with a low house edge of ~1% and requires little to no skill to play!
The floatation tank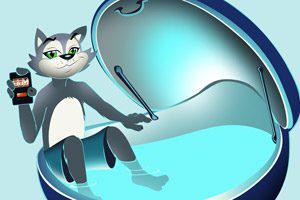 Ok, so this isn't exactly a chair, but we couldn't resist. Medical practitioner and famed neuropsychiatrist John C. Lilly first developed this incredible contraption as a form of sensory deprivation. The floatation tank is a lightless, soundproof tank that contains salt water at skin temperature. As you enter it, you float, and it creates a weightless sensation that restricts the sensory information of the body as a way clear the mind and meditate. Many stand by its potency as a form of alternative medicine as well as the potential health benefits, claiming that it allows the brain to focus without any distractions. Are you interested in trying it? Many health spas have them for hourly rentals. The best part is you can use the floatation tank for ultimate concentration while you hit those hot blackjack hands on your mobile device, peacefully floating in gaming bliss.
The hammock
The hammock is a classic, and though technically not a chair, it is perfect for that day at the beach, out hiking with friends, a lazy session in the park, or the simply enjoying the comfort of your own backyard. They are super easy to set up, and if you're out and about all you need is two trees or posts to set it up. Lazy Sundays are made for hammocks and if you don't drift off, you should enjoy a cold glass of lemonade while you play Fruit Frenzy, a spectacular fruit-based slot game from CoolCat Online Casino. Our mobile play feature is fast, secure and easy, and allows for whopping bonuses when you sign up. What could be a better way to spend the afternoon?
The hopper balloon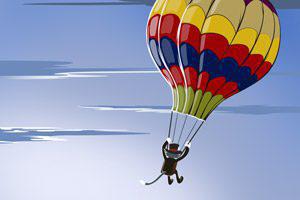 For the thrill seeker who doesn't just want to get high on big bonuses, we recommend this little cloud hopper, the hopper balloon! It's a single-seating hot air balloon, which allows the more adventurous of us to take in the sites and soar the skies. While you're enjoying the views up there, you might feel inspired to pull a "Felix Baumgartner" or simply use your mobile device to hit a high jackpot on one of CoolCat Online Casino's spectacular slot machines. Be sure to check out Nova 7s, an incredible and out of this world slot game experience complete with fast-paced excitement and whopping bonuses.
The ergonomic office chair
Those of us that work a desk job, at home or at the office, might be all too familiar with the office chair. Let's be honest, they are quite comfortable, and can be the perfect way to play while you're on break or when your boss isn't looking. The wheels alone make them a whole heck of a lot of fun! There is a plethora of varieties available, from basic office chairs to super swank CEO chairs. However, we feel that the most ergonomic option is best. After all, if you plan on spending your time sitting and playing, you need the proper back support to keep your mind focused on the game. Physical comfort and well-being is a critical aspect of being able to play well, so don't overlook it. We suggest playing online craps to maximize your fun.
The Emperor from MWE Lab
There are gaming chairs, and then there are gaming chairs. If you are looking for the latter, a company called MWE Lab offers the most insane custom-built gaming chairs that you have ever seen. Their gaming chairs offer one-of-a-kind experiences for the most hardcore gamers and fans of online casino gaming. Their latest creation, the Emperor, is a fully enclosed, fortified tour de force that takes gaming enjoyment to the next level. This gaming chair comes complete with state-of-the-art surround sound, top-of-the-line comfort and multiple built-in monitors to immerse gamers in a one of a kind experience. It can also be configured for home office or as a type of cutting-edge command center for your computer needs; improving productivity with personal privacy. Buying one of these however, is no small chunk of change, prices start at $5,000.
The Iron Throne from "The Game of Thrones"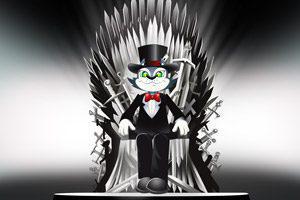 This chair is perfect for the most avid fans of the popular television series "Game of Thrones". Gaming enthusiasts are sure to get an ego boost, because let's face it, it's not really a chair, it's the Iron Throne. The HBO company that produces the show is selling limited quantities of this masterpiece for those with the coin to cover the bill. Picture going head to head online, playing the most popular casinos games sitting atop a replica throne composed of hundreds of broad swords. It's the ultimate statement of power that will let surely intimidate the competition, or at the very least have you feeling like a gaming badass as you declare yourself lord/lay of the Seven Kingdoms, and the gaming community. Price tag? A whopping $30,000!
The folding lawn chair with cup holder
If you'd rather not to part with your hard-earned bucks and feel that you can accomplish big casino game wins with a more modest seat, then the folding lawn chair is the way to go. What it lacks in style it makes up in functionality. The folding lawn chair is low budget, light and best of all portable! If you're on the go and want to spend a nice day at the beach, tailgate before a big game, or just lounge at a backyard barbeque while you crank out free spins and huge bet multipliers on slots, then this chair is the perfect gaming chair for you. Try CoolCat Online Casino's specialty games. Oh, and cup holders in the armrest are a nice addition.
The Poolmaster
The Poolmaster is a CoolCat Online Casino team favorite, because this bad boy combines two great things: relaxing in comfort and hanging out in the pool! It's a beach chair atop two floating rafts that allows you to soak in the sun, cold drink in hand, floating around in the pool and playing online casino games as you watch those big wins on your mobile device. We recommend playing Naughty or Nice: Spring Break 2, to get you into the sunny spirit. This incredible slot game offers total bet multipliers, free games and 50 massive paylines. So grab your towel, have some fun in the sun and explode your bankroll! If those wins get too hot you can always take a dip, just be sure not to get your phone wet (pool not included).
Now that you feel like you've found the right chair to enhance your casino gaming thrills, we recommend that you head over to CoolCat Casino for the greatest online casino experience. What is the point of having an excellent gaming chair if you don't have any games to play? Not to worry, CoolCat Casino offers a boatload of over 200 exciting casino games for all of your gaming needs; from poker to blackjack, specialty games like roulette, video poker and many more! Sign up with CoolCat Casino for free, play instant play or deposit to start winning big in that comfy chair today!