It turns out that it's not just Ben Affleck that casinos need to have their eye on at the Blackjack tables. There's an arrest warrant out for Breana Lewis, a New Orleans Blackjack dealer who is wanted by state police for cheating Harrah's out of tens of thousands of dollars.
According to State Police and Harrah's, Breana Lewis paid out losing bets to the tune of $32,022.50. She wasn't just a generous dealer who thought she'd hand out money to complete strangers. Instead, it's believed that Lewis actually knew the people she was awarding the cash to.
Lewis isn't the only one being charged. Also wanted by police are Cornelius Wells, Jeffery Sheridan Jr., Clifford Earl Carter, and Annette Davis. It's not clear whether the other wanted citizens are fellow Blackjack dealers or patrons who profited from the wrongful payouts.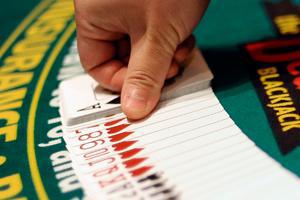 This seems to happen a lot more than you think. In Lincoln, Rhode Island, another Blackjack dealer was arrested by state police for doing the same thing. Luis Pabon has been charged with several counts of cheating while performing his Blackjack dealer duties, paying an amount greater than the patron deserved.
Not only did he pay out more than he should have, but he also steered certain cards to customers and offered insurance bets when he knew the outcome of the dealer's hand.
This actually happened to me once. It was 2006. I was playing at the Rio where each dealer lists their home city on their name tag. I had a quick chat with my dealer about our shared hometown and suddenly found myself getting paid out $200 on a losing bet that I clearly busted on.
I don't actually know if he paid me out because we had a bit of camaraderie going on, or if it was just an honest mistake. Either way, knowing the eyes in the sky are always watching, I took my chips and bolted to the cashier, never setting foot inside the Rio again.
I've also been on the losing end of a Blackjack table where the dealer seemed to be cheating for the casino. At Foxwoods, I once found myself having to add up my winning hand for the dealer when he attempted to take my chips after claiming I had busted. Either he was horrible at math or cheating for the other side. I'm guessing the former.
If you don't want to be the victim of bad math, play online Blackjack at CoolCat Casino. Of course, there won't be a mistake or a cheating dealer working in your favor, either.