We're proud to report at CoolCat Casino that we've never served an underage gambler. It's just not possible because we verify your identity before allowing you to play any of our casino games for real money.
But the story in the land-based world is a completely different one. Over at The Star Casino in Australia, security let a dozen underage players slip through the entrance and onto the casino floor. That means that over a dozen players were able to enjoy real money casino games last year. Not all of them necessarily did, but allowing the players onto the floor is a big no-no.
For allowing access to underage gambling, the casino was fined over $70,000.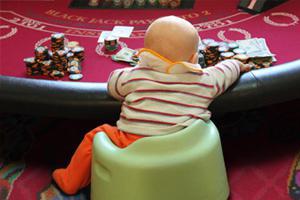 This is a big deal to us. We live in the online world where we have strict measures in place to keep minors out. So how could a land-based casino that boasts about being socially responsible let minors slip through?
Well, the truth is that live casinos rely on human beings to determine a casino player's age. Yes, people entering the casino who look young have to show their ID to a security guard, at least in Australia (in Las Vegas, it's easy for minors to walk onto the floor without showing ID and that's fine as long as they don't play).
But the security guard makes the call on whether the ID is real or not. Some casinos employ technology where they swipe the ID to verify a person's age, but that doesn't stop someone from using a sibling's ID to enter a casino if they happen to look alike.
But the 12 people who slipped through? They obviously got in without showing ID. That means they might have looked older and security guards might not have even bothered checking their ID to begin with.
The land-based casino system needs a better security system in place. We recommend they talk to online providers like CoolCat Casino, or even some of our competition, to see how they filter out minors. We've got some innovative ways, so don't even try playing if you're not 21!