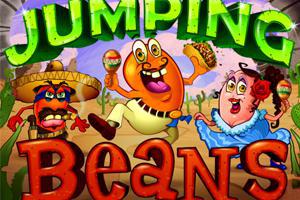 Casino players love to play the hottest and newest of games as soon as they hit the market, and Cool Cat Casino has you covered with Jumping Beans. This quirky, fun new slot machine introduces us to the Bean family in their three reel slot machine home where they beg you to make them line up and dance. Mr. and Mrs. Bean are joined by their wild offspring, Bandido Bean, and a host of symbols that tie into the theme of their lives.
Jumping Beans allows players to play three reels with five lines of play, and entertains casino goers with animated symbols that dance. This new game also includes an exciting Auto Nudge feature, and also allows players to group features together for the ultimate win. The best feature of Jumping Beans is the fact that it can be downloaded and played on any computer, without online access and logging in.
To play Jumping Beans, simply determine your betting level and press the "Spin!" button. If three matching symbols line up on your active play lines, you will unlock bonus features. Also, if one of the Bean family members shows up during non-bonus play spins, you start to accumulate Bonus Beans which make you eligible for a Bonus Bean Prize once the feature ends.
Rules and Definitions: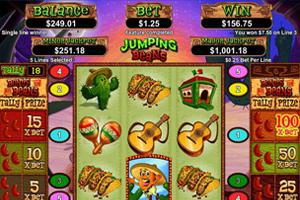 Mrs. Bean—scatter symbol: provides benefits to the player even if she does not appear directly on a pay line. If she appears anywhere on the screen, the player is awarded 10 extra spins.
Mr. Bean—substitute symbol: can substitute for any other symbol in the game except Mrs. Bean.
Auto Nudge—a feature: where if Mr. or Mrs. Bean appears above or underneath a pay line, they will be nudged to line up and activate the Jumping Beans.
When any of the Bean family members appear on the screen during bonus play and free games, they will add to the Bonus Beans, and the player will be eligible for a bonus prize at the end of the turn.
Players can win up to 1000 times their deposit while playing Jumping Beans.
Cool Cat Casino is dedicated to bringing you the hottest casino games with the biggest pay outs to be found anywhere online. Register today and come to play Jumping Beans or any of the other popular casino games we offer, and get in on all our bonuses and promotions to maximize your money.