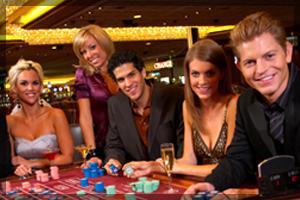 One of the hallmarks of being a successful gambler is effective bankroll management.  Disciplined money management is a key to any endeavor, and gambling is no different.
Whether you are managing your casino winnings, or simply just trying to ride out a cold streak, ensuring that you manage your casino bankroll through the ups and down is critical to staying afloat, whether you play here at CoolCat casino or at any other casino establishment, land-based or online.  Unfortunately, there are plenty of gamblers who have good instincts and understand risk, but don't understand how to manage their bankroll or casino money.  Below are a number of common mistakes that both novice and expert players make.
Playing with emotion.
Sit at a table for a few moments; if you witness a bad beat, you will probably see someone go on tilt.  More often than not, you will see players chase hands and throw good money after bad.  Gambling by nature is competitive.  Often times, you can make the right move, but still find yourself of the short end of the stick with regards to results.  When that happens, human nature is get even.  This is flawed because it leads to playing hands or making wagers in amounts you otherwise wouldn't.  Getting away from your original game plan is one of the cardinal mistakes you can make on the tables.
Not establishing limits.
One of the most effective ways to manage your casino bankroll is through the use of limits.  The common strategy used in relation to limits is the practice of units.  A unit is typically an amount that represents a typical bet.  In addition to utilizing units, it is a good practice to apply daily limits, either up or down.  This will ensure that you limit your losses, as well as don't overstay your welcome on a good day and give too much of it back.
Treating winnings like extra money.
To expand on the limit theory earlier, not managing your casino winnings correctly is a recipe for disaster.  If you play enough, you will get on a roll from time to time.  While you are on a roll, it may seem tempting to see how long you can press your luck.  In reality though, the odds are against you and most likely your luck will revert to the mean.  This means that if you were catching some breaks along the way, you will eventually start to lose some of these close hands.  There is no reason to start giving away some of your hard earned winnings.
Lack of discipline.
At the root of most of these other theories is a general lack of discipline.  Whatever your specific strategy is, you must stick to it.  Treat it like a road map, or better yet, a budget.  Making sure that you not only develop a plan, but also stick to it, is often more important than being a good player.   All the skill and instinct in the world won't do you any good if you repeatedly put yourself in bad positions.