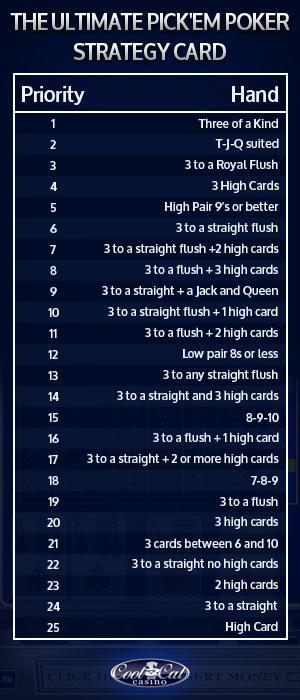 Pick 'em Poker is a unique video poker game that lets you have more control of the game.Thousands of people play this game all over the world on everyday basis. As usual and, like with any other poker game, is not only chance, but mostly strategy and knowledge are necessary to succeed on Pick 'em Poker.
Rules
When you play Pick 'em Poker, all players are dealt 2 sets of 3 cards. Only one card is visible in each set though. The players then go ahead and decide which cards to keep and try to make the best hand possible. Normal poker hand rankings apply on this game too.
Deciding which hands to go after can be confusing for most, as it is for anyone playing a new type of poker given the fact that some rules are similar to regular poker and some have differences. Sometimes we may go for the long shot when we have 4 to the flush, but mathematically the right play is something else.
In order to help get you playing a winning Pick Em Poker strategy, we have devised a chart that will tell you exactly what you should go for based on the cards you have.
The column on the right shows what you have in your hand, and the left will tell you the priority.
For example: If you have 3 to a flush, this would have a priority of 19. If you also have a pair better than 9's, this would have a priority of 5. Therefore you should keep the pair and discard the rest.
Many players would go for the flush not realizing that it falls way down the line when it comes to playing the right way.
At CoolCat Casino we believe in helping players achieve their full potential and hope this detailed strategy card helps you make the right choices when you find yourself playing and exciting game of Pick 'em Poker. Ready to give it a try?