There's a new scam brewing in the casino world, and this one has nothing to do with casino operators that might be a bit sketchy. Don't get us wrong. We think there are far too many questionable casinos that operate under the radar with the goal of scamming users. The kind that offers poor customer service. The kind that doesn't pay out or leave players hanging. The kind whose software is full of security holes.
But this isn't about them. This is about telemarketers who are trying to scam the system. In Australia, consumers are being ripped off by telemarketers conducting surveys on Australia casinos, with the promise of being entered into a draw to win cash.
The survey itself seems pretty realistic. But the people asking the questions really don't care. It's what comes next that the scammers are really interested in. After the survey, a follow-up call is made, informing the user that they've won $350,000 in Honk Kong dollars.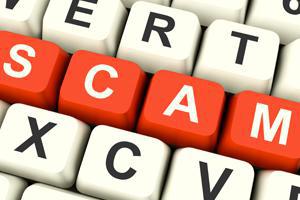 Great, right? All you need to do to claim your winnings is forward some personal documents to the headquarters in Honk Kong so the money transfer can be initiated. Now, besides the obvious identity fraud that's probably taking place, those being scammed are even more surprised when they're asked for some cash.
Why would you need to pay money to claim your winnings? Well, as the story goes, since you don't live in Hong Kong, you need to pay a bit of tax to release the funds, plus money to process the fees associated with transactions.
If you're reading this from the US or Canada and you think this won't affect you, check your devil may care attitude at the door. This scam is already circulating through email on an international scale. It's only a matter of time before the same telemarketing scam makes its way to North America.
If you receive a call from a telemarketer, here are some tips you can use to keep yourself safe:
Never give your credit card number out over the phone, even if you've won a prize
Never assume you've won a contest unless you know for a fact you've entered it and you have a ticket in your hand for that contest
Don't give out personal details like your home address or family details
Finally, if you play at CoolCat Casino, we'd like to remind you that we'd never contact you to tell you that you've won a prize and we need your credit card info. If you do receive a call from us, we'd let you know that your cash has been credited to your account and no personal info needs to be provided.
That's it for now. Stay safe and keep your eyes out for anything suspicious. And if you ever come across a suspicious-looking CoolCat Casino email, please don't hesitate to contact us to see if it's real. Use toll-free phone support or live chat.