We are dedicating the month of May to Super 21 Blackjack, a game that's a big favorite at CoolCat Casino. It seems as if the main feature that attracts players is that Super 21 rules are extremely relaxed if you compare it with normal Blackjack. It is an easy casino game to play and win and perhaps that's the reason that it is also known as Super Fun 21!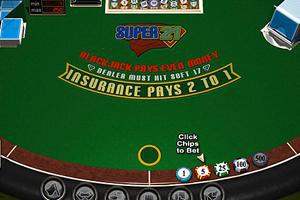 Besides these reasons, the most interesting thing about Super 21 is that it is more advantageous to the players than to the dealer. Since the rules are quite different than that of normal Blackjack, if you want to play this game and enjoy as well with more chances of winning the game, it is key to memorize its strategies and rules.
So what's the point of Super Blackjack? It's exactly the same as Blackjack, which is getting the closest to the 21-mark without exceeding it. If your total hand value goes beyond 21, then you 'bust' and lose the game. However, unlike standard Blackjack, in Super 21, your chances of winning the game are assured whether you have six or more than six cards with a total of 20 or less, disregarding of the fact that the dealer is having a Blackjack. Sounds good or what?
Check out some of the basic rules to consider when playing the game.
If you have five or more cards with a total of 21, then you instantly get double the money you had initially placed as bet.
If the total of your 5 or more cards adds up to 21, then you instantly get double the money you had wagered.
You are allowed to split your hand to the maximum of four hands.
You can re-split your Aces. Players can also split their unlike 10 numbered cards.
You can double down even if you have already split your hand.
The dealer is required to hit on the soft 17. This increases his chances of going bust!
You are allowed to surrender half your bet, even after doubling down, hitting, or splitting.
There is no limit on doubling down. It can be done on any number of hands, even after you have split your pairs.
A Blackjack of diamonds will pay 2-1 while Blackjack in any other suit will pay even money.
The player having a blackjack will always win, no matter what the dealer's cards show (even if the cards show a natural blackjack).
These are some of the main rules for playing Super 21; however, if you want a detailed description of the game that includes had names, odds charts, strategy charts and other rules, visit the CoolCat Super 21 Blackjack page at our site.
Happy Super 21 Blackjack month!