Welcome to CoolCat — The Core of Real Money Online Gambling
Come and flex your paws with the best real money online casino! Get non-stop access to your favorite casino games including 220 exciting slots, table games, video poker, and specialty games to freely indulge in from the moment you sign up. Our casino lets you play and win real money casino games which sport the coolest and classiest gameplay, graphics, and features, with never-ending piles of rewards to be won. The casino is always on the hunt for the latest innovations in gaming to offer you fresh releases with great jackpots to play for every month! Try your luck and 'purrfect' your playing skills at CoolCat Casino!
Discover the newest slots with the best match bonuses
Deposit today and we'll help you grow your bankroll with a match bonus plus free spins on some of our hottest games.
Slots are a top favorite of ours at CoolCat, which is why you'll always find a wealthy mixture and variety of online slot games to choose from. Whether you're looking to play with classic 3-reel slots, get more ways to win with 5-reel slot, or play more exotic slots that have an explosion of bonus rounds, bet multipliers, and progressive jackpots to play for -- you'll never be short of anything to play here at CoolCat. Our online slots also come with the most lucrative match bonus offers and free spins to use when you deposit a minimum deposit or more. Be sure to check out our list of exciting slot match bonuses, plus other promotions to use on your favorite table, card, and dice games!
300% Deposit Bonus + 55 Free Spins on I, Zombie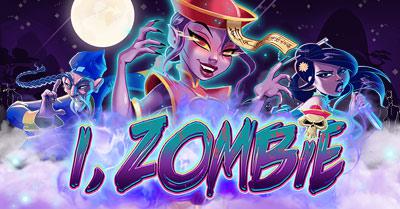 The offer expires in 3 days
Have a spooky good time battling zombies in Ancient China as you trigger the Free Games feature, discover extra Wilds, or hit a Wild reel for bigger wins.
320% Deposit Bonus + 30 Free Spins on Stardust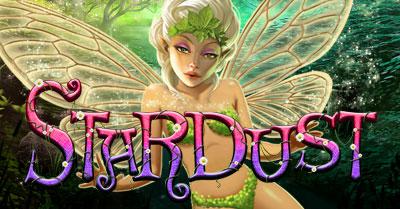 The offer expires in 3 days
With plenty of bonus modes and re-triggerable free spins, this fantasy slot machine holds tons of options to win big.
340% Deposit Bonus + 35 Free Spins on Ancient Gods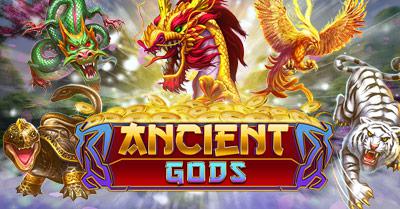 The offer expires in 3 days
An Asian-themed slot with re-triggerable free spins, and plenty of winning combinations where you can battle mythical animals on your way to the jackpot.
Play Online Casino Games for Real Money
CoolCat Casino houses all the classic online games that players have come to know and adore on the gambling floor. From online slots, baccarat, and blackjack to video poker, roulette, and craps, CoolCat Casino is home to the ultimate collection of online casino games that pay real money. Players are even able to enjoy alternative classes of games such as keno, bingo, and online scratchcard games with the same great prizes to be won and exciting bonuses to redeem. You can play every single casino game for real money at CoolCat, or you can play each one for free if you want to get some practice first.
The games and software at CoolCat are powered by leading developer Realtime Gaming, and the games can be accessed through your mobile or smart device as long as there is an internet connection. This means you can expect the same great graphics and easy navigation as the desktop site, just with the added value of being able to win huge jackpots while you're on the move! It doesn't matter if you're playing a table game like blackjack, or a slot game like Cash Bandits — we guarantee you'll experience the same immersive thrills and action as the physical gambling floor.
Looking for a Big Win? Check out the Best Progressive Jackpot Games!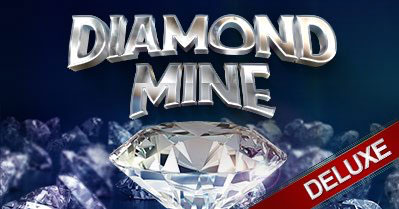 Progressive Jackpot Casino Games
Real Money Online Casino
Online Casino
24-hour access to casino games from the comfort of your home. You can go at your own pace, and not have to worry about dressing up or splashing out on expensive cab rides.
Land-based casinos have to pay out more in maintenance costs than online casinos; therefore, online sites can offer bigger jackpots and more games to choose from.
Players get to gamble in complete privacy where they practice the games in advance of playing for real money. Practicing or playing for free is not possible in land-based establishments.
Depending on the circumstances, winnings may take a few working days to process based on the amounts and methods the player has selected with an online casino.
Even though players have access to live dealer games and can gamble privately, playing online simply can't provide the same social environment as you experience in land-based casinos.
Real Casino
Players get to play in a live and authentic gambling environment with staff and live dealers at their service. Sometimes the casino will offer perks like complimentary free drinks and valet parking.
Winnings are paid out instantly at live casinos. Online casinos tend to take a few days to process withdrawals as they have to verify the request beforehand.
You get to go up against other players and experience the true glitz and glamor of live casino gaming. Online casinos just can't provide the same level of social interaction as land-based casinos can.
The selection of games at land-based casinos can be limited at times, whereas, online casinos host hundreds of different slots and multiple different variations of the classic casino games like blackjack, poker, and roulette.
As fun as it is, gambling at land-based casinos will typically cost you more than playing online. Cab journeys, drinks, meals, and accommodation all add up at the end of the night. That's not even accounting for what you spend in bets.
DEPOSITS & WITHDRAWALS
Win Money for Free – No Deposit Required
What makes playing at CoolCat an even sweeter deal is the ability to access all of these top casino games through your mobile or smart device. The CoolCat real money mobile casino runs on nothing more than an internet connection, which means you can be logged in and winning on your favorite games wherever you are.
The online casino also offers spectacular bonuses with special mobile play offers, one-of-a-kind VIP bonuses, plus daily, weekly and monthly promotions on all sorts of games that are yours to take advantage of.
To put it bluntly, we love being able to give something more to our players. Whether this is in the form of bankroll enhancing bonuses or cashback rewards, or the top-level care and support our friendly team of advisors are always happy to provide. We want to ensure your money is well spent, just as we want your time here to be. That all starts with a state-of-the-art gaming lobby and ends with real money in your back pocket.
Get started with CoolCat on your desktop, Mac, mobile, or tablet by quickly registering an account. Then you'll be able to make use of your fantastic welcome bonus to use on your favorite games within a few minutes! Once you're a member, you can simply log in to the casino any time day or night to play and win real money.
Last Winners
Playing for Real Money at CoolCat Online Casino: FAQS
Just in case you've still got some unanswered questions when it comes to online gambling, here are the most commonly asked ones from players who gamble for real money here at CoolCat.
Online casinos have grown into a booming industry. Regular brick and mortar casinos have been popular for a while, but the developments in technology over time have allowed players to have more access to what they want. The same things that casino goers love about their experiences don't have to be limited to the time they spend at land-based casinos. As a $35 billion a year industry, online gambling continues to flourish, with an estimated increase of $50 billion in 2018.
With online games' increasing popularity, the once-restrictive laws surrounding internet gaming and real money gambling online have been developing across different countries and will continue to do so. Regulatory laws will only continue to improve to both allow people to play and ensure that games are fair. When it comes to our role in the growing market, we strive to ensure that CoolCat is the most profitable online casino for real money for all players of different backgrounds.
There's a long list of all the reasons, but here are a few of the most important ones. Online gambling offers entertainment, stress relief, and the frequent opportunity to try your luck and learn some strategy. Plus, good casinos offer a multitude of unique, exciting choices to experiment with. They offer you a whole world to explore, and they're building on it all the time. We here at CoolCat Casino know that the competition is fierce, and we work to earn the loyalty of each of our players by mixing things up with new games and new perks.
As we've already said, we have the most extensive variety of over 220 online casino games for real money – you just won't find anything better out there in the world of casino games. It's also important to us that you get started with a low-stakes environment. With us, you can always practice for free to get comfortable, with no limits or conditions. Once you make the jump to playing for real money, you have a chance to win big thanks to each game's special features. That's what makes us the best online casino to win money.
One word: bonuses – this is equally as important to our players as the variety of options. As a reliable, competitive online casino, CoolCat offers all of its newcomers an advantageous real money welcome bonus for creating an account and making a deposit to guarantee a solid start. If you're not a new player, we've still got you covered – we have many other offers that change all the time, including match deposit bonuses, free no deposit bonus, free spins, and free chips.
Yes. While sketchy online casinos do exist, the reliable ones are certified and held to strict standards in order to maintain a solid reputation and build trust between players and casino operators. If you familiarize yourself with house edge and payout percentages, you're sure to reap the benefits.
Yes, you can – in fact, you're not limited to just a smartphone. CoolCat Online Casino is compatible with any mobile device that connects to the Internet – that means anything from iPhones, Windows phones, or Android phones to tablets of all kinds. Not only that, but completing a transaction is just as easy on your mobile device as it would be on a desktop or laptop computer.
There are up and downsides to virtual gaming. Your average land-based casino has a lot to offer, but it's limited by space. They can have a hundred gaming machines, but they're spaced out by necessity because they're exactly that – large, rectangular machines. That means you can take your time in one section of the casino or another, and you don't have to venture out. With an online casino, there's a variety of real money casino games for players to select from, but it's all just a few simple clicks or taps away from exploring all categories of casino games. That in itself can make for an overwhelming moment, just seeing all the options laid out in one place.
The transition from practice to real money is just as simple as signing up for an account in the first place. To make a deposit, log in, navigate to the cashier page, select the payment method of your choice, and decide how much to start with. We accept payment by credit card, debit card, Neteller, and Bitcoin.
The process for withdrawals is just as simple. You'll find the "Withdraw Money" option on the cashier page as well. To complete a withdrawal, you can opt for a cash deposit, Neteller, or wire transfer, just to name a few of our available methods. After that, it's up to you to decide how you'll use your winnings. If you're looking for a live online casino for real money, give CoolCat a shot – you won't regret it!