Imagine a world where to send a package across the planet, you had to rely on regular mail. There was no Federal Express. No UPS. No courier service to get documents or packages into the right hands overnight. Imagine you had to wait days or weeks for the regular postal service to deliver stuff.
That's the future that could have been had Frederick W. Smith, the founder and CEO of FedEx, not been a gambling man.
Let's backtrack a bit to 1971. That was the year Smith decided to take his personal assets of about $4 million and start a business (soon to be FedEx). He raised $90 million in additional capital to fund his venture, a delivery company that could deliver a package anywhere in the world overnight.
That seems so ubiquitous today. But back then, it was a fantasy, and one that lots of people laughed at. But his investors believed in him and got the business off the ground.
Three years later, though, the business came to a grinding halt. Thanks to rising fuel costs, FedEx was staring bankruptcy in the face, bleeding about $1 million a month. No one was willing to invest more in the company, and at one point the company had just $5,000 to its name.
That $5,000 was not enough to fuel the planes, so Smith took a gamble. No, not a proverbial gamble that has to do with some Hail Mary economic play. No, we're talking about an actual gamble. Instead of flying home, Smith flew to Las Vegas.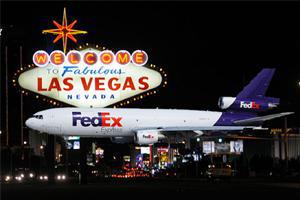 Now they say that what happens in Vegas stays in Vegas. But back then, what happened in Vegas went right back to the company account. Smith turned $5k into a $32,000 profit and deposited right back in the company's operating account.
It turns out that was just the right amount of cash to fuel the planes for the next few days. And that's all the time they needed. Shortly after, Smith raised $11 million to keep the company in operation. And by 1976, FedEx made its first profit, raking in $3.6 million.
Fast forward to today and the company is worth about $35 billion. So, yeah, it was definitely worth the gamble.
Thanks to a little luck and a whole lot of balls, we now have overnight delivery and Federal Express is one of the biggest success stories in the United States, if not the world.
While this is a great story, it's the exception not the rule. We don't recommend gambling away your life savings in an effort to double up or stay afloat. Gambling should be fun. Remember, it's for entertainment, not for income generation. If you're gambling big to get out of a sticky situation, chances are you have a gambling problem. We encourage you to seek help with local problem gambling support groups. We're also here to provide support and are happy to close your account if you think you're gambling above your head.